IGNITE: Mastering Manufacturing
Today's Career and Technical Education (CTE) instructors face new challenges preparing students for the modern industrial workplace. Students need hands-on experience with a variety of advanced automation technologies to teach them the skills employers need. That's why Amatrol partnered with three Manufacturing USA Institutes (LIFT, America Makes, and MxD) to develop IGNITE: Mastering Manufacturing.
IGNITE combines self-directed eLearning with real-world equipment to teach students the hands-on, transferable skills industry needs, such as those related to advanced materials, the Industrial Internet of Things (IIoT), and a range of other Industry 4.0 technologies. IGNITE features the perfect blend of career exploration, creative learning, and skill development in systems-thinking and team problem-solving through creative project-based learning activities.
IGNITE's innovative curriculum supports a modular 6-course Advanced Manufacturing program, with additional materials science activities for science courses. Each course can be completed in one semester, providing flexibility for 1-, 2, or 3-year programs. All IGNITE courses include stimulating interactive eLearning lessons, computer simulations, design projects, and hands-on workstations using Industry 4.0 technologies.
Students begin with foundational topics, such as safety, measurement, hand tools, print reading, and materials science. They then move on to learn relevant knowledge and hands-on skills related to a wide variety of topics essential in modern industry, including: AC/DC electricity; fluid power; machine tools; mechanical drives; electrical relay control; computer-aided design and manufacturing; CNC machine operation and programming; materials engineering; electrical fabrication; plastics and mold design; welding; and lean manufacturing.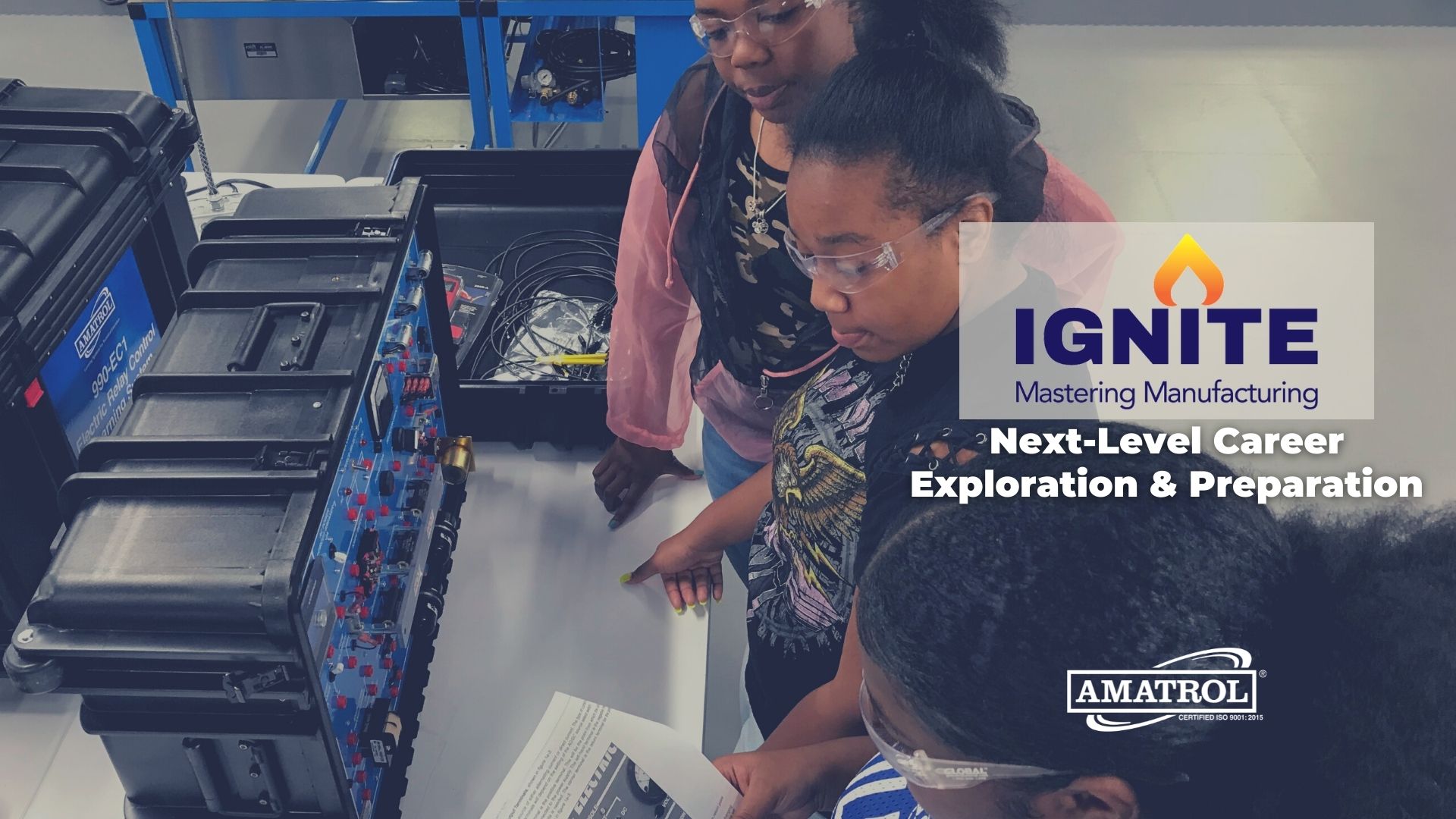 Amatrol Offers a Variety of Premier High School Programs!
Skills-based learning programs attract and retain high school learners
High school students are destined to become knowledge workers, regardless of whatever specific career choice they make. Engineering and technology offer some of the most rewarding career opportunities possible! Amatrol's high school programs are designed to engage students who demand a high degree of interactivity and challenge to keep them interested and learning. All of our high school programs articulate to colleges for up to 18 credit hours. Amatrol's Pre-Engineering and Manufacturing programs are a great way to get high school students interested in exciting and rewarding careers. Hands-on experience in a wide range of engineering technologies using industrial quality equipment and software prepares them for success in college and beyond. Amatrol's learning design engages students at their own pace, allowing them to be successful in understanding and applying new technical knowledge. The programs work well in both self-directed as well as traditional classrooms.
Amatrol's High School programs use a unique blend of project-based team learning combined with a rotational individualized learning format for technical skills development. Amatrol offers both traditional equipment based labs as well as virtual labs. While designed for self-paced learning, Amatrol's learning programs are equally effective in traditional classroom settings. All of Amatrol's learning programs allow students to fully experience the rewards of hands-on, applied technical learning.
Explore the many excellent learning systems that can help you lead your students to technical careers!