Each electronics learning system includes in-depth curriculum designed to teach hands-on skills with real-world equipment.
Several of the systems feature Amatrol's interactive multimedia, which includes stunning 3D graphics and videos, voiceovers of all text, and quizzes and exercises designed to appeal to all learning styles.
The programmable logic controller (PLC) is considered by many to be the most important development ever in industrial automation, because it is a prepackaged, industrially-hardened computer that can be quickly programmed to control a wide range of industrial processes and machines. Typical applications include: robots, conveyors, electric motor controls, air conditioning, process control, plastics injection molding, and CNC machines.
Amatrol's offering of PLC training systems can meet your training needs through outstanding eLearning curriculum, portable PLC training solutions, or a full-scale, heavy-duty workstation loaded with PLC application panels. Amatrol's products utilize Allen-Bradley and Siemens PLCs to meet your specific training needs. These systems begin with basic PLC operation and PLC programming skills and methodically build to advanced PLC topics.
These industrial systems feature skill assessment products, world-class online curriculum, and real-world components for an unmatched offering of skill-building possibilities. Many of these systems also offer fault troubleshooting training through FaultPro, Amatrol's exclusive electronic fault insertion software. The equipment available in this technical area is an integral part of several Amatrol programs like Biotech, Power and Energy, Oil and Gas, Industrial Maintenance, and many more!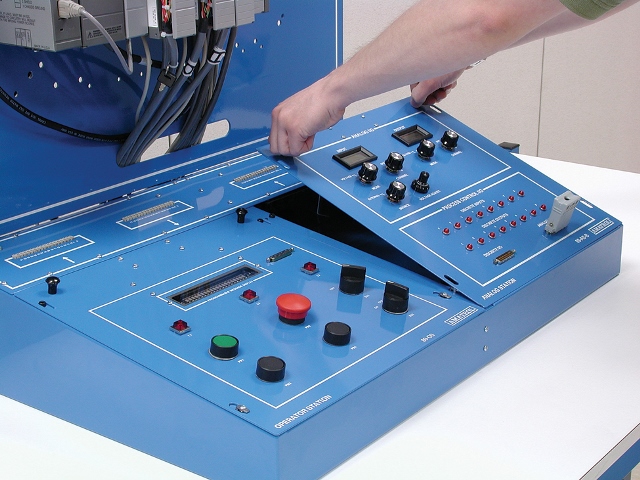 This PLC training system features an array of expansion learning systems including:
For 890-PECB:
REQUIRED:
Operator Application Station with Programmable Display (89-OS-PDS)
OPTIONS:
PLC Expansion Package (89-MP)
If you need to provide electronics training, but have to deal with a lack of training space, budget constraints, or must transport learning systems between multiple facilities, Amatrol has a solution for you. Amatrol's portable learning systems pack all of the topics and hands-on skills of our full-sized trainers into these durable, on-the-go training solutions. Within the electronics area, Amatrol offers the following systems:
In addition to learning systems geared toward post-secondary and industrial customers, Amatrol also offers systems specifically designed for high schools. One of the biggest challenges facing the workforce today is a skilled worker shortage. Because of this, Amatrol is dedicated to providing high schools with learning solutions that will cover applicable STEM knowledge and advanced manufacturing topics and skills. High School learning systems within the electrical area include: