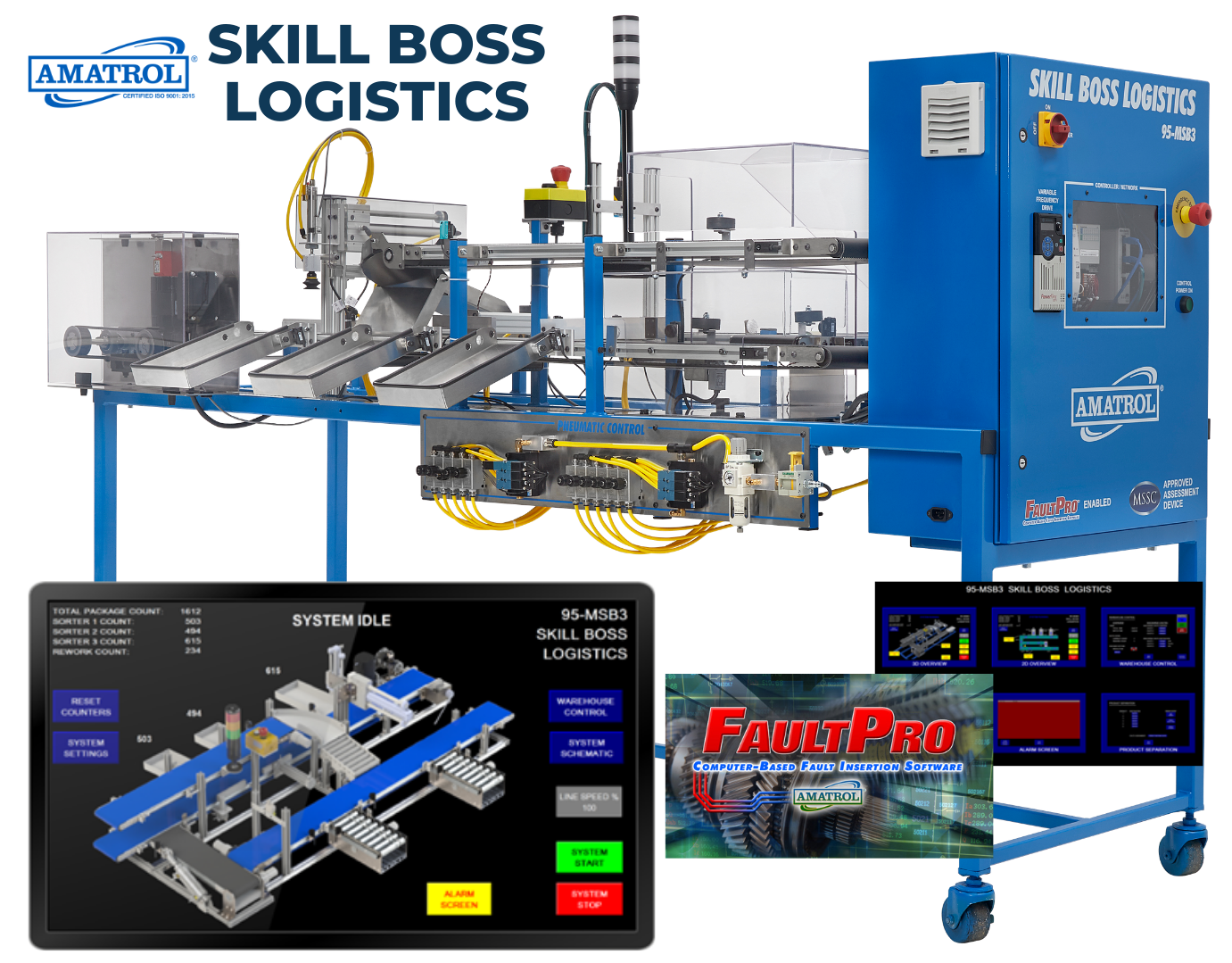 Amatrol's Skill Boss Logistics (95-MSB3) offers material handling organizations performance-based assessment for evaluating the skill levels and competencies of future supply chain automation technicians. This system is a working automated distribution system that performs real-world operations, such as package tracking, automatic package queuing and priority release, electro-pneumatic sorting, and much more! In addition to industrial-relevant training, the Skill Boss Logistics is the required assessment device for three of MSSC's Certified Technician – Supply Chain Automation (CT-SCA) certifications: Equipment Maintenance (CTSCA-EM), Equipment Repair (CTSCA-ER), and Network Repair (CTSCA-NR). Individuals who earn all three certifications receive a full "Automation Master" recognition award.
Skill Boss Logistics was designed to teach and assess 100 hands-on skills today's technicians need in supply chain automation, including equipment maintenance and equipment repair. The bench-sized automated sortation system showcases distribution of packages to three destinations, and includes an easy-to-use, hands-on training manual. Its compact size helps it fit easily in any classroom or training facility, and is transportable for use in multiple locations. Not only is it the premier solution for supply chain automation assessment and training, but no other system boasts this many logistics technologies in a portable platform.
Like all of Amatrol's training systems, Skill Boss Logistics features real-world industrial components that learners are sure to encounter on-the-job. The system includes a variety of supply chain automation components, including multiple types of conveyors, electro-pneumatic sorters, a vacuum, and much more.
These components, which range from AC/DC Electric Motors to a Variable Speed Distribution Conveyor, will not only give learners a familiarity boost in the field, but helps them clearly display their expertise in this space with highly-effective hands-on tools.
This system uses a selection of Rockwell Automation products to provide the most realistic industrial experience. Amatrol is a Rockwell Automation OEM Gold Partner.

While the Skill Boss Logistics system will provide hands-on skill-building for students, Amatrol's logistics training doesn't stop there. Like all of Amatrol's learning systems, the 95-MSB3 includes a world-class eLearning curriculum that features videos, audio voiceovers, 3D animations, and interactive quizzes and activities. The interactive multimedia curriculum focuses on a variety of industry-needed skill areas, including package data tracking and control, package re-circulation, and 2D barcode tracking.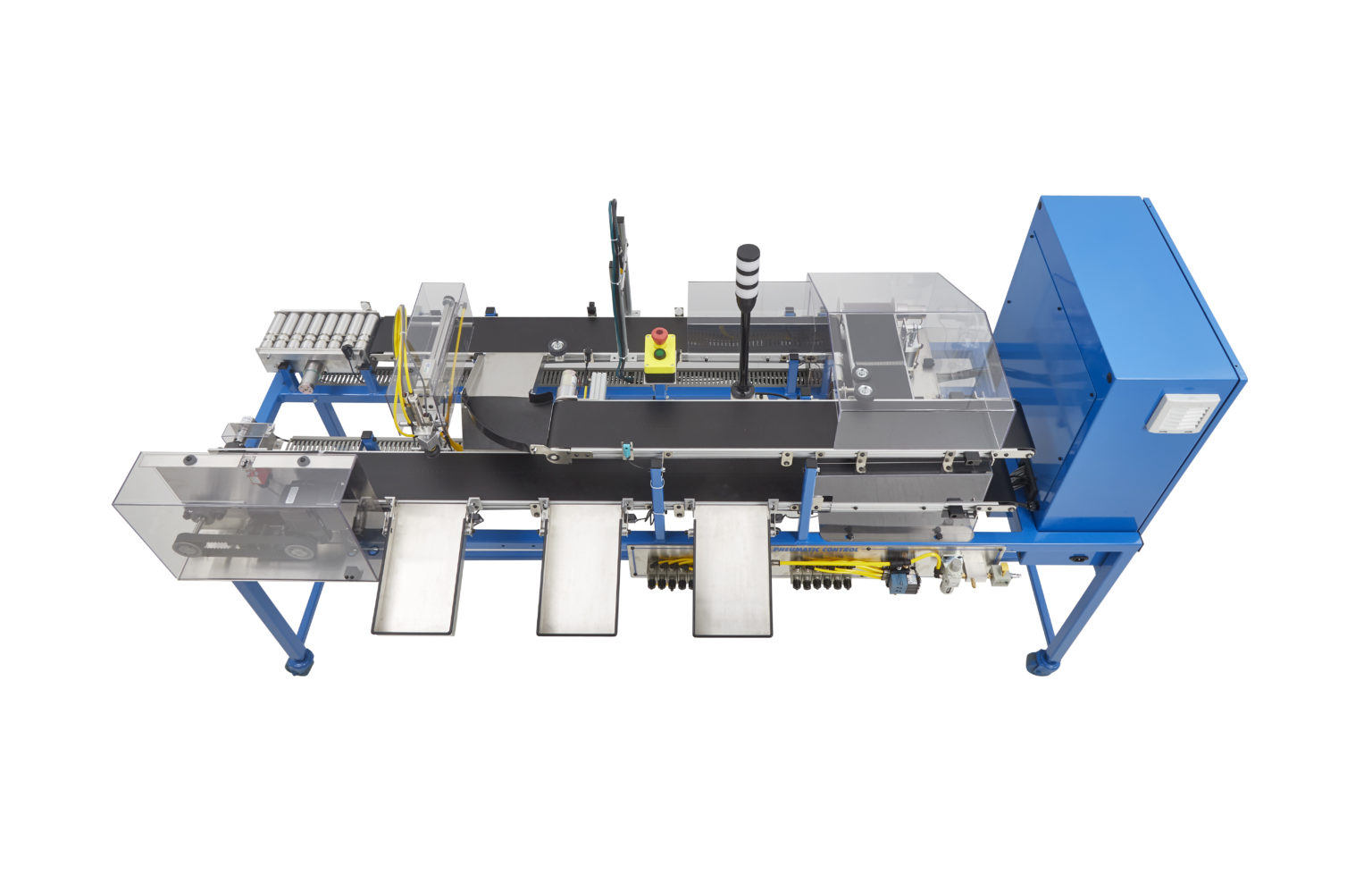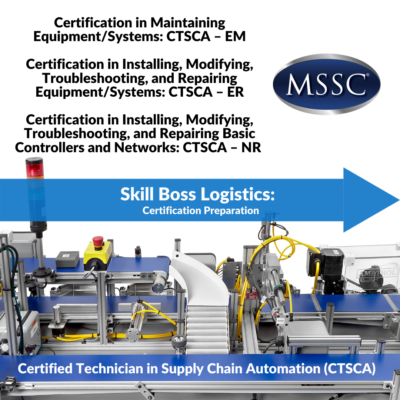 This system is used by the Manufacturing Skill Standards Council (MSSC) for its Certified Technician – Supply Chain Automations certifications. The Skill Boss Logistics assessment system, designed to meet MSSC standards, is a hands-on skill assessment system that integrates seamlessly into any logistics program. MSSC's CT-SCA program provides proof of an individuals ability to perform a wide range of hands-on technical skills in electronic, electrical, and mechanical systems.
The CT-SCA program is an industry-led standards-based training, assessment, and certification system focused on the core skills and knowledge needed by the nation's logistics workforce. Using the 95-MSB3, learners will study vertical package sorting, conveyor materiel handling, jam sensing, and product gap optimization.
Skill Boss Logistics evaluates 100 essential hands-on skills in areas including:
Equipment Maintenance
Preventative Maintenance
Equipment Adjustment
Measurement
Hand Tools
System Monitoring & Operation
Equipment Repair
Pneumatics
Mechanics
Electrical Installation
System Troubleshooting
Print Reading
Network Repair
Programmable Logic Controllers (PLCs)
Variable Frequency Drives (VFDs)
Barcode Readers
Ethernet Network Test and Operation
Electronic Installation
System Troubleshooting