Amatrol's line of Mechanical training products feature learning systems that cover absolute bedrock fundamentals of industry and advance manufacturing, such as mechanical drives, pumps, mechanical fabrication, rigging, and central lubrication. Applications of these systems are used in agricultural, pharmaceutical, automotive, and power generation industries, just to name a few. Many of these products are also featured prominently in Amatrol programs like Construction Technology, Power and Energy, Industrial Maintenance, and Mining. Amatrol also offers portable mechanical learning system and mechanical systems geared toward a high school audience.
Mechanical Drives 1 Learning System (970-ME1): teaches the fundamentals of mechanical transmission systems and allows for the practice of industry-relevant skills including how to operate, install, maintain, troubleshoot, and design basic mechanical transmission systems using chains, v-belts, spur gears, bearings, and couplings. This mechanical drives system features the unique ability to measure the performance of each mechanical transmission setup, showing learners the effects of proper alignment and how to obtain best efficiency.
Amatrol's mechanical drives systems present a vast array of expansions for even more mechanical drives training. These expansions include: Mechanical Drives 2,  Mechanical Drives 3, Roller Pack Machine Tool Axis, Floor-Standing Belt Conveyor, & Machine Tool Chip Conveyor.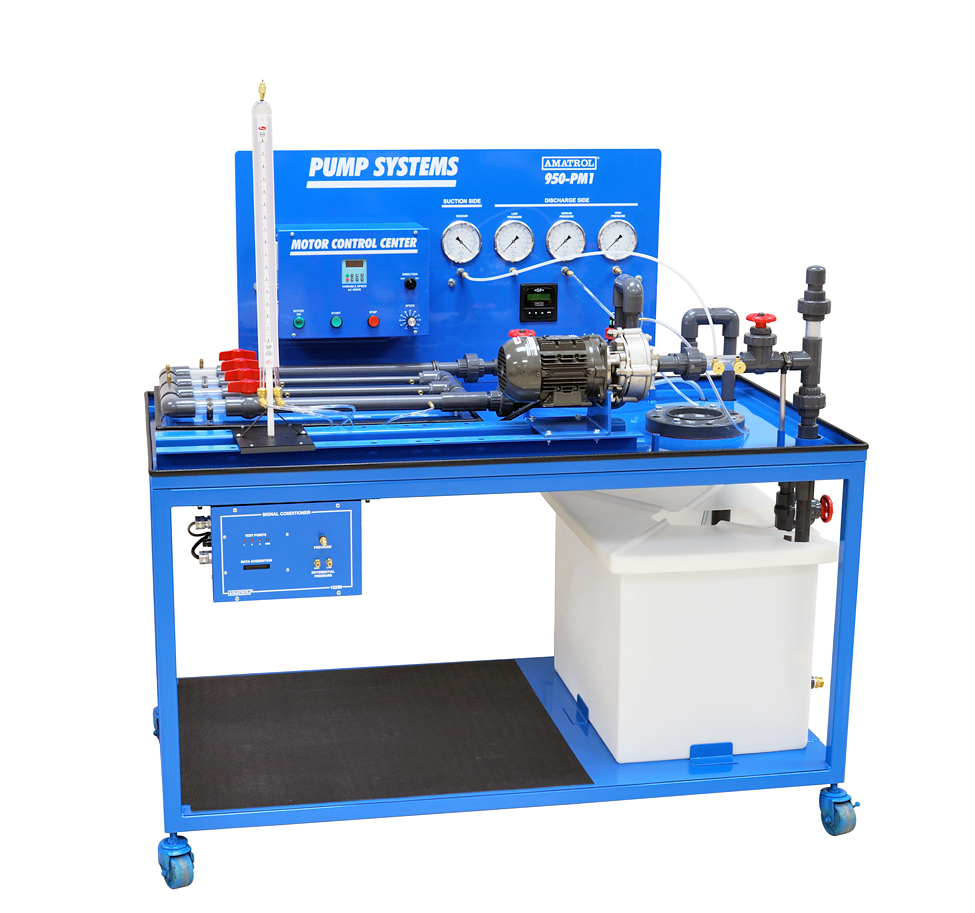 Amatrol | 950-PM1
Centrifugal Pump Learning System
Amatrol's pumps learning systems cover industry-relevant skills including how to operate, install, maintain, troubleshoot, and select a variety of pumps, as well as system design. Pumps are used in almost every industry to transfer non-hydraulic fluids of various types from one place to another. The base learning system features a centrifugal pump, but allows for the use of several different pumps for expanded training; these pumps include: parallel pump, turbine pump, diaphragm pump, peristaltic pump, piston pump, gear pump, magnetic pump, and centrifugal pump with stuffing box.
Mechanical Fabrication
Mechanical Fabrication 1 Learning System (950-MPF1): covers the many types of bolts, wrenches and other fittings commonly used in industry and how to properly apply them. Mechanical fabrication plays an important role in today's economy as the cost to produce goods increases and the profit margins shrink. To stay competitive, companies must manufacture high quality goods.
Rigging
Rigging 1 Learning System (950-RGB1): teaches how to safely move loads of different shapes and sizes using a variety of methods. Major topics covered by this learning system include hoists, slings, lifts, wire ropes, and chain slings. This rigging system also offers the expansions Rigging 2, which covers synthetic slings, equipment movement, and industrial cranes, and Rigging 3, which covers the operation, function, and maintenance of wire mesh slings and fiber ropes, load movement, and rigging knots.
Central Lubrication
Central Lubrication Learning System (950-CL1): recreates the real world environment with high-quality industrial central lubrication components operating in realistic applications with fault insertion capability in both the electrical and fluid components. Faults can be manually inserted throughout the system to provide learners with real-world troubleshooting experience.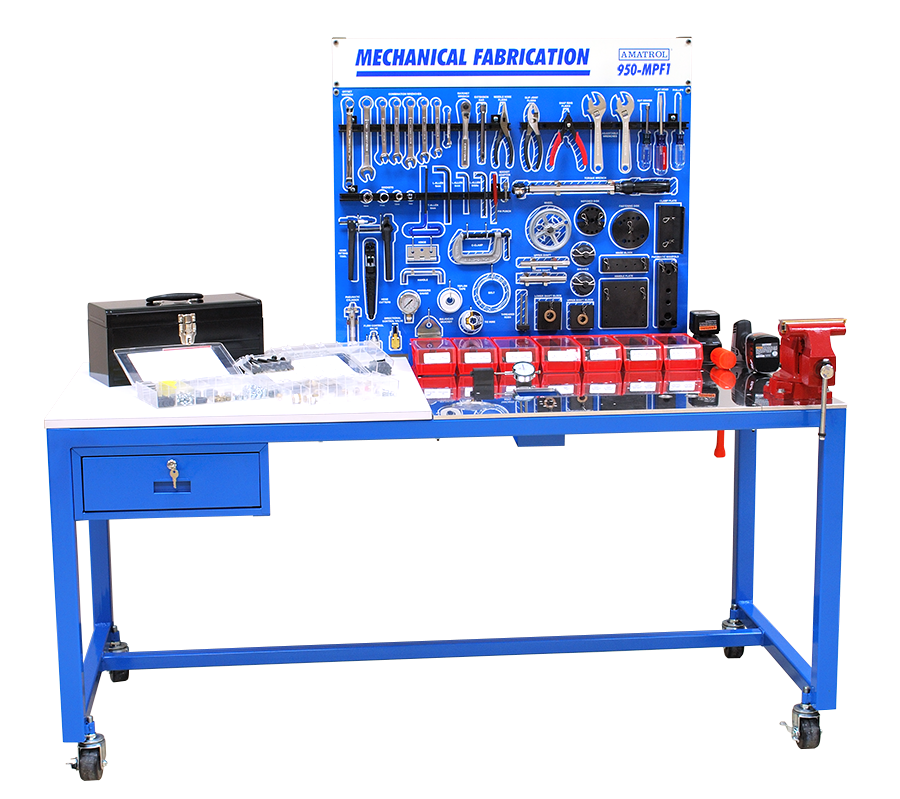 Amatrol | 950-MPF1
Mechanical Fabrication1 Learning System
If you need to provide mechanical drives training, but have to deal with a lack of training space, budget constraints, or must transport learning systems between multiple facilities, Amatrol has a solution for you. Amatrol's portable learning systems pack all of the topics and hands-on skills of our full-sized trainers into these durable, on-the-go training solutions. Within the mechanical drives area, Amatrol offers the following system: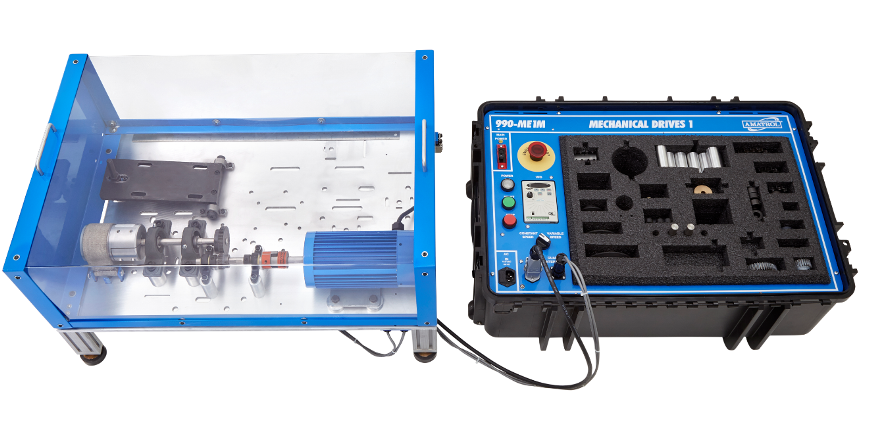 Amatrol | 990-ME1M
Portable Mechanical Drives 1 Learning System
In addition to learning systems geared toward post-secondary and industrial customers, Amatrol also offers systems specifically designed for high schools. One of the biggest challenges facing the workforce today is a skilled worker shortage. Because of this, Amatrol is dedicated to providing high schools with learning solutions that will cover applicable STEM knowledge and advanced manufacturing topics and skills. High School learning systems within the mechanical area include: