Despite tremendous job growth, employers in many industries still face an ongoing problem with hiring qualified workers. Due to advances in technology, employers have a great need for workers with advanced technical and technological skills. Not only do front-line production workers need more advanced skills, but employers also need highly-skilled workers to operate, maintain, troubleshoot, and repair today's advanced automated systems. Unfortunately, the supply of such workers isn't keeping up with demand.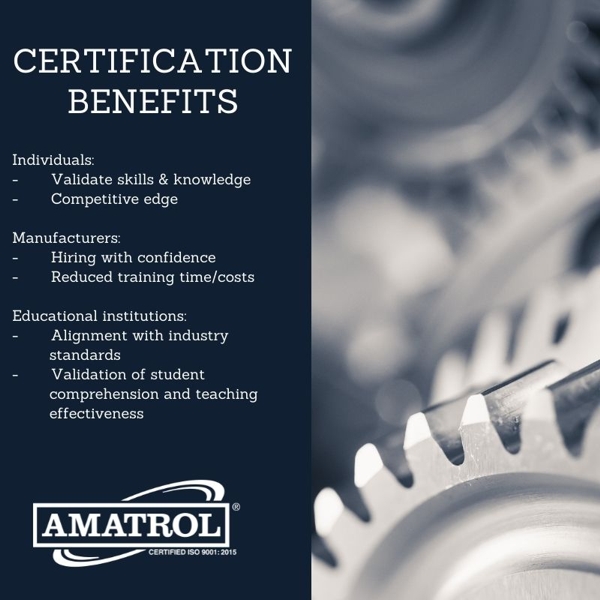 SACA Certifications Supported
The Smart Automation Certification Alliance (SACA) is a non-profit organization whose mission is to develop and deploy modular Industry 4.0 certifications for a wide range of industries.
Certified Industry 4.0 Certifications

Basic Operations

Advanced Operations

Robot Systems Associate

IIoT, Networking and Data Analytics

Specialist Certifications

Automation Systems

Electrical Systems

Mechanical Systems

Control Systems

Electro-Fluid Power Systems

Robotic Systems

Network Systems

Operations Systems

Production Systems

IT Systems

Certified Industry 4.0 Professional Certifications

Industry 4.0

Core Micro-Credentials

Elective Micro-Credentials
MSSC Certifications Supported
Manufacturing Skill Standards Council (MSSC) is a non-profit, industry-led, training, assessment and certification system focused on the core skills and knowledge needed by production and material handling technicians.
Certified Production Technician

Safety

Quality Practices & Production

Manufacturing Processes & Production

Maintenance Awareness

Certified Production Technician Plus | Skill Boss Manufacturing
Certified Technician - Supply Chain Automation | Skill Boss Logistics

CTSCA-EM | Equipment Maintenance

CTSCA-ER | Equipment Repair

CTSCA-NR | Network Repair
PMMI Certification Supported
The Association for Packaging & Processing Technologies is a global resource uniting the industry across the manufacturing supply chain and represents more than 800 North American manufacturers & suppliers of equipment, components, & materials.
Mechatronics Certifications

Fluid Power

Industrial Electricity 1

Industrial Electricity 2

Mechanical Components 1

Mechanical Components 2

Motor & Motor Controls

Programmable Logic Controllers (PLCs) 1

Programmable Logic Controllers (PLCs) 2