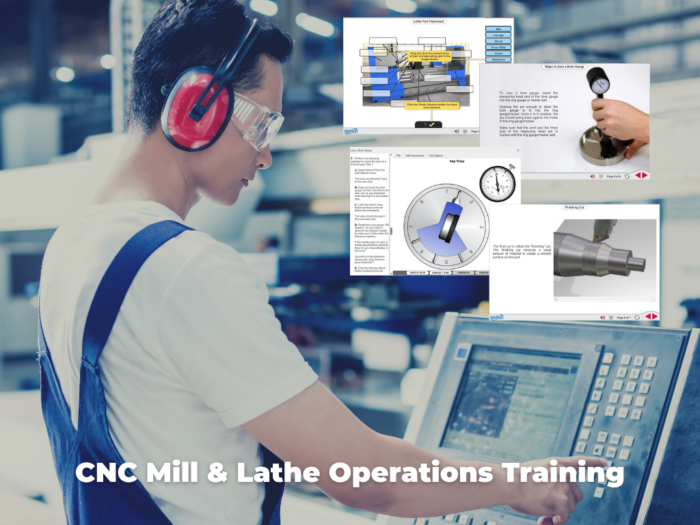 With the advanced manufacturing sector booming and the skills gap leaving many positions unfilled, skilled workers, such as CNC machine operators, are in greater demand than ever.  Amatrol offers a CNC Machine Operator program that focuses on the knowledge and skills relevant to industry. For example, covered skills include maintaining machines, recording SPC (Statistical Process Control) data, operating CNC machines, setting-up tooling and fixtures, and performing quality inspections.
Amatrol's CNC Machine Operator program offers a virtual CNC machine experience that allows learners to practice and develop the required skills for operating a CNC machine via the computer. Learners gain CNC training through hands-on engagement via a virtual platform that acts like a real CNC machine. If a learner forgets to turn the power on, they must figure out the problem as they would on a real machine.
To be effective members of the workforce, CNC machine operators must possess a wide range of skills, so Amatrol's CNC Machine Operator training teaches future operators hands-on skills in the following areas:
Performing part measurement and gauging
Interfacing with a CNC
Making tooling decisions
Responding to machine malfunctions
Setting-up and operating a CNC machine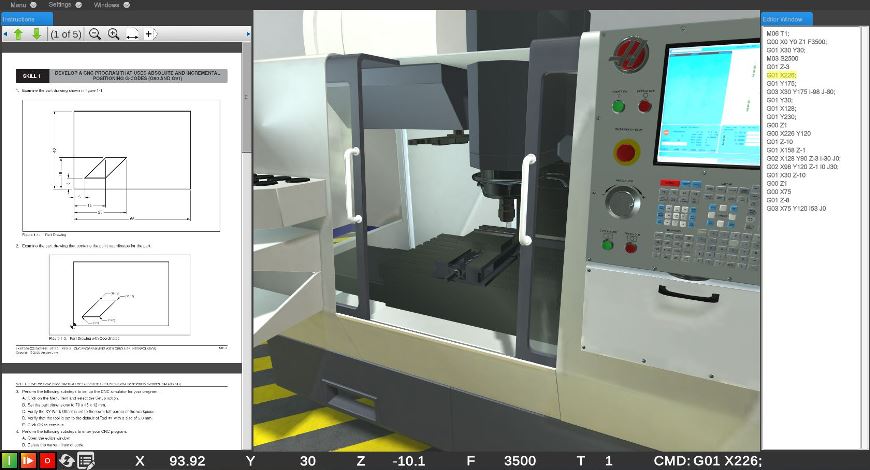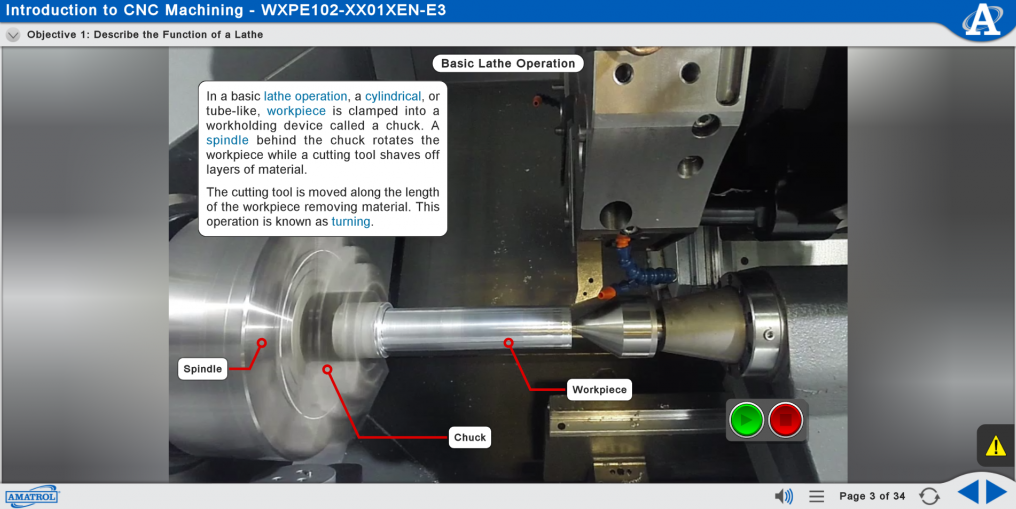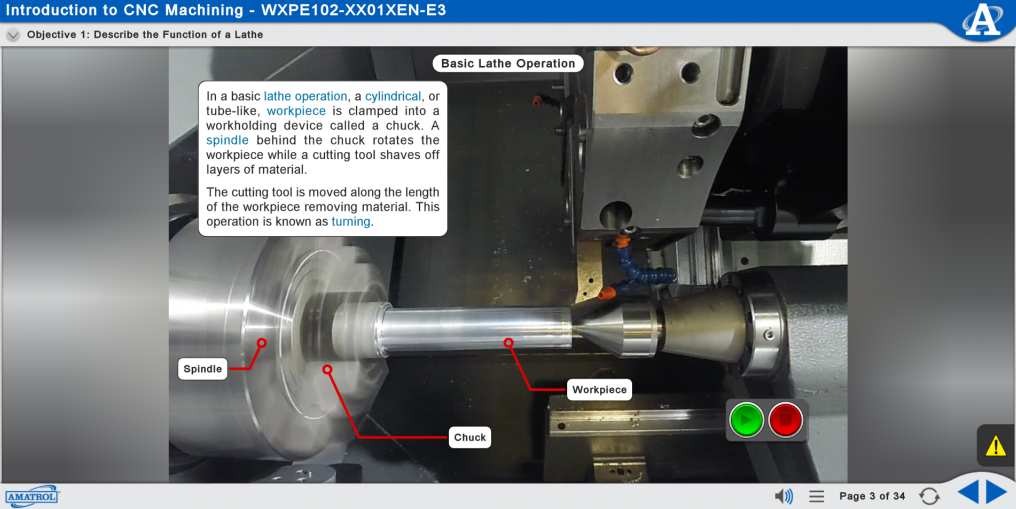 Interactive eLearning Curriculum Engages Learners!
Learning is most effective when learners stay focused and engaged. Every learner is different, so Amatrol's eLearning courses incorporate multiple elements, such as text, animations, narration, videos, and interactive exercises and quizzes, to engage learners with different learning styles.
Animations
Animations are useful in showing a learner the internal operations of machines and processes.
Video
Sometimes a picture is worth a thousand words. Amatrol balances use of animation with video to show real-world application and hands-on job tasks.
Interactive Exercises
Amatrol's CNC Machine Operator program contains many interactive exercises where learners interact by pushing buttons, operating devices, identifying components, and more. This interactivity greatly enhances retention.
Curriculum
Amatrol's CNC Machine Operator program starts with basic measurement and guides learners through 24 self-paced learning units to the final goal of doing the job of a CNC machine operator. Amatrol developed the learning materials based on industry task analysis, input from experts in a large global manufacturer, and testing in the workplace. The training supports the real CNC machine operator needs of manufacturers everywhere.
Flexible, Comprehensive Program
Amatrol's comprehensive training program includes:
130+ Skills
80+ Hours of Learning
24 Self-Paced Learning Units
Instructor's Assessment Guide
On-The-Job Training Guide
Finding qualified CNC machine operators is a challenge for any manufacturing organization. How do you know someone can do the job? Delivering consistent product quality when multiple people are involved, often in different locations, is also a big challenge. Experience in operating a CNC machine does not equate to consistent skills or approaches, which often shows up in higher warranty and repair costs. When combined with the often larger issue of just not enough CNC machine operators to fill open jobs, business suffers.
Amatrol's CNC Mill and Lathe Operations training programs cover all of the following key skill areas:
CNC mill, lathe, and grinder set-up and operation
Tool identification, set-up, use, and maintenance
Machining processes
Statistical process control
Quality and cycle time optimization
CNC program operation
Fixture set-up and operation
CNC troubleshooting and maintenance for operators
Precision measurement & gauging
Print reading
Geometric dimensioning and tolerancing
Amatrol's training is computer-based, making it easily deliverable to students everywhere. Amatrol's CNC Machine Operator program emphasizes the hands-on skills and knowledge needed for the job. Amatrol's CNC Machine Operator program was developed with industry and validated in the workplace. Amatrol also offers instructor training through their Amatrol Technical Training Institute.