Amatrol's Workplace Safety training courses explain the basic principles necessary to keep work environments as accident free as possible. Learners will study the common causes of workplace accidents and the role of OSHA and other agencies regulating safety before moving to personal safety actions and awareness, such as Personal Protective Equipment, Hazardous Communication, Lockout / Tagout, and Accident Response.
According to the United States Bureau of Labor Statistics, an employer-reported nonfatal injury or illness occurred at 2.8 cases per 100 workers in 2018. However it was reported to the Occupational Safety and Health Administration (OSHA) that 5,147 workers died on the job in 2017. In order to protect future workers from serious injury or death, companies have turned to Workplace Safety Training courses to keep their employees safe.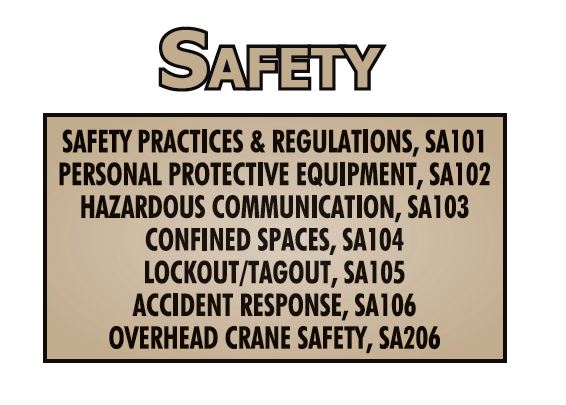 Amatrol's Safety eLearning library covers a range of industrial workplace safety training methods, beginning with basic safety practices and regulations. These courses can be offered to learners on an as-needed basis, and also covers valuable skills to keep workers protected and aware of what to do in case something goes wrong at the workplace.
The Safety courses engage the learner with various types of interactivity, videos, and animations to keep their focus on the task in ways that a "page-turner" type course cannot.  As one example, while learning about lockout/tagout, learners will study concepts such as device identification, applications, and why this process is necessary for safety.
Amatrol's eAssessment revolutionizes technical assessment and training by individual determining a learner's skill level in specific areas. This assessment features safety-focused learning and accelerated training, meaning less time away from the job, with curriculum based on individual needs. Assessments also prevent training overlap, which dramatically improves training effectiveness and efficiency, reducing invested time and cost.