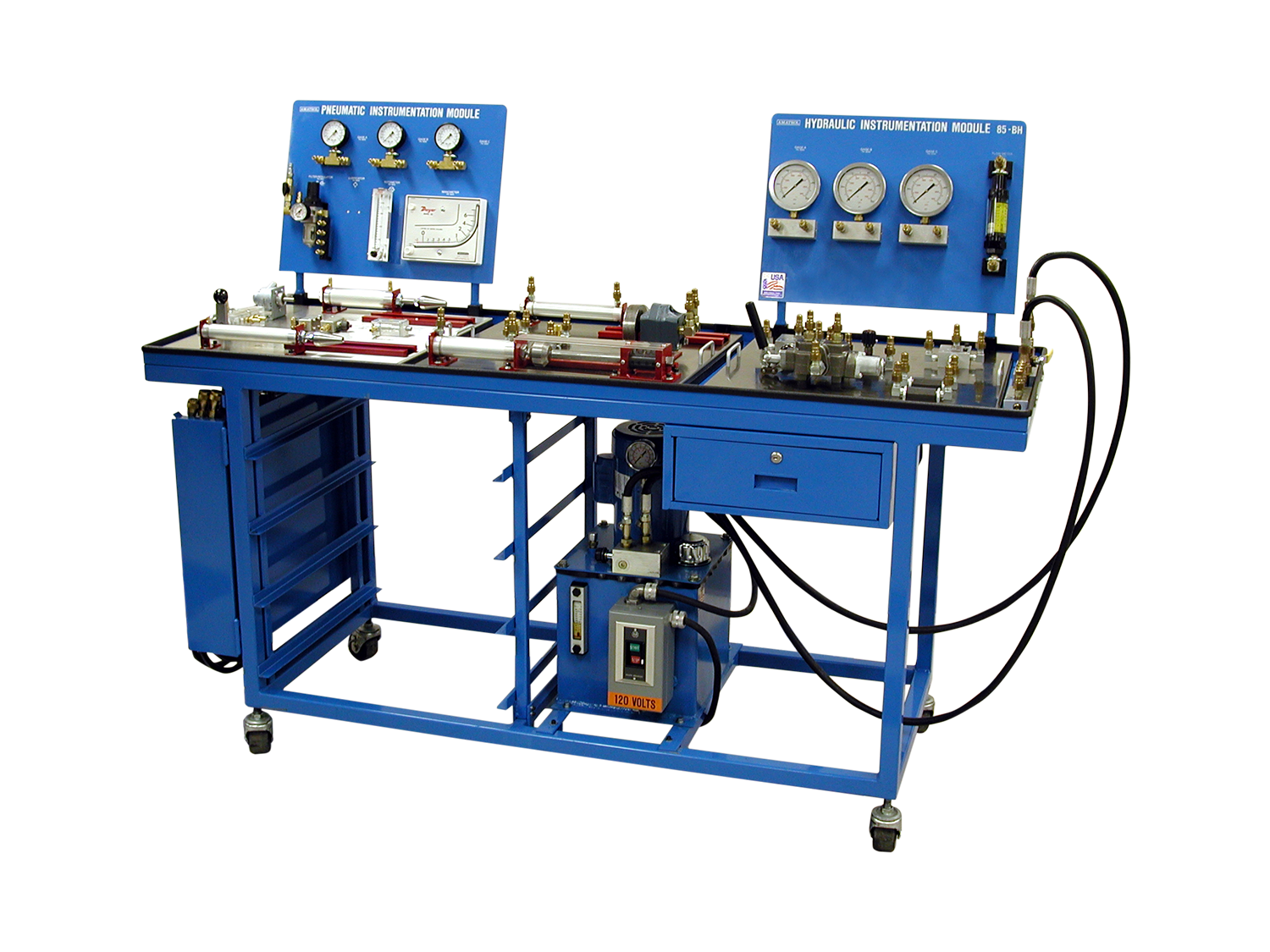 A sample copy of the Advanced Pneumatics Student Reference Guide is also included with the system for your evaluation. Sourced from the system's curriculum, the Student Reference Guide takes the entire series' technical content contained in the learning objectives and combines them into one perfectly-bound book. Student Reference Guides supplement this course by providing a condensed, inexpensive reference tool that learners will find invaluable once they finish their training, making it the perfect course takeaway.
Hydraulic Oil (16391 or 16393)
Hand Tool Package (41220)
Electricity (110-120/60/1)
Compressed Air Supply (2 CFM @ 100 PSIG/0.06 cmm @ 690 kPa)
Amatrol's Basic Fluid Power Learning System – Single Surface Bench (850-C1) teaches learners the fundamentals of two bedrocks of industry: hydraulic and pneumatic power. Hydraulics and pneumatics are used in countless applications throughout industry in fields like automotive, pharmaceutical, packaging, and mining. This fluid power training system includes three panels on its work surface and can store up to four additional panels under the work surface for expanded hydraulic and pneumatic training.
The basic fluid power training system includes a controls technology bench with a hydraulic power supply and Amatrol's basic pneumatics and hydraulics systems. These systems feature industrial-quality components to prepare learners for what they will encounter on the job. Major topics covered by the system's multimedia curriculum include hydraulic and pneumatic power systems, basic hydraulic and pneumatic circuits, principles of pneumatic and hydraulic pressure and flow, and hydraulic and pneumatic speed control.