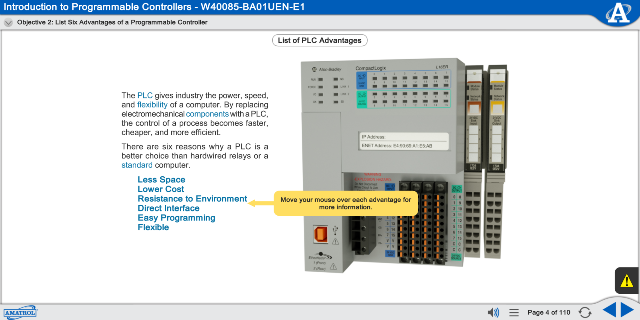 Requires:
Options: 
Portable PLC Troubleshooting Learning System - AB CompactLogix L16 (990-PAB53AF)
NOTE: Learning System Available Without Troubleshooting (Equipment: 990-PAB53A; eLearning Course: M40085)
Amatrol SkillTrace Software (94-ST1)
Portable PLC Troubleshooting
AB CompactLogix L16 (990-PAB53AF)
Amatrol's Multimedia Courseware - Programmable Controllers, AB L16 (M40085) and Multimedia Courseware - Portable PLC Troubleshooting, AB L16 (40086) eLearning courses provide a comprehensive curriculum to teach modern PLC systems as they are used in industry today. Students learn about both basic and advanced applications with focus on the powerful Allen-Bradley CompactLogix 5300 PLC. Major topic areas include application circuits and components for thermostatic temperature control, analog temperature control, reversing constant-speed motor control, variable speed motor control with feedback, and stepper motor homing and commissioning. In addition, students will develop key PLC troubleshooting skills, such as PLC input and output testing, software testing, and application troubleshooting, using FaultPro, the industry's premier computer-based fault insertion system.