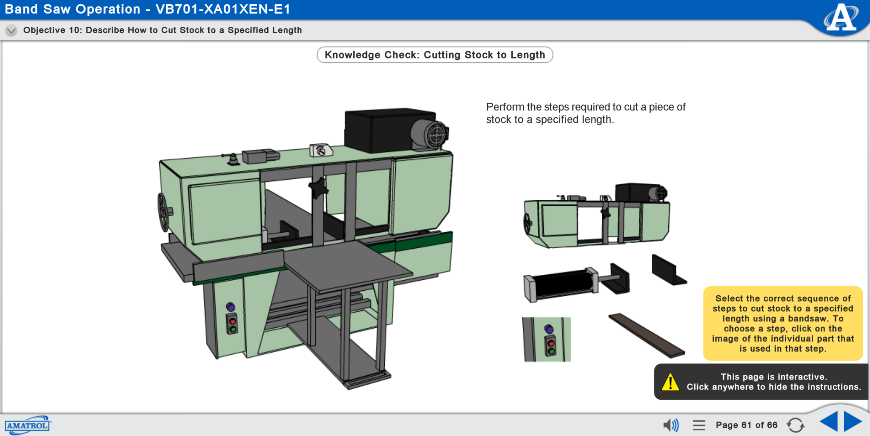 A sample copy of the Machine Tools 1 Student Reference Guide is also included with the system for your evaluation. Sourced from the system's curriculum, the Student Reference Guide takes the entire series' technical content contained in the learning objectives and combines them into one perfectly-bound book. Student Reference Guides supplement this course by providing a condensed, inexpensive reference tool that learners will find invaluable once they finish their training, making it the perfect course takeaway.
Amatrol's Machine Tools 1 Learning System (96-MP1) covers the uses and operation of two vital manufacturing tools: the band saw and the drill press. Learners will practice safely cutting raw material into precise lengths for manufacturing applications, as well as creating various hole types, including countersink, counterbore, reamed, and tapped. The drill press and band saw are found in every manufacturing plant, so understanding their applications and how to safely operate them is essential for any future member of the workforce.
The Machine Tools 1 Learning System includes multimedia curriculum, an instructor's guide, installation guide, and a student reference guide. Schools can provide their own equipment or they can order Amatrol's Manual Machine Tool Package, which includes a band saw, drill press, bench vise, and belt sander. These components, along with the multimedia curriculum, will be used to cover topics like stock selection, parts of the band saw, drill press tooling, and tapping and chamfering. This learning system was designed as part of Amatrol's Project Based Learning program. The Project Based Learning program was designed for high schools to teach valuable problem-solving, teamwork, and STEM skills and provide a strong base to build toward careers in engineering, manufacturing, and many more, or as a stand-alone system.