Click HERE to view IGNITE: How To Spark Student Interest and Light the Fire that Leads to Career Success as a multimedia presentation.
Amatrol is pleased to introduce educators to IGNITE: Mastering Manufacturing, a new program that equips high school students with the in-depth knowledge and hands-on skills they need to be successful in the highly-skilled, high-pay jobs available in advanced manufacturing.
In addition to showing you how easy it is to roll out IGNITE as a one-, two-, or three-year program, we will also offer some food for thought and inspiration as you seek to spark student interest and light the fire that will propel your students to a rewarding career.
Filling a Pail vs. Lighting a Fire
"Education is not the filling of a pail, but the lighting of a fire." This pithy quote about the true nature of education has captured the imagination of and been cited by many educators over the years. More often than not, you'll see the quote attributed to Irish poet William Butler Yeats.
This is ironic given that: (1) educators usually stress the importance of reliable and accurate sources; and (2) experts believe that Yeats never said or wrote those words.
According to the Quote Investigator blog, the famous quote is most likely a paraphrase of a similar statement made in an essay by Greek philosopher Plutarch: "The mind is not a vessel that needs filling, but wood that needs igniting."
Playing with Matches
Regardless of who gets the credit, the saying packs a lot of meaning into a few words. According to an article by Professor Robert Strong, a keynote speaker at an educational conference once interpreted the words this way:
"[I]nstruction should not be about dribbling drops of knowledge that students collect as they move from course to course. It should be more like gathering kindling, letting students play with matches, encouraging them to take risks and hoping that for some the materials burst into flames and become lifelong interests."
Strong agrees with this view of education:
"At all levels of education, what we as teachers hope for is that our students will find issues, ideas, authors, experiments, projects and problems that they find genuinely exciting. We want them to get fired up about something. We want education to be about those fires."
Will and Skill
As an educator, how do you kindle those fires in your students? Is it – or should it be – your responsibility? Writing for Psychology Today, Dr. Timothy A. Pychyl notes that two things are needed to light a fire for learning: will and skill.
According to Dr. Pychyl, "It's true that ultimately the student must be the fuel for the fire, but that doesn't mean that educators don't have a role in lighting this fire. At the very least, we have to spark the students' interest."
To do that, educators must go beyond thinking about education as simply a "neck up" process ("filling a pail") and realize that the interest they want to spark "is an emotion that motivates approach behaviors, curiosity, [and] learning."
Dr. Pychyl concludes:
"The fire for learning depends on educators' addressing both will and skill. We have to attend to things like helping students to: see the value of what they're learning, integrate their learning to their need for social interaction and their need for our mentoring, as well as help them develop the skills they need to succeed coupled with the courage and effort to try. This is the craft, the art, of teaching."
This view is echoed by one of Dr. Pychyl's favorite educators and writers, Parker Palmer:
"Tips, tricks and techniques are not at the heart of education – fire is. I mean finding light in the darkness, staying warm in the cold world, avoiding being burned if you can, and knowing what brings healing if you cannot. That is the knowledge that our students really want, and that is the knowledge we owe them. Not merely the facts, not merely the theories, but a deep knowing of what it means to kindle the gift of life in ourselves, in others, and in the world."
A Changing Landscape
As inspired educators seek to apply this advice in the modern classroom, they must acknowledge that the current educational landscape is far different than it used to be. For many years, students were often thought of as belonging to one of two groups: those who were bound for college and those who were not.
Those not bound for college could instead directly enter the workforce, perhaps to take one of the many low-skill positions available in the nation's manufacturing facilities. The pathway from the high school directly to the factory isn't as straight as it used to be, however.
Advanced technologies are transforming modern advanced manufacturing facilities, and there simply aren't as many low-skill positions as there used to be. In fact, today's manufacturing workers – including entry-level production and maintenance workers – need more advanced skills than ever before.
Skilled Workers Needed
According to a recent article in The Wall Street Journal, "[c]ollege-educated workers are taking over the American factory floor. New manufacturing jobs that require more advanced skills are driving up the education level of factory workers who in past generations could get by without higher education."
Industry 4.0 technologies, such as advanced automation, robotics, machine learning, and artificial intelligence, are leading the way, and factories "need workers who can manage the machines." Already "[m]ore than 40% of manufacturing workers have a college degree, up from 22% in 1991."
"Investments in automation will continue to expand factory production…Jobs that remain are expected to be increasingly filled by workers from colleges and technical schools." In fact, "[w]ithin the next three years, American manufacturers are, for the first time, on track to employ more college graduates than workers with a high-school education or less."
Of course, this doesn't mean that all students need to pursue higher education. There will still be students for whom college just isn't the right fit. If these students want to pursue a career in manufacturing, however, they will still likely need to acquire the skills they need via alternative pathways, such as apprenticeships and industry-standard certifications.
Manufacturing Has Wide Appeal
For some educators, it will take time to get used to thinking of advanced manufacturing facilities as a great career destination for a wide variety of students, including those on a higher-education pathway. It's a necessary shift, though, because modern advanced manufacturing facilities now appeal to a broader swath of people than ever before.
Although some people might still picture dirty, grungy factories offering low-skilled, menial work for the under-educated, these stereotypes of manufacturing are inaccurate and misleading. Today's advanced manufacturing facilities offer clean, safe work environments in addition to high-paying jobs with plenty of advancement opportunities.
Don't believe it? Take a tour of a local advanced manufacturing facility, and you'll be amazed at the technology in use. You'll see people working alongside robots and autonomous guided vehicles. Just as technology has changed every aspect of our lives, it has had a similar impact on manufacturing.
Today's students have grown up with advanced technologies and fully expect them to be part of their working lives. Manufacturing offers many different opportunities for students with all sorts of interests to work with cutting-edge technologies in interesting careers.
Recent research supports the fact that today's students are becoming more and more interested in manufacturing. According to the L2L 2019 Manufacturing Index, "Gen Z [those aged 18-22] is intrigued by careers in manufacturing. They are 7 percent more likely to consider working in the manufacturing industry and 12 percent less likely to view the manufacturing industry as being in decline."

The Skills Gap
While the changes taking place in manufacturing have led to great leaps in productivity and efficiency, they've also created a serious problem: manufacturers simply can't find enough highly-skilled workers to fill open jobs. This problem is known as the skills gap.
According to a recent CNBC article by Jeff Cox, manufacturing added only 46,000 jobs in 2019. This was an anomaly in an economy with otherwise solid job growth. As Cox noted, "It's not that the jobs aren't there: There were still 477,000 open positions as of October [2019]…Instead, it's more a case where the manufacturers themselves are having a harder time filling positions."
Steve Rosen, CEO of Resilience Capital Partners, agrees: "Until we have a better-trained, more-skilled workforce, which is not really out there, you're going to have a lot of these positions open. It's a challenge." How serious is this challenge?
The 2018 Deloitte and The Manufacturing Institute Skills Gap and Future of Work Study estimates that more than 2.4 million open manufacturing jobs could go unfilled over the next decade because of the skills gap. Adding to the problem is the fact that "the unemployment rate is hovering at a 50-year low," resulting in "intense competition for skilled workers," notes a recent article in The Wall Street Journal.
Opportunity Abounds
Although the skills gap is a thorn in the side of manufacturers, it represents a golden opportunity for today's students. Those who acquire the skills manufacturers need will find interesting, lucrative careers waiting for them.
Of course, these opportunities for students also represent a new challenge for educators. How do you spark student interest in manufacturing careers? For those interested in manufacturing, how do you prepare them for the highly-skilled advanced manufacturing jobs available now and into the future?
There are many different ways to answer these questions. Fortunately, you don't have to re-create the wheel. Educators can rely on the expertise of Amatrol, the world's leader in technical education for more than 30 years.
IGNITE: Mastering Manufacturing
Amatrol is pleased to introduce IGNITE: Mastering Manufacturing, a comprehensive advanced manufacturing training program that equips high school students with the in-depth knowledge and hands-on skills they need to be successful in the highly-skilled, high-pay jobs available in advanced manufacturing.
IGNITE was developed by Amatrol in conjunction with LIFT – Lightweight Innovations For Tomorrow, including significant contributions from America Makes, MxD – The Digital Manufacturing Institute, The Ohio State University, ASM Materials Education Foundation, and The PAST Foundation.
The IGNITE program exposes students to the many different facets of modern advanced manufacturing. Instructors can also guide the experience to spark student interest in specific subject matter areas.
In addition to hands-on technical skills in a wide variety of disciplines found throughout manufacturing, the IGNITE program also teaches students the valuable, uniquely-human "soft skills" (also commonly called "common employability skills" or "CES"), such as communication, teamwork, and critical thinking, that are critical to future career success.
The IGNITE program will light the fire that will lead students to successful manufacturing careers. The comprehensive program prepares students to follow a variety of career pathways:
IGNITE lays a great foundation for students who wish to pursue post-secondary education in preparation for a technical, specialized, or management-level manufacturing career.
IGNITE provides solid preparation for students seeking an industry-standard certification, such as the Manufacturing Skill Standards Council (MSSC) Certified Production Technician Plus Skill Boss certification or other industry-recognized credentials in CNC machine operation, industrial maintenance technology, and Welding.
IGNITE equips students with a wide variety of hands-on skills that will enable many of them to successfully enter the workforce immediately.
Program Overview
Subject-matter experts created IGNITE with guidance from industry leaders and educational institutions to ensure that students will be prepared for a rewarding career in advanced manufacturing.
Designed around project-based learning, IGNITE: Mastering Manufacturing consists of three courses in a modular format that allows school to roll out IGNITE as a one-, two-, or three-year program. Students begin with Introduction to Advanced Manufacturing, which teaches a range of foundational topics, such as safety, measurement, hand tools, print reading, and materials science.
Students then move on to Advanced Manufacturing Systems 1, which focuses on relevant knowledge and hands-on skills related to a wide variety of topics essential in advanced manufacturing: AC/DC electricity; fluid power; machine tools; mechanical drives; electrical relay control; computer-aided design and manufacturing; CNC machine operation and programming; materials engineering; electrical fabrication; plastics and mold design; welding; and lean manufacturing.
The final course, Advanced Manufacturing Systems 2, ensures that students will be prepared for the technologically-advanced roles they will be expected to fill in the future workplace. Core concepts and relevant skills covered include: programmable controllers, electronic sensors, robot programming, and mechatronics systems.
As previously mentioned, IGNITE addresses important "soft" common employability skills by training students in essential areas, such as communications, presentations, and teamwork. These skills are also a key element of the capstone projects that students will complete as part of the IGNITE program.
A Unique Learning Approach
To engage and reach students with a variety of learning styles, the IGNITE program features multiple learning methods to provide an outstanding learning experience that combines comprehensive theoretical knowledge with practical, hands-on skills practiced with real industrial equipment.
Let's take a closer look at the main elements that make up this unique approach to technical training:
eLearning
The IGNITE eLearning curriculum offers flexible, self-directed technical training with comprehensive content and exceptional interactivity for practical skill development. The curriculum features a multimedia format that includes stunning 3D graphics and videos, voiceovers of all text, and interactive exercises designed to appeal to learners with different learning styles.
To help instructors gauge student comprehension and engagement, the curriculum also includes assessment quizzes, as well as classroom-based skills assessment via Amatrol's exclusive Skill Boss Manufacturing performance assessment tool.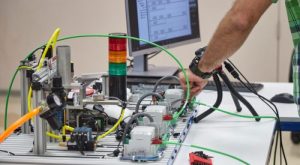 Virtual Trainers
Hands-on experience with real industrial equipment is an important part of effective technical training. However, it's not always practical or even possible for all students to access equipment simultaneously.
The IGNITE curriculum's virtual trainers replicate hands-on equipment in such great detail that learners will feel like they are using the actual equipment. Learners perform essentially the same tasks using virtual trainers that they would using the hands-on systems. In this way, students can practice before taking their turn with the actual equipment.
Hands-On Skills with Real-World Equipment
The IGNITE program uses Amatrol's hands-on training systems, which are designed by engineers and subject-matter experts and hand-crafted, assembled, welded, wired, and painted at Amatrol's facility in Jeffersonville, Indiana. These heavy-duty systems stand up to frequent use by inexperienced users.
The training systems feature real-world, industrial components that allow students to learn and practice on the type of equipment they will encounter on the job. This invaluable preparation gives students the confidence they need to succeed in modern advanced manufacturing facilities.
Exciting Capstone Projects That Challenge Students
As students progress through each IGNITE: Mastering Manufacturing course, they will also work in teams on exciting capstone projects using industry-specific new and emerging technologies and equipment to solve real-world problems. Through each project, teams will research ideas, develop multiple solutions, analyze and select the best solution, build a prototype, and evaluate their results.
The capstone projects also provide students with an additional opportunity to learn and practice common employability skills. These skills are foundational to success in the workplace regardless of a person's career field or professional position. They include competencies such as communications skills, the ability to work on a team, and problem solving.
Advanced Manufacturing Capstone Projects:
Portable Solar Electric | Living with Fresh Water
Autonomous Delivery Service (Drone)
Cyber-Security
Automated Can Crusher
Hovercraft
Automated Hydroponics
Smart House
Ergonomic Workstation
Solar-Powered Fueling Station
Materials Science Capstone Projects:
Shoe Design Challenge with Polymers
House Design Challenge with Ceramics
Build a Bridge Challenge
Guidance + Flexibility
The Instructor's Guide for each IGNITE course contains a flow chart that serves as a guide for how each course can be structured. This guidance will prove invaluable to instructors as they plan their preferred route through the material. With so many topics to cover and tools to use, however, instructors also need freedom to make the program serve their students.
To allow instructors the flexibility they need to guide their students through the IGNITE program efficiently, the program includes a variety of instructional groupings, including group blocks, pod rotations, mini projects, and field trips. For example, eLearning topics can be assigned to individual students for self-directed study while other students work in groups on pod rotations and mini projects.
Light the Fuse
Opportunity abounds for today's students to find future careers in the expanding world of advanced manufacturing. The need for advanced manufacturing skills training is clear. IGNITE: Mastering Manufacturing is the program educators need to provide the training that will prepare their students for successful manufacturing careers.
So how do you get started with IGNITE? We understand that it can seem overwhelming to think about building an advanced manufacturing training program from the ground up. Don't worry, though. It's easy to get started with IGNITE.
Experts will consult with you to determine how best to get your students started on their IGNITE journey, including how to make the best use of career and technical education (CTE) programs and equipment you already use.
Beginning with the Introduction to Advanced Manufacturing course is as simple as setting up student access to the IGNITE curriculum's eLearning and virtual trainers. While students explore basic concepts, such as safety and materials science, equipment needs can be assessed and acquisitions planned as timing and funds allow.
The First Step
Every journey begins with a single step. If you're ready to learn more about IGNITE: Mastering Manufacturing, it's time to contact Amatrol to learn how their team of experts can help you spark an interest in manufacturing and light the fire that will propel your students to a rewarding career.
About Duane Bolin
Duane Bolin is a former curriculum developer and education specialist. He is currently a Marketing Content Developer for Amatrol, Inc. Learn more about Amatrol and its technical training solutions, including eLearning, here and connect with Duane on Amatrol's Twitter, Facebook, LinkedIn, and YouTube pages.