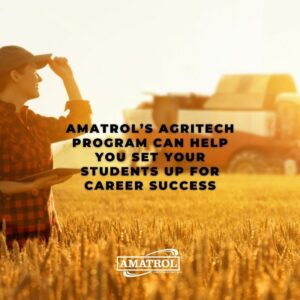 Can you find a student today who doesn't like technology? Modern technology shapes and, in many ways, defines our lives on a daily basis. It's only natural that it would also have a profound impact on how students choose a future career path.
Recent data shows that postsecondary enrollment is down overall, but luckily interest in career and technical education (CTE) programs remains strong. This is good news for industries desperate for an influx of highly-skilled workers.
What some might find intriguing about the growth of interest in CTE is that agriculture is leading the charge at the moment. It appears that many students are beginning to see the wealth of job opportunities that agriculture offers.
Of course, the agriculture industry needs workers with the right combination of skills. In this article, we'll take a look at current college enrollment trends, agriculture's growing presence, and how Amatrol's Agritech program teaches students the key hands-on skills they need to be successful in a career in modern agriculture.
College Enrollment Down but Interest in CTE Remains Strong
In an article for the CTE Policy Watch blog, author Cece Hohman reported on findings by the National Student Clearinghouse Research Center regarding estimated spring 2022 enrollment in postsecondary institutions across the United States. Overall, "enrollment dropped compared to the spring prior, with community colleges representing more than half of enrollment declines."
However, she found a silver lining in this otherwise dark cloud, noting that "CTE program enrollment at two-year institutions increased significantly." While "community college enrollment declined by 7.8% or 351,000 students" from spring 2021, "[a]griculture programs experienced the largest enrollment growth, with a 47.8% increase."
"Enrollment in skilled trades programs also grew, including transportation and materials moving (28.9%); precision production (16.7%); and mechanic and repair technologies (11.5%)…Additionally, other CTE programs that saw significant enrollment increases include personal and culinary services (12.7%); computer and information sciences and support services (8.5%); and visual and performing arts (8.4%)."
CTE advocates should be happy with these increasing enrollment numbers. According to Hohman, "[p]ossible reasons for the increases in CTE program enrollment include pent-up student demand from the pandemic, when some learners opted out of CTE programs that had moved online, as well as labor market needs in these industries and occupations."
Agriculture Leads the Way
Some people might be surprised that agriculture programs are leading the way with a nearly 50% increase in enrollments this spring. However, those familiar with the opportunities agriculture offers already know this increase simply reflects what they've been trying to tell students for years now.
As author Karyn Moyer notes in an AgHires article, agriculture is "an industry that is constantly evolving and consistently in desperate need of new talent. Ag careers provide job security, competitive pay rates, and the chance to really have an impact on your community."
Despite these advantages, the people within the agriculture industry trying to reach students typically find it "shocking to know how many job seekers are unaware of the incredible, high-paying opportunities agriculture has to offer…Why aren't there more college grads and young job seekers champing at the bit?"
Moyer points out that, according to the U.S. Department of Agriculture, "[i]n 2019, 22.2 million full- and part-time jobs were related to the agricultural and food sectors — 10.9 percent of total U.S. employment." However, despite the fact that "[t]he amount of jobs in agriculture has grown immensely in the last decade, and continues to grow…only about 35,000 students will graduate annually with degrees in agriculture."
These statistics trouble leaders in the agriculture industry, because needs are only going to grow. According to Moyer, "[o]ver the next 35 years, the world's population will increase to near 9.6 billion, making the need for agriculture more significant than ever. We need to work together to increase agriculture production by 70%."
That's why "agriculture careers are becoming increasingly more important" and "will be valuable for years to come." Indeed, Moyer believes that "[t]here is a strong demand for graduates in agribusiness, agricultural science, and food science. Because of the rise in demand combined with the shortage in labor, agricultural graduates [can]… find work quickly, pursue different areas of expertise to discover the niche that best suits them, and ultimately, grow their careers much faster than they might in other industries."
Agriculture Needs Workers with the Right Skills
In addition to needing many more workers, the agriculture industry needs those workers to have the right combination of skills to be successful. As Moyer notes in her article, "[t]echnology is everywhere, even on farms and fields. Since advancements in technology are continuously evolving to improve productivity, more technology-savvy candidates are needed."
Unfortunately, "[i]n the current agriculture job market, employers are struggling to find high-quality talent." This is good news for students looking to begin a career in agriculture, though. "If you're interested in helping to feed the world and have an interest in technology, then agriculture is the perfect space for you to find a meaningful job that will allow you to help shape the future of the industry," notes Moyer.
Not only can you make a difference in the agriculture industry, but you'll be well-paid for it. Moyer points out that "[t]he shortage in labor has forced employers to keep their salaries competitive in order to attract the highest quality candidates and retain their top employees. This means you'll likely discover a significant difference in salary for an agriculture job compared to that of the same job in another industry."
Overall, if you pursue the modern technology skills you'll need to be successful in an agriculture career, you'll find a variety of job opportunities that likely pay above average compared to other industries. And you'll have job security on top of all of that.
As Moyer concludes in her article:
"Agriculture isn't going anywhere any time soon. And with the constant demand for qualified candidates across many areas of the industry, you can feel secure in knowing that you'll always be able to find the next opportunity. Everything from equipment operator and IT to Food Safety and Marketing, there is a wide range of positions in the agriculture industry."
Amatrol's Agritech Program Teaches the Skills Today's Agriculture Students Need
The experts at Amatrol know that technical training for agriculture is more important than ever. The next generation of agricultural experts must possess a broad range of knowledge across a variety of areas, including electrical, mechanical, fluid power, and alternative energy.
With more than 30 years of experience designing and manufacturing state-of-the-art training systems, Amatrol remains the world's leader in skills-based, interactive technical learning for industry and education. What sets Amatrol apart is its dedication to providing comprehensive training solutions that integrate in-depth multimedia eLearning curriculum with hands-on trainers that feature real-world industrial components.
Amatrol's Agritech program offers a variety of technical training solutions for both industry and education. For a taste of what Amatrol's Agritech training includes, explore the following training systems that provide comprehensive, hands-on training in areas like basic electrical, mechanical, and fluid power:
AC/DC Electrical Learning System (T7017A): teaches the fundamental concepts of AC and DC electrical systems and covers industry-relevant topics like linear power supplies, solid state relays, sensing devices, solid state switching, and more.
Mechanical Drives 1 Learning System (970-ME1): teaches the fundamentals of mechanical transmission systems and allows for the practice of industry-relevant skills including how to operate, install, maintain, troubleshoot, and design basic mechanical transmission systems using chains, v-belts, spur gears, bearings, and couplings.
Basic Fluid Power Learning System – Single Surface Bench (850-C1): teaches the fundamentals of both hydraulics and pneumatics as learners work with up to six panels simultaneously with storage under the system for additional panels.
Whether you're a high school or college instructor, an employer, or a state or local official looking to implement new strategies to prepare students and current workers for the highly-skilled jobs currently in demand, Amatrol can help. Consult with an expert at Amatrol today to learn how you can take the first step toward teaching your students or current workers the skills that will set them up for success in the modern workplace.
About Duane Bolin
Duane Bolin is a former curriculum developer and education specialist. He is currently a Marketing Content Developer in the technical training solutions market.