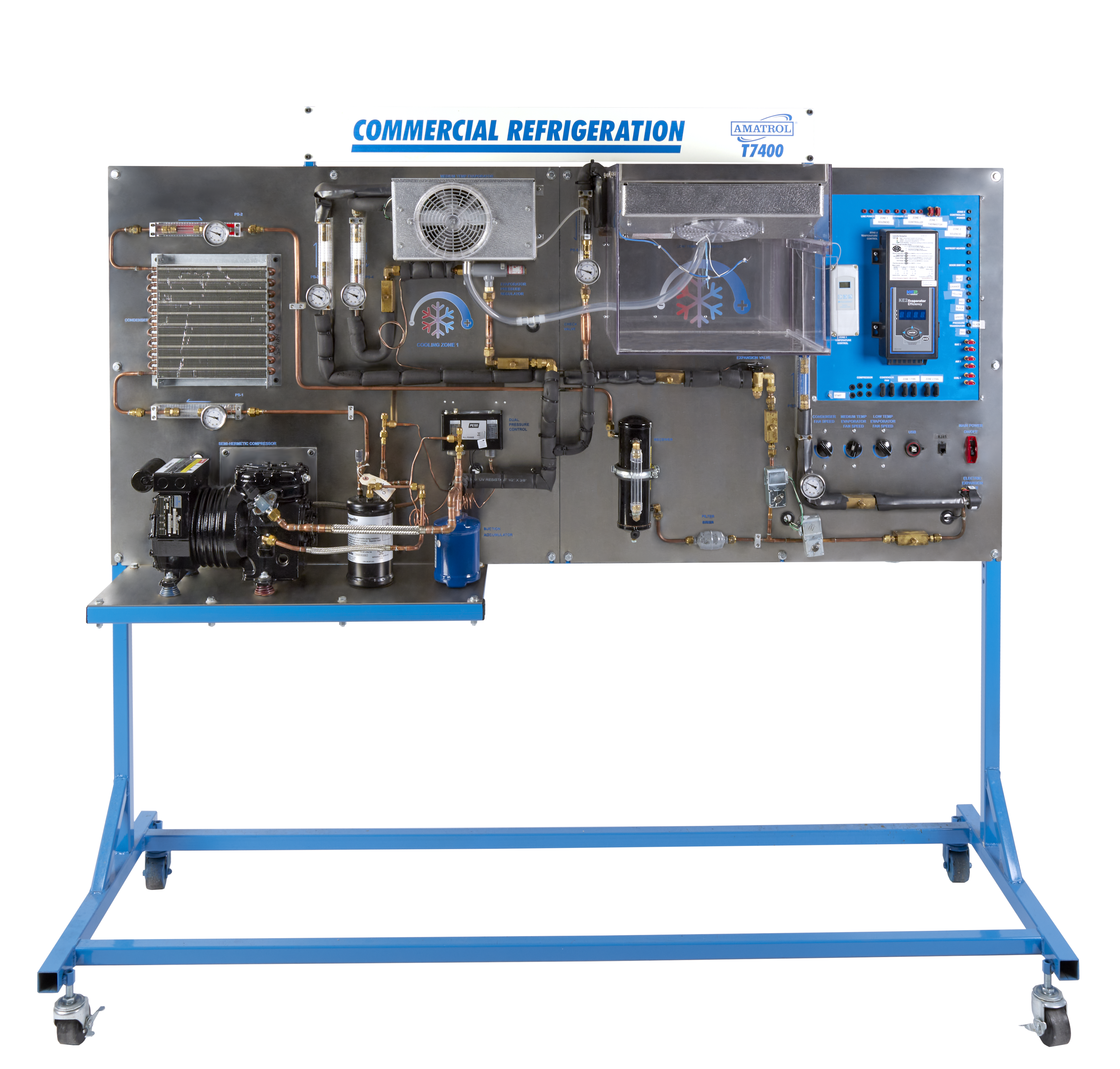 A sample copy of the Commercial Refrigeration Student Reference Guide is also included with the system for your evaluation. Sourced from the system's curriculum, the Student Reference Guide takes the entire series' technical content contained in the learning objectives and combines them into one perfectly-bound book. Student Reference Guides supplement this course by providing a condensed, inexpensive reference tool that learners will find invaluable once they finish their training, making it the perfect course takeaway.
Requirements:
Utilities:
Options:
19203 Compressor Guard for additional heat exposure protection
Commercial refrigeration allows businesses like supermarkets, gas stations, restaurants, and more to prolong the shelf life of certain products. When one of these refrigeration systems breaks down, time is of the essence, and an efficient technician with experience in troubleshooting commercial refrigeration systems is required. Finding a technician with the necessary skills can be difficult though, due to the skills gap in the HVACR field and many other trade professions. Amatrol understands the importance of equipping future commercial refrigeration technicians with the best hands-on education possible and offers a solution.
The T7400 Commercial Refrigeration Learning System teaches students how to operate and troubleshoot commercial refrigeration systems, including those systems used in commercial air conditioning, refrigerated display cases, walk-in coolers and freezers, and more. Students will learn how to operate and adjust a commercial refrigeration system, program a smart controller, take airflow measurements, and troubleshoot a system and both its mechanical and electrical components.
The T7400 includes a mobile workstation equipped with a semi-hermetic compressor, evaporators, expansion and solenoid valves, defrost controls, adjustable air flow fans, and much more. The system also includes FaultPro, Amatrol's premier computer-based fault-insertion system, that enables students to gain hands-on troubleshooting experience. Amatrol's proven PC-based interactive, multimedia student curriculum is included, as well as an install guide, instructor's guide, and student reference guide.