HVAC technology has progressed immensely in the last 10 years. Innovations like high efficiency smart systems have driven the industry, and customers to demand much higher levels of convenience with installed systems that can be controlled in a more modular style, via smart phones or set to change automatically based on environmental factors.  Expansions in warehouse sectors and housing have also created a higher demand for HVAC installation and services. While most people feel the effects of HVAC in their homes and workplaces, many may not realize how essential the technology is to other industries such as Food, Healthcare and Data Centers.
Where Are The Workers?
In spite of the modernization of HVAC products, the workforce hasn't necessarily followed along. In conjunction with a large swath of older technicians reaching retirement age,  according to, ContractingBusiness.com; 'the number of unfilled HVAC technician jobs is about 80,000 or 39% of technicians currently employed'. In addition, there's a net technician loss of about 8% or 20,000 per year. This loss is exacerbated by a distinct lack of talent being attracted to the industry –"a scant 6 percent of high school students hope to have a future career in the skilled trades – defined as plumbers, carpenters, electricians, heating, ventilation or air conditioning installers, or repair people" .  When asked for the reasons for their responses, students said they didn't think skilled trades were 'high-tech' enough and because they believe there is a 'lack of opportunity'.
And what is the impact of the lack of workers for everyone else? There are pervasive ways this labor shortfall affects the public; the amount of time customers need to wait for maintenance and emergency call-outs has been extended, and also in the rising cost of services which are up between 8% to 12%. So what can be done to increase the number of highly-skilled workers choosing trades?
What Can Be Done?
Educators should consider that, in addition to public demand, the current White House administration is determined to pass the American Jobs Plan, which has a huge focus on skilled labor. If passed, Mr. Biden's bill will inject $590 billion of funding into in Domestic Manufacturing, Research & Development, and Job Training Initiatives, via high schools
and technical colleges. Whether the bill passes or not, its discussion may herald a change in perception of trade-based career paths – which can provide high-school graduates a much cheaper and quicker route into paid employment than the widely encouraged college track.  In addition, the number of women interested in skills-based work has started to trend upward, while just 1.4 percent of HVAC mechanics and installers are women, according to the U.S. Bureau of Labor Statistics. Given the stigma, and lack of training available there is little incentive for women to pursue careers in HVAC at the moment.
The Solutions Are Out There
Schools and learning institutions can offer inclusive and comprehensive technical training to prepare students for the HVAC technician positions available today and into the future.
Todays' HVAC technicians must be able to install, service, troubleshoot, and repair a wide variety of different types of components, including furnaces, air conditioners, boilers, heat pumps, refrigerators, coolers, freezers, humidifying units, and air filtration systems.
These packed training programs not only benefit new workers, but also existing technicians who should be flexible and open to developing their skills.
The Amatrol family of technical training solutions, including training systems and learning aids from DAC Worldwide and Bayport Technical, offers a wide variety of products to take your maintenance training needs to the next level and ensure your maintenance efforts yield a solid return on investment.
Amatrol's HVAC training systems offer high-quality, comprehensive interactive multimedia eLearning curriculum guides students and workers through hands-on skill development with physical trainers packed with real industrial HVAC components.
Amatrol's Thermal Science Learning System (T7081) teaches learners the basic principles of modern thermal systems, such as HVAC, geothermal, refrigeration, and steam systems.
Once learners have mastered the basics, Amatrol offers more advanced thermal training systems in a variety of areas, including:
Amatrol also offers four HVAC training systems designed to bridge the HVAC skills gap and prepare future HVAC technicians to succeed in the jobs of the present and future:
Residential Heat Pump Troubleshooting Learning System (T7100)
Amatrol's Residential Heat Pump Troubleshooting Learning System (T7100) teaches critical HVAC skills related to residential HVAC systems that use a heat pump and traditional ducting. Learners will work with real industrial HVAC equipment, such as: a heat pump condenser, heat pump air handler, Wi-Fi-enabled thermostat, and ducting. The T7100 was also designed to include transparent housings, pipes, and ducting with LED illumination that allows learners to see inside the system.
The T7100's interactive multimedia eLearning curriculum covers a wide variety of fundamental residential heat pump topics, including: thermostat operation, pressure and temperature measurements, component tests, and system troubleshooting. The curriculum also focuses on the development of critical hands-on skills, including: operating a heat pump in heating and cooling modes, testing a thermostatic expansion valve, and troubleshooting insufficient cooling.
Residential Mini-Split Heat Pump Learning System (T7130)
Amatrol's Residential Mini-Split Heat Pump Learning System (T7130) focuses on residential ductless ("mini-split") HVAC systems. Learners using the T7130 will work with real industrial HVAC equipment, such as: a heat pump condenser, evaporator unit, thermostat, panel-mounted gauges, and condensate pump. The T7130 also features transparent housings and pipes with LED illumination that allow learners to see inside the system.
The T7130's eLearning curriculum covers fundamental residential mini-split system topics, including: remote controller adjustments, heating and cooling modes, LED indicators, communication between units, and system troubleshooting. Learners can also expect to learn critical hands-on skills, including adjusting remote controller settings, verifying communication between indoor and outdoor units, and testing a four-way valve reversing valve coil.
Refrigerant Recovery and Charging Learning Systems for R-134a (T7031) and R-410a (T7032)
Amatrol's Refrigerant Recovery and Charging Learning Systems for R-134a (T7031) and R-410a (T7032) teach future HVAC technicians
critical hands-on skills related to system charging and refrigerant recovery. Learners using these systems will work with real industrial equipment, such as: a recovery machine, submersible cooler, temperature probe, filter dryer, electronic refrigerant scale, charging hose set, vacuum pump, and micron vacuum gauge.
The eLearning curriculum for the T7031 and T7032 covers relevant refrigerant recovery and charging topics, including: refrigerant fundamentals, leak detection, pressure and temperature measurement, refrigerant recovery and recycling, and refrigerant charging. Learners using these systems can also expect to learn critical hands-on skills, including using a compound gauge to measure refrigeration system pressure and removing a service valve core.
HVAC Component Level Training with DAC Worldwide Cutaways
DAC Worldwide's HVAC industrial training includes products designed for both introductory and more advanced learning.  Incorporating full-size industrial components from leading manufacturers, our HVAC products deliver industrial quality and industrial relevancy.
An expertly-sectioned example of a common fractional-horsepower refrigeration compressor. Multiple cutaways unveil all internal components, which enhances classroom training in HVAC system design, maintenance, troubleshooting, and preventive/predictive maintenance.
An expertly-sectioned example of a common fractional horsepower rotary-type refrigeration compressor.  Cutaway surfaces are enhanced through painting, making the geometry of all components more clear
A professionally-crafted, sectioned example of a refrigeration system fragment, including ceiling unit cooler with associated components, as used in commercial refrigeration systems relating to food preservation applications.
Professionally-crafted, economical teaching aid which depicts a conventional float-type oil separator commonly used in industrial and commercial refrigeration systems for oil entrapment and compressor crankcase replenishment.
A professionally-crafted, sectioned example of an industrial suction line accumulator. Designed primarily to protect system compressors from damaging surges of incoming liquid refrigerant and oil, the device also acts as a reservoir
Learn to Troubleshoot Like a Pro
At its core, being a skilled HVAC technician is all about problem solving. Technicians must be able to arrive on site, inspect and diagnose a system to determine what's wrong, and then recommend the best solution for repair or replacement. That's why HVAC troubleshooting skills are so critical.
As noted previously, the junk systems populating the HVAC graveyards in training labs across the country can provide a limited amount of troubleshooting skill development. But why settle for limited practice with a few obsolete systems?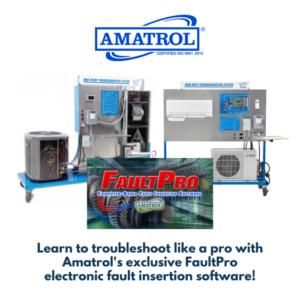 Amatrol's new T7100 and T7130 training systems feature FaultPro, Amatrol's exclusive computer-based fault insertion software. FaultPro allows instructors to insert a wide variety of electronic faults to teach key troubleshooting skills without harm to the equipment or danger to students.
Learners using the T7100 or T7130 with FaultPro will gain real-world problem-solving experience with more than two dozen mechanical and electrical faults they will encounter on the job. For example, the T7130 includes faults related to failures involving the fan motor, fuses, input power/wiring, compressor, and sensors.
Contact Amatrol Today!
Are you ready to take your HVAC training program to the next level? If so, contact Amatrol today to learn more about its complete lineup of HVAC training systems.
A technical training expert will consult with you to determine how you can incorporate Amatrol's systems into a training program that will help you bridge the HVAC skills gap and prepare students or workers to succeed in the HVAC jobs of the present and future!