Studies reveal that nearly half of organizations using an LMS are unhappy with their service. With a plethora of vendors on the market, offering unique feature sets and pricing models; customers often make decisions based on the wrong metrics. Whether you're looking for your first LMS solution, or searching to replace an existing one, there's a few key considerations.
Price: This is arguably the most complex aspect of navigating LMS solutions because the models offered to customers vary widely.  A common start-up fee for a cloud-based LMS is $4,000-$7,000, whilst a self-hosted LMS can require fees of up to $25,000. As much as possible, you should anticipate the growth your program might achieve. If you envision a consistent amount of students using your LMS, turned over periodically then self-hosting may be for you, however if you require more flexibility as your company or institution expands, then a cloud-based platform may be the optimal choice. Be aware of the ongoing or 'hidden' costs of maintaining your system. You may consider an open-source system, that is ostensibly 'free' to use. Services like usually require your own server, for which set-up and maintenance can be complicated and expensive, if your service provider lacks the kind of customer support you will need
Security: Your use of an LMS will require storage of personal data. Along with that it's your responsibility to make sure that your participants and administrators have secure access to the platform. This could come in the form of propriety tools from the LMS company or firewalls and other 3rd party solutions that your company already uses. It's important to check and keep this in mind.
Tracking: A good LMS will allow you to monitor the learning path of a user at all the key points: the beginning, middle and end of a program. Assessment at the end of a program is an important indicator of the pedagogical success of a program and student. In addition, it's extremely useful to have a sense of the existing knowledge a user already has before they embark on the program. Check-in's along the way will give you an access point, to check how the participant is engaging with the program. It's vital that any assessment is linked to relevant certifications that are recognized by the applicable industry.
Features: Think about the level of integration that you would like with any existing (or future) systems that you use. Is there an imperative for customization with any technology your company uses? We all love special and unique features, but it is prudent to think in terms of efficiency when considering your LMS features. While a feature-rich platform may seem good value, if the features are not widely utilized then users may suffer from an unnecessarily bloated system that takes longer to navigate.
Amatrol's Learning Management System
Amatrol knows that our eLearning users need an LMS with a smart, clean interface that can present well, is easy to navigate and provides high-quality data tracking. Our LMS is free to our eLearning customers without the hassle of hosting it on your own servers. The Amatrol LMS allows an institution or company to brand their LMS portal, and even create a bespoke URL. The Amatrol LMS can be used in conjunction with an existing system, via the use of SCORMing, or used standalone and in the  .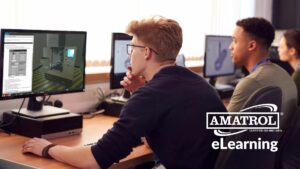 Taking the pre-quiz, working through the main material, and then taking the post-quiz allows the instructor to see improvements in the grades showing the knowledge learned or areas where the student is struggling to grow. The included   which the instructor can use in conjunction with a skill tracking feature in 'Reporting' can help the instructor customize an individual's journey by finding their strengths and weaknesses. For instance, if an individual takes an eAssessment before beginning a course or program and scores incredibly highly, that individual can move past that learning segment. This increases training efficiency so that the individual isn't being forced to cover information that they already know. On the other side, if an individual scores poorly on an eAssessment, then the instructor has determined that individual's skills gap. As learners progress through an Amatrol eLearning course, key foundational concepts are repeated. The competency-based instructional design of each course also engages learners in active problem solving tied to real-world, practical applications.
Amatrol eLearning in conjunction with our LMS can be used to prepare for a variety of popular certifications.
For example, Amatrol eLearning is available to prepare for the following industry-standard certifications:
The Manufacturing Skill Standards Council's (MSSC) Certified Production Technician (CPT) and Certified Production Technician+ Skill Boss (CPT+) certifications
MSSC's Certified Technician — Supply Chain Automation (CT-SCA) certification
The Smart Automation Certification Alliance's (SACA) Industry 4.0 certifications
Our LMS is highly customizable, allowing a school or company to apply their own branding to the interface, and even create a bespoke URL. Not only is Amatrol's LMS easy-to-use and cost-effective, it's an incredible way for students and workers to learn foundational knowledge and build hands-on skills relevant to industry.
Does your LMS deliver all the features that you need? Amatrol offers a free 30-day trial, so you can see for yourself how it can benefit your organization, click on the "Request Info" button above and fill out the Contact Form. Be sure to indicate what technical topics you're interested in, and an Amatrol consultant will be in touch soon.