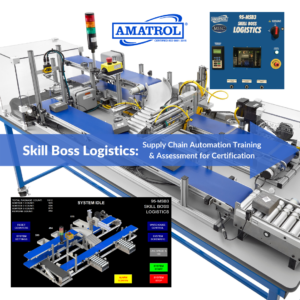 Click HERE to view Skill Boss Logistics: Supply Chain Automation Training & Assessment for Certification as a multimedia presentation.
Have you noticed how quickly new technologies are transforming the supply chain automation and material handling industries? If you're responsible for hiring workers in these industries, then the answer is assuredly a resounding "Yes!"
As each new piece of technology improves the efficiency and productivity of supply chain and material handling systems, workers must adjust to learn new skills. Which skills? Today, technicians must know how to operate, maintain, troubleshoot, and repair advanced systems that increasingly incorporate new Industry 4.0 technologies.
The problem, however, is that there are not enough workers who possess the highly-technical skills required. An industry-wide "skills gap" has resulted in an acute shortage of technicians able to work with these new advanced systems without additional training. This skills gap has become the weak link in the supply chain.
Fortunately, a solution is on the horizon. Amatrol, the nation's leading provider of technical education, recently announced the development of Skill Boss Logistics, a supply chain automation training and assessment device that promises to bridge the skills gap by increasing the number of technicians with the skills needed to survive and thrive in today's supply chain automation and material handling industries.
Click below to see Skill Boss Logistics in action:
New Industry-Standard Certifications
Amatrol is not tackling the supply chain automation skills gap alone. Skill Boss Logistics was developed in collaboration with the Manufacturing Skill Standards Council (MSSC) to support its new Certified Technician in Supply Chain Automation (CTSCA) certifications.
These new certifications will enable both students and incumbent workers to gain the skills needed to meet the definition of a supply chain automation technician established by the National Science Foundation-funded National Center for Supply Chain Automation: a technician who installs, operates, supports, upgrades or maintains the automated material handling equipment and systems which support the supply chain.
Specifically, Skill Boss Logistics will be used for hands-on skills assessments for three prestigious and nationally-portable MSSC CTSCA credentials: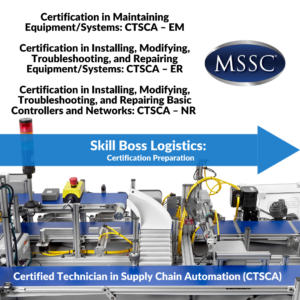 Certification in Maintaining Equipment/Systems: CTSCA – EM
The CTSCA-EM certification focuses on maintaining, operating, and adjusting equipment. Relevant topical areas include: safety, preventive maintenance, equipment adjustment, measurement, hand tools, and system monitoring and operation.
Certification in Installing, Modifying, Troubleshooting, and Repairing Equipment/Systems: CTSCA – ER
The CTSCA-ER certification focuses on installing, troubleshooting, and repairing equipment. Relevant topical areas include: pneumatics, electrical, mechanical, print reading, and system troubleshooting.
Certification in Installing, Modifying, Troubleshooting, and Repairing Basic Controllers and Networks: CTSCA – NR
The CTSCA-NR certification focuses on installing, troubleshooting, and repairing basic controllers and networks. Relevant topical areas include: programmable logic controllers, variable frequency drives, barcode readers, Ethernet networks, and electronics system troubleshooting.
Essential Supply Chain Automation Skills
Skill Boss Logistics is a real working automated distribution system. It teaches and assesses 100 hands-on skills essential for today's technicians.
For example, Skill Boss Logistics performs the following supply chain and material handling operations:
distribution of packages to three different destinations;
2D barcode package tracking;
automatic package queuing and priority release;
electro-pneumatic sorting;
vertical package sorting;
conveyor material handling;
jam sensing;
product gap optimization;
package data tracking and control; and
package rework and recirculation.

Hands-On Experience with Real Industrial Equipment
Skill Boss Logistics features real industrial equipment that supply chain automation technicians will encounter on the job. Featured components include the following:
programmable logic controller (PLC);
Ethernet network with managed switch;
AC and DC electric variable speed motors;
PC-based human-machine interface (HMI);
2D barcode scanner;
photoelectric, thru-beam, retro-reflective, diffuse, inductive, limit switch, and magnetic reed sensors;
vacuum lift electro-pneumatic manipulator;
multiple belt and roller conveyors;
induction conveyor;
variable speed distribution conveyor; and
multiple discharge chutes.
The PC-based HMI allows users to oversee the entire system's operation and performance via Warehouse Control System software. For example, users will be able to use the HMI and software to oversee order entry, operation monitoring and control, real-time system performance evaluation, and alarm and fault monitoring.
All of these real industrial components are included in an easy-to-use, compact system that will fit neatly into any classroom. The system is also easy to transport for use across multiple sites within a company or school system.
Realistic Fault Troubleshooting
Skill Boss Logistics also features Amatrol's exclusive FaultPro computer-based fault insertion software. The industry's only electronic troubleshooting training system, FaultPro allows instructors to insert more than 45 real-world faults to test a learner's weaknesses and turn them into strengths.
The troubleshooting skills taught by FaultPro allow learners to solve real-world problems they'll encounter on the job. FaultPro inserts electronic faults safely, protecting both learners and equipment from incurring any damage. FaultPro also tracks troubleshooting skills and provides data reports for assessment and improvement.
Ready to Learn More?
Amatrol's consultants are ready to show you how you can use Skill Boss Logistics to teach your supply chain automation and material handling technicians the skills they need to succeed in today's technologically-advanced workplace. They can also explain how to get your technicians on track to earn one or more of MSSC's new CTSCA certifications.
Simply visit the Skill Boss Logistics page, click on the "Request Info" button, and then fill out the Contact Form with your information. Add a message with a few details about your organization and a consultant will be in touch with you soon!
About Duane Bolin
Duane Bolin is a former curriculum developer and education specialist. He is currently a Marketing Content Developer for Amatrol, Inc. Learn more about Amatrol and its technical training solutions, including eLearning, here and connect with Duane on Amatrol's Twitter, Facebook, LinkedIn, and YouTube pages.