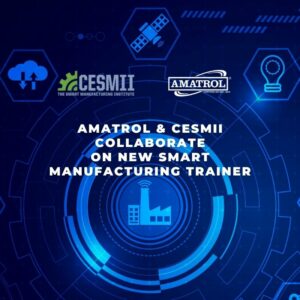 If today's manufacturing sector had a mantra, it would probably be something along the lines of: work smarter, not harder. Given the struggles all industries currently face with finding skilled workers, it's more critical than ever to improve efficiency and productivity wherever possible.
It's no coincidence that you see the word "smart" being attached to any number of things today, from phones and televisions to thermostats and watches. Modern technology increasingly incorporates the Internet of Things (IoT) into products to bring new capabilities and efficiencies to the things we use every day.
If you work in manufacturing, it's likely that you've also seen the word "smart" being added to various parts of your workplace. More and more manufacturers are leveraging the Industrial Internet of Things (IIoT), also commonly referred to as Industry 4.0, to increase productivity and efficiency on the factory floor.
Utilizing advanced automation technologies, such as smart sensors, robots, and automated guided vehicles, many manufacturing facilities now consider themselves "smart factories." The United States government wants to help more companies make the leap to using smart technologies.
In this article, we will take a look at how one government-funded organization (CESMII) is making great strides in driving the cause of smart manufacturing in the U.S. We'll also showcase a new product co-developed by CESMII and Amatrol to make smart manufacturing training convenient and accessible to all.
What is CESMII?
In 2016, the United States Department of Energy funded the creation of a non-profit institute to promote and support smart manufacturing: the Clean Energy Smart Manufacturing Innovation Institute, better known as CESMII — The Smart Manufacturing Institute.
According to the CESMII website, the organization's mission is to "[r]adically accelerate the development and adoption of advanced sensors, controls, platforms, and models, to enable Smart Manufacturing (SM) to become the driving sustainable engine that delivers real-time business improvements in U.S. manufacturing."
For CESMII, smart manufacturing represents "the ultimate solution to deliver performance, productivity, agility, continuous innovation, and the cleanest energy of all, the energy that was not used in production, wasted with scrap or during periods of inefficient operation."
CESMII's primary objective is "[t]o enhance U.S. manufacturing productivity, global competitiveness, and reinvestment by increasing energy productivity, improving economic performance, and raising workforce capacity." Specifically, the organization has four stated goals:
"15% improvement in energy efficiency in manufacturing plants or of major processes within 5 years;
50% reduction in cost and time to deploy SM into existing processes within 5 years;
Significant industry adoption of SM technology within 5 years; and
50% improvement in energy productivity within 10 years."
In pursuit of these goals, CESMII has already established a variety of initiatives to drive smart manufacturing at every size company in all industries nationwide:
"Education and Workforce Development (EWD) – CESMII Educates Members for Digital Transformation;
Affinity Groups – Members Network in Peer Groups by Vertical;
Co-Funded Research – Solving Member's Most Challenging Problems;
Smart Manufacturing Innovation Centers (SMICs) – Member Accessible Academic Centers of Excellence; and
The CESMII Innovation Platform – A Member Accessible Technology Solution to the Linear Scale Problem – Industrial Plug and Play."
CESMII is actively seeking members to partner with in the advancement of smart manufacturing in the U.S. According to CESMII:
"CESMII should be the partner for EVERY Company that uses or supplies Industrial information products.  If you're responsible for industrial systems of any kind, then your company should become a CESMII member. It's that simple. CESMII is the solution for all aspects of Smart Manufacturing; your identification of the problem, definition of a solution, education of the workforce, hardening of your infrastructure, selection of technologies, and the long-term reiteration for continuous improvement. If you are a solution vendor, then CESMII will help you adopt our standards and will open you to a vast new market, through our Smart Manufacturing (SM) Marketplace."
Why is Smart Manufacturing Training More Important than Ever?
As we noted previously, more and more manufacturing facilities are slowly but surely becoming "smart factories" as they seek to incorporate a wide variety of new advanced automation technologies. Unfortunately, the supply of workers with the advanced skills to operate, maintain, troubleshoot, and repair these advanced automation systems isn't keeping up with demand.
This situation is known commonly as the "skills gap" throughout the manufacturing sector. Today's manufacturers simply cannot find enough highly-skilled workers to fill the hundreds of thousands of open positions in manufacturing across the nation.
To rectify this situation, it's clear that two things need to happen. First, manufacturers need to upskill current workers to work alongside the advanced technologies that are being implemented. Second, manufacturers need to collaborate with local high schools and colleges to encourage them to teach the advanced skills tomorrow's workers will need to succeed in a smart factory environment.
Fortunately, organizations like CESMII exist to facilitate these changes that need to take place. CESMII's membership has increased steadily as organizations look "for help to build, educate and retain their workforce, for ways to dramatically improve their productivity, and become better stewards of their social obligations and environment. These strategic initiatives all come together under the umbrella of Smart Manufacturing, and CESMII has the privilege of catalyzing and convening people, research, knowledge and innovation such that ALL manufacturers will be able to engage in – and benefit from – these new digital capabilities."
To date, CESMII has "been intentional and successful in engaging all relevant industry stakeholder groups (manufacturers, vendors, machine builders, system integrators and academia), working with them to develop the necessary Smart Manufacturing skills, technologies, methods and standards and to deliver them at scale." One example of this is how CESMII member Amatrol worked closely with CESMII to co-develop a new smart manufacturing trainer.
Amatrol's New Smart Manufacturing Portable Trainer
With more than 30 years of experience designing and manufacturing state-of-the-art training systems, Amatrol remains the world's leader in skills-based, interactive technical learning for industry and education. What sets Amatrol apart is its dedication to providing comprehensive training solutions that integrate in-depth multimedia eLearning curriculum with hands-on trainers that feature real-world industrial components.
Amatrol is no stranger to smart manufacturing training. Its Smart Factory and Smart Factory Enterprise systems have been helping students and workers learn connected-systems skills for several years. Thus, it was a natural step for Amatrol to become a CESMII member and work together to co-develop a new portable trainer that would make smart manufacturing training more convenient than ever and accessible to all.
The result is the new Amatrol Smart Manufacturing Workstation (990-SM10), which offers hands-on Industry 4.0 applications, such as wireless temperature monitoring; web-based condition and power monitoring; and wireless production counting. This portable, easy-to-use workstation makes an ideal training tool for future smart manufacturing technicians.
The Smart Manufacturing Workstation boasts a variety of real-world industrial components workers will encounter on the job, including: BorgConnect Hub, BorgConnect Node, Ethernet switch-5-port, Allen-Bradley Micro820 Programmable Controller, AC current sensor, load cell/parts counter, and a Wi-Fi temperature sensor.
In addition to partnering with CESMII on the 990-SM10, Amatrol worked with 5G to implement their BorgConnect line into this revolutionary product. Users will practice with the BorgConnect Hub and Node to monitor temperature control, energy efficiency, and vibration monitoring skills using BorgConnect software. Learners will also use Rockwell CCW PLC programming software for developing I/O control skills.
The Smart Manufacturing Workstation also allows for user-supplied remote sensors to be used with the BorgConnect Node to test energy efficiency. Several of the sensors – including the Wi-Fi temperature sensor – can be used to monitor external, real-world components and systems.
All of the data generated by the Smart Manufacturing Workstation can be accessed and analyzed via user-generated dashboards built using the profile CESMII makes available to its members. This allows the 990-SM10 trainer to offer customized training and applications to CESMII members unlike any other training solution available today.
How can you help prepare students and current workers for the highly-skilled jobs available today in smart manufacturing? Consult with an expert at Amatrol today to learn how you can take the first step toward teaching your students or current workers the skills that will set them up for success in the modern workplace.
About Duane Bolin
Duane Bolin is a former curriculum developer and education specialist. He is currently a Marketing Content Developer in the technical training solutions market.