Eight (8) AB CompactLogix L16 Mechatronics Learning Systems (870-AB53A's) shown integrated with Mechatronics Carts 87-MS1-7 & 87-MS9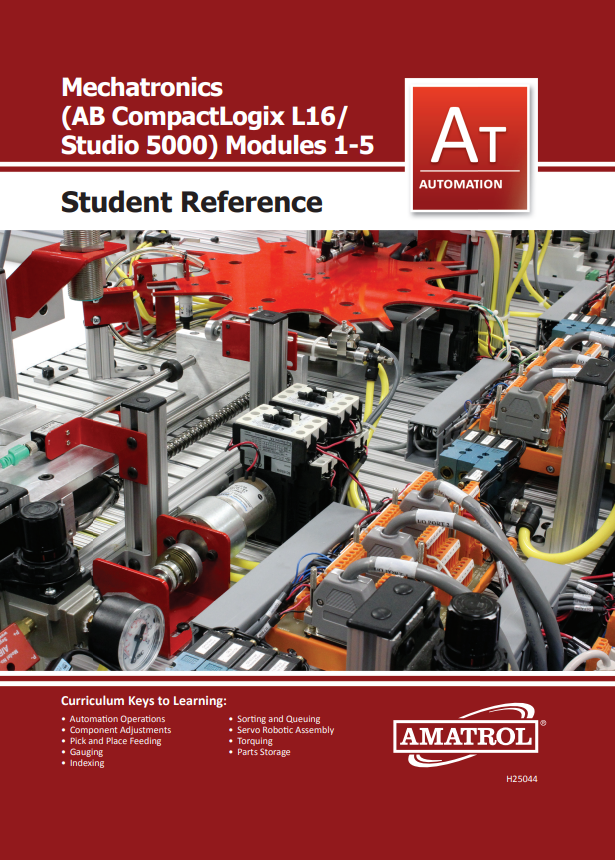 A sample copy of the Mechatronics (AB CompactLogix L16 / Studio 5000) Student Reference Guide is also included with the system for your evaluation. Sourced from the system's curriculum, the Student Reference Guide takes the entire series' technical content contained in the learning objectives and combines them into one perfectly-bound book. Student Reference Guides supplement this course by providing a condensed, inexpensive reference tool that learners will find invaluable once they finish their training making it the perfect mechatronics course takeaway.
Requirements:
At least one of the below Mechatronics expansion stations
RS Logix 5000 PLC Programming Software (82-800) for education or for all other organizations (82-800-I) for each Mechatronics station
Mechatronics Hand Tool Package (41222)
Engineering Start-Up and Installation (90-START-4)
Computer: See requirements
Router (if using more than one 870-AB53A on the same network)
Amatrol's Mechatronics Learning System – AB CompactLogix L16 (870-AB53A) provides an Allen-Bradley programmable logic controller (PLC) used by learners in conjunction with Amatrol's Mechatronics Training for Industrial Automation to program, operate, and adjust components and applications on an automated production line. PLCs are a vital part of modern industry and are used in innumerable applications across the automotive, manufacturing, packaging, and pharmaceutical industries, just to name a few. Each of Amatrol's Mechatronics carts requires one 870-AB53A, so you can buy one cart to train on a specific skill, such as indexing, pick-and-place, or gauging, or buy the entire Mechatronics system to recreate a fully functional automated line in your classroom or training center!
The 870-AB53A includes and L16 Allen-Bradley AB5300 PLC with a PLC mounting console, a 24 VDC power supply, a master control relay, curriculum, an install guide, and a student reference guide. This learning system will be used to cover major topic areas such as mechatronics safety, electrical sensors, actuator adjustment, stepper motor programming, torque adjustment, discrete I/O handshaking, system startup/halt, and much more! Amatrol's Mechatronics and PLC training is second-to-none. Featuring real-world industrial components and PLCs, these learning systems will help learners gain hand-on skills and knowledge that can be applied to real, on-the-job tasks.