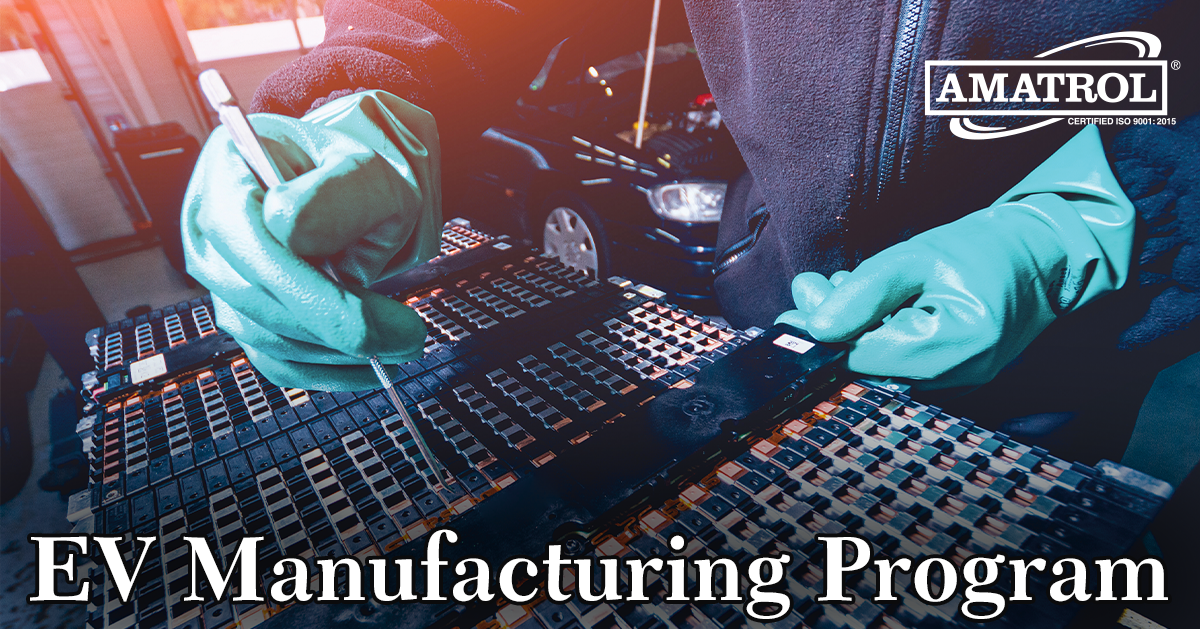 The production of electric vehicles is ramping up worldwide. So, now is the time to train workers to build and maintain these machines. Amatrol's electric vehicle manufacturing program can equip learners for roles like EV battery production associate, EV manufacturing technician, EV engineering technician, EV smart factory engineer, and EV facilities technician. The program covers each of the disciplines necessary for success in the EV field, including: Electrical, Electronics, Mechanical, Fluid Power, Automation, HVAC, and Safety.
In addition to key learning in multiple core disciplines, Amatrol's electric vehicle manufacturing program contains courses built around the specifics of EV battery production. Topics include the following:
Battery Basics - classification of batteries, components of a single cell, lithium-ion and lead acid batteries, basic battery chemistry and physics, battery capacity and energy, and the importance of battery testing.
Battery Power Converters - the components of a battery system, battery management systems topologies, types of switched power converters, battery losses and efficiency, and total system energy efficiency.
Battery Safety Considerations - battery storage policies, battery standards and regulations, and functional safety and security.
Battery Applications - both stationary and mobile applications of batteries, including battery-powered consumer electronics, home storage, charging infrastructure, and more.
End of Life (Recycling) - dismantling a battery pack, reuse, and recycling processing, including both physical and hydrometallurgical processing.
Amatrol's peerless interactive eLearning curriculum utilizes text with voiceovers, pictures, videos, stunning 3D animations, and interactive quizzes and reviews that engage learners in theoretical knowledge and concepts to provide electric vehicle battery production training courses online. This thorough, detailed curriculum begins with the basics and advances to complex concepts. These courses provide 24/7 access through our eLearning web portal so you can train whenever you need. Through partnerships with key industry leaders and leading educators, Amatrol developed the right balance of knowledge to train learners to work in their chosen field.
Amatrol's virtual training systems combine interactive multimedia with virtual simulators to teach a wide range of technical skills. Amatrol's virtual simulators expertly replicate hands-on equipment with industrial realism and skill-building, mirroring the actual Amatrol training equipment, so that learners can perform the same tasks using virtual training systems that they would using Amatrol learning systems. Benefits of Amatrol's virtual training systems include reducing initial program startup costs, requiring less classroom space, and offering seamless integration with Amatrol's hardware systems if they are added in the future.
Amatrol prepares students and workers for the EV jobs of the future, such as:
EV Battery Production Associate
Manufacturing Technician
Smart Factory Engineer
Engineering Technican
Facilities Technician