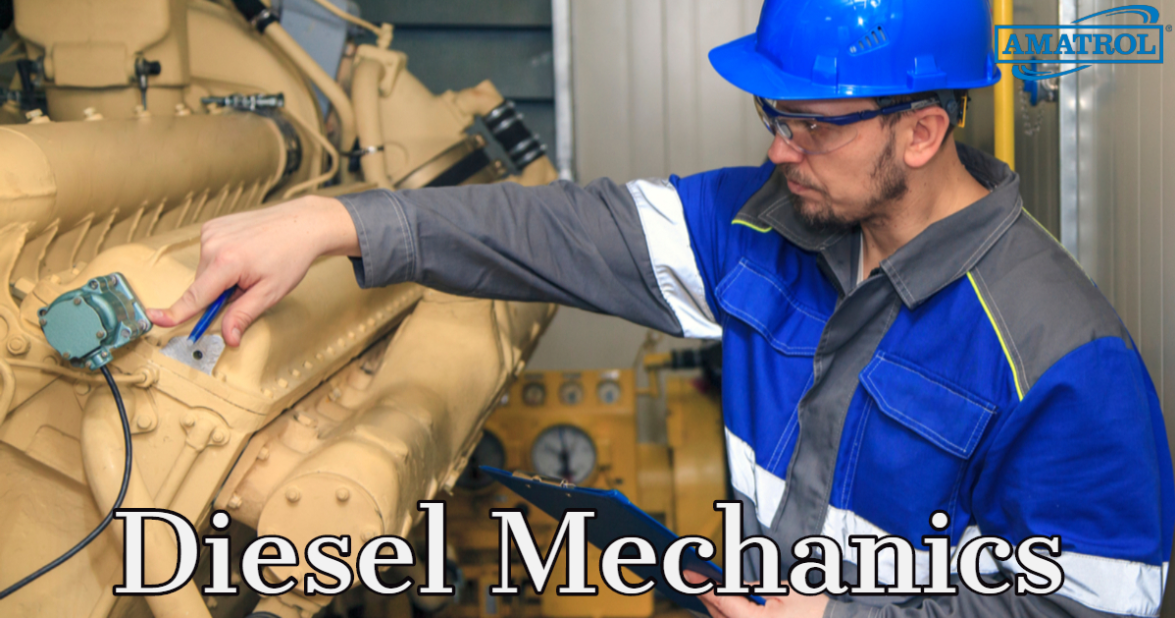 From performing check-ups on diesel vehicles, to diagnosing and repairing broken diesel machinery, a diesel mechanic technician spends a majority of their day identifying problems and repairing them in a safe, timely manner. Jobs in the field can range from a large commercial vehicle mechanic, to a railroad and marine engine mechanic, to fixed diesel engine repair, and Amatrol's Diesel Mechanics program will prepare students for a variety of them!
Amatrol's Diesel Mechanics training courses combine diesel maintenance training with world-class simulators featuring industry-standard components so that learners are prepared for successful careers as diesel mechanics and technicians. Amatrol offers an unrivaled pairing of theoretical depth and breadth and hands-on skills in areas such as electrical, mechanical, hydraulics, and pneumatic systems! Using hands-on equipment, students will learn industry-relevant skills in the classroom, while having the opportunity to continue their training on-the-go using Amatrol's world-class eLearning curriculum.
Amatrol's Diesel Mechanics course builds job-ready competencies through strong theory and hands-on applications. Learners study and practice skills in the following industrial areas: Electrical, Mechanical, Hydraulics, and Pneumatic Systems.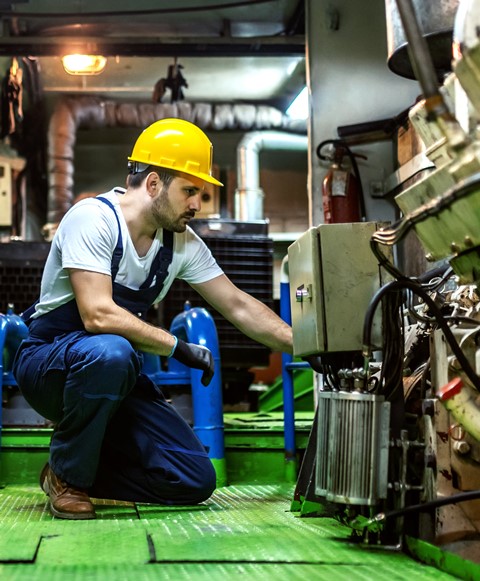 A diesel mechanic repairs, maintains, troubleshoots, and rebuilds diesel engines that power a wide range of transportation modes, such as ships, trains, semi-trucks, and other vehicles. From taking engines apart, to cleaning filters, to running diagnostic tests, diesel mechanics possess a wide array of knowledge on their craft, and can typically find work in a variety of fields, including a wide range of industrial companies and manufacturers.
According to the Bureau of Labor Statistics, an estimated 67,000 new technicians, as well as 75,000 new diesel engine specialists, will be needed by 2022. The reason: like much of the industrial sector, a majority of these workers are approaching retirement age. When coupled with a higher-than-normal turnover rate, employers are facing a hiring crunch that could potentially cripple smaller, less prepared businesses.
So now, companies are getting creative with finding new hires, including doing on-site training to interested workers that may not have the skill qualifications needed.
Amatrol's Diesel Mechanics training program offers in-depth, comprehensive learning to those new to the diesel field, or experienced workers looking to get re-trained for new positions. Equipped with both full-sized and portable learning systems, as well as world-class online curriculum, students will be introduced to foundational topics through eLearning, while garnering real-world, hands-on skills with our training systems.
To engage and reach learners with a variety of learning styles, Amatrol's Diesel Mechanics training program features a robust combination of learning methods to provide an outstanding learning experience that includes both comprehensive theoretical knowledge and practical, hands-on skills valuable throughout industry. Examples include:
Highly-Interactive Multimedia Curriculum
Amatrol's eLearning offers flexible, self-directed technical training with comprehensive content and exceptional interactivity for practical skill development. Amatrol's curriculum features a highly-interactive, multimedia format that includes stunning 3D graphics and videos, voiceovers of all text, and interactive exercises designed to appeal to learners with different learning styles. With 24/7 access, Amatrol's eLearning program creates easy access to educational opportunities for technical skill development previously restricted to the classroom. The material is self-paced, making it ideal for individual use, traditional class settings, or a blended approach.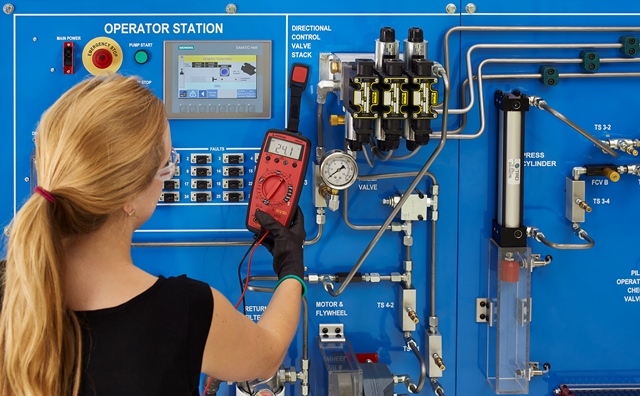 Examples of the types of hands-on training systems used in the Diesel Mechanics Training program include:
Electrical Systems
Electrical Expansion Options
Mechanical
Hydraulics
Pneumatic Systems
Hands-On Skills with Real-World Equipment
Amatrol's offering of diesel maintenance skill learning systems can meet your training needs through outstanding eLearning curriculum, portable PLC training solutions, or a full-scale, heavy-duty workstations. Amatrol's products utilize Allen-Bradley and Siemens PLCs to meet your specific training needs, and are loaded with real-world, industrial components to enable learners to practice on the type of equipment they will encounter on the job.
Portable Learning Systems – Smaller Size, Same Results
Amatrol's portable learning systems are the perfect cost-effective training solution when training space is limited, but comprehensive knowledge and skill-building cannot be sacrificed. These portable systems have a remarkably small footprint that allows for easy transport. They can also be locked and stored when not in use. Although portable, these systems don't sacrifice learning outcomes for flexibility. Amatrol's portable systems offer the same type of hands-on training with comprehensive interactive multimedia curriculum available in full-size training systems.