Click HERE to view Amatrol's Industrial eLearning: The Perfect Choice for Large Companies as a multimedia presentation.
Is your company the best in the world at something? If so, what is it? Could it be industrial eLearning? Of course not! Why not? Because industrial eLearning is what Amatrol is the best in the world at!
With more than 30 years of experience creating quality eLearning curriculum, Amatrol remains the world's leader in skills-based interactive technical learning. Amatrol's eLearning is currently used in all 50 states and more than 40 countries around the world by a wide variety of education and industry clients.
Several of Amatrol's eLearning courses are endorsed by the nation's top industrial certification organizations, including MSSC and SACA, as the preferred preparation for acquiring their certifications.
Unparalleled eLearning Curriculum
Focusing on in-depth industrial knowledge and hands-on technical skills, Amatrol's comprehensive, highly-interactive multimedia eLearning curriculum features stunning 3D graphics and videos, voiceovers of all text, and interactive quizzes and exercises designed to appeal to learners with different learning styles.
Amatrol's eLearning courses are self-directed and available online 24/7. Each course features a modular design that breaks down major topics into manageable segments, each with its own series of objectives, activities, skills, and self-reviews. This format gives learners the flexibility to set their own learning pace.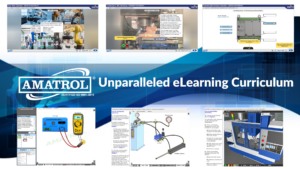 All eLearning courses are delivered via WebGL for superior graphics within any compatible browser without the use of plug-ins. Perfect for large companies, Amatrol's eLearning can be managed from one corporate account and used by a wide array of subsidiaries, divisions, or locations around the world.
Amatrol's eLearning also develops active problem-solving skills via lessons that focus on troubleshooting concepts and techniques, giving learners confidence in their skills that will translate to the workplace. Amatrol also offers a wide variety of hands-on training systems, including many portable models, which allow learners to practice the skills they learn on real industrial components.
A Vast Technical Library
Technology continues to transform the way modern companies do business. Systems overlap and operators and technicians must be able to troubleshoot and repair a wide variety of different types of systems.
Amatrol's extensive eLearning library features hundreds of courses offering thousands of hours of technical training for a vast array of subject areas, including: electrical, electronics, hydraulics, pneumatics, alternative energy, HVAC, CNC machining, industrial certifications, mechanical, process control, quality assurance, safety, STEM, industrial maintenance, and even advanced topics like automation, mechatronics, robotics, and Industry 4.0. Training can also be targeted to individual needs by creating custom courses consisting of modules from a variety of different technical topics.
Verify Learning
Amatrol incorporates eAssessment into its robust eLearning curriculum. Use pre-assessment to determine what learners already know, so you can tailor their training to meet their specific needs. This reduces training time and gets learners back to work more quickly.
Afterward, use post-assessment to verify that learners have obtained the necessary knowledge and skills. eAssessments can be used on an annual, repeating basis to determine if and when retraining may be necessary.
Earn Industry-Standard Certifications

Amatrol offers eLearning courses that support industry-recognized credentials from two respected certifying bodies: MSSC and SACA:
MSSC
Amatrol offers a certification preparation eLearning course endorsed by The Manufacturing Skill Standards Council (MSSC) for its popular Certified Production Technician (CPT) certification. Amatrol also developed Skill Boss Manufacturing, a unique hands-on training and assessment device used in conjunction with MSSC's Certified Production Technician+ Skill Boss Manufacturing (CPT+) certification. Amatrol's latest training and assessment device, Skill Boss Logistics, will allow learners to earn MSSC's newest Certified Technician in Supply Chain Automation (CTSCA) certifications.
SACA
The Smart Automation Certification Alliance (SACA) offers Industry 4.0 certifications that focus on "connected systems" skills that address the integration of Industry 4.0 technology into advanced industrial processes. Amatrol's Industry 4.0 Fundamentals (I4F) program builds industrial competencies in Industry 4.0 technologies that will allow learners to earn a variety of SACA certifications. Amatrol's training systems can also be used for hands-on evaluations required for SACA certifications.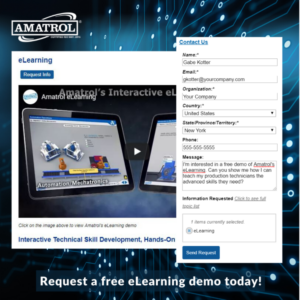 Don't Just Take Our Word For It
Amatrol's eLearning is unmatched in its value, flexibility, and depth and breadth of content. But we don't want you to just take our word for it. We want you to try it for yourself.
Visit Amatrol's eLearning page, click the "Request Info" button at the top of the page, and then fill out the "Contact Us" information on the right side of the page. In the "Message" box, simply indicate that you're interested in a free eLearning demo and give us an idea of what subject areas you're most interested in. It's that simple!
In the meantime, check out Amatrol's eLearning video to see more samples of our many eLearning courses:
About Duane Bolin
Duane Bolin is a former curriculum developer and education specialist. He is currently a Marketing Content Developer for Amatrol, Inc. Learn more about Amatrol and its technical training solutions, including eLearning, here and connect with Duane on Amatrol's Twitter, Facebook, LinkedIn, and YouTube pages.