To view a multimedia presentation of this article, please click here.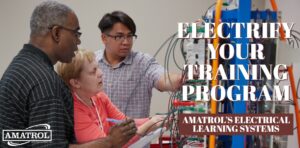 It's the basis of modern industry, and the building block for virtually all industrial applications: electrical skills. But without the continued honing of these skills, our technologically-reliant society could face a critical juncture that might affect future growth.
For the past two years, leaders in the electrical field have been perplexed by one common challenge – the inability to attract and retain qualified workers, which has created a Skills Gap throughout the industry.  The electrical sector is feeling it first-hand, with employers finding it more difficult than ever to hire qualified workers that possess the skillset necessary to become successful members of the workforce.
According to the 2019 report from Global Energy Talent Index (GETI), 48-percent of power professionals are "concerned about an impending talent emergency." The problem only balloons in more advanced fields, like electrical engineering, with 62-percent of respondents citing skills deficiencies as the main reason for talent shortages.
With much of the electrical workforce at or nearing the age of retirement, employers are facing the very real possibility that hundreds of thousands – if not millions – of open electrical jobs could go unfilled over the next decade. This has left companies scrambling to find talent, coming up with unique ideas to attract more talented workers.
One of the more popular solutions companies have discovered has been to turn their attention to a younger, or more inexperienced, pool of candidates. However with that inexperience brings the need for more thorough, industry-relevant training and skill-building.
Fortunately, Amatrol has the most comprehensive, in-depth selection of online electrical training solutions available on the market today.
Beginning with the basics of AC/DC electrical and advancing to more complex skills like electrical wiring and power distribution, Amatrol's learning systems feature world-class multimedia curriculum, skill assessment, and real-world, industrial components for an unmatched offering of skill-building possibilities for creating a successful Electrical Training Program.
1. Start with the Basics
Students, and even job applicants, come from different backgrounds, with varying degrees of electrical experience. We get it, which is why Amatrol offers to begin your program's electrical training from square one, taking learners back to the basics of electricity.
And what better tool to begin your Electrical Training Program than with Amatrol's AC/DC Electrical Learning System (T7017A)?!
The T7017A begins by discussing the fundamental concepts of AC/DC electricity, adding depth to a learner's understanding before moving on to applications, like basic circuit design, power supplies, and solid state switching. Students get hands-on experience using 21 different electrical modules, ranging from pushbuttons, to solenoids, to relays, which all conveniently magnetize to the system for convenient inventory and storage.
In addition to all of its hands-on capabilities, the T7017A also features a Virtual Trainer. Using Amatrol's virtual simulators, which replicates real-world equipment, learners can conveniently practice essentially the same skills they would learn using real-world equipment on-the-go.
Not impressed? Well in addition to the T7017A, Amatrol features three additional foundational electrical learning systems that cover Basic Electrical Machines (85-MT2), Electric Relay Control (90-EC1A), and Electrical Fabrication (950-ELF1).
Amatrol's Basic Electrical Machines Learning System, or the 85-MT2, teaches the operation, installation, analyzation, and selection of both single-phase and three-phase AC electric motors, as well as DC electric motors. In addition to featuring multiple industrial machines – including split-phase and induction motors – students will also gain pertinent experience in industrial wiring installation and alignment of industrial motors thanks to a variety of optional add-ons, which are listed in the chart below:
Using the Electric Relay Control Learning System, or the 90-EC1A, students are introduced to the fundamental building block of automation systems: electric relay control. As learners become immersed in electric relay control design and operation using ladder diagrams, they will also gain hands-on skills connecting and operating a variety of automation control circuits and programmable logic controllers (PLCs).
Last but not least, Amatrol's Electrical Fabrication Learning System, or the 950-ELF1, teaches skills that are commonly used first-hand by electricians, technicians, and engineers in today's industry. Exploring this training system, students will gain expertise in key skill areas like basic electrical system wiring, installing basic components, connecting electrical services, and so much more.
So whether learners are starting from the beginning, or skills need to be assessed during the hiring process, Amatrol's electrical learning systems can be useful for any novice in the field.
2. Gain Hands-On Skills in Electrical Motor Control Applications
Is starting from the basics a little too elementary for your Electrical Training Program? No problem – we offer training on a range of topics that vary in difficulty. Amatrol's Electric Motor Control Learning System (85-MT5) highlights how to operate, install, design, and troubleshoot AC electric motor control circuits for a variety of applications.
Using industrial-quality components like a control transformer and reversing contactors, the 85-MT5 teaches how to troubleshoot motor control circuits under realistic conditions. This first-hand training experience not only prepares learners for what they will encounter on the job, but emphasizes safety throughout the curriculum and in the hardware.
However what separates the 85-MT5 from of its rivals is its ability to expand training beyond basic motor control knowledge. The Electric Motor Control Learning System offers seven options to expand your system – and your students' skillsets: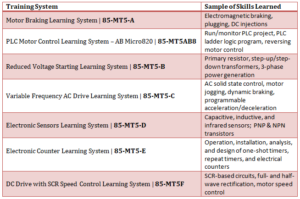 3. Add Hands-On Troubleshooting to the 85-MT5 with Fault Pro, an Amatrol Exclusive
All the training in the world is nice – but how can you truly assess whether or not a student has learned the skills necessary to earn an industrial certification using the 85-MT5?
That's where FaultPro comes in.
An Amatrol exclusive, FaultPro is the industry's only computer-based fault insertion software. It allows users to insert electronic faults into more than two dozen training system – including the Electric Motor Control Learning System (85-MT5) – creating realistic troubleshooting situations that simulate what technicians encounter in the real-world.
FaultPro is a powerful tool for both learners and instructors. Once students have had the opportunity to get hands-on experience with the training systems, instructors can push their problem-solving skills even further by instantly (and secretly) setting and tailoring faults that test a student's weaknesses – with the goal to eventually turn those weaknesses into strengths.
The software pairs perfectly with the in-depth 85-MT5 curriculum that uses electronic faults as teaching points, not only identifying the symptoms that characterize each fault, but also teaching the correct troubleshooting procedures used to pinpoint component failure.
4. Build Electrical Wiring Training Skills For A Strong Foundation Toward Attaining Industrial Certifications
Electrical wiring is an essential, yet often overlooked, aspect of electrical maintenance. However the importance of proper wiring is limitless – not only should it be done according to certain codes, but it can also become a major safety hazard if done incorrectly.
For aspiring electricians and industrial maintenance technicians amongst your trainees, Amatrol's Electrical Wiring Learning System (850-MT6B) offers a strong foundation toward garnering numerous (necessary) industrial maintenance technician certifications.
Using industrial components like a 3-phase motor, pushbuttons, switches, and valves, learners will be introduced to industry-needed skills like installing a terminal block, splicing motor leads, and selecting circuit protection for an application. By using real-world industrial wiring components, students using this system can gain the confidence and competences needed in working with equipment they'll actually use everyday
Much like the 85-MT5, Amatrol's 850-MT6B has the ability to be expanded upon in your Electrical Training Program. Along with practicing invaluable electrical wiring skills, students can also be exposed to three optional upgrades:
VFD/PLC Wiring Learning System | 85-MT6BA – How to wire a VFD and PLC to a control panel
Industrial Soldering Learning System | 85-MT6BB – Includes soldering equipment and components commonly used in electrical connections within a control enclosure.
5. Learn to Protect Your Sensitive Equipment from Over-Current Using Electrical Power Distribution
The rain is heavy, but your deadline is looming around the corner. So you decide to work through the storm when – viola! – a lightning strikes kills your electricity, including the computer you were working on. Patiently you wait for the storm to pass, hoping your computer turns back on, and your hard work is saved where it should be.
We've all been there – and the minutes-long wait could feel like hours. However if your over-current protection was set up correctly, you will have nothing to worry about.
Amatrol's Electrical Power Distribution Learning System (85-MT7-B) teaches learners just that – how to properly set-up over-current protection. In fact, the training system is arranged so that students can be presented with a wide array of real-world installation problems found in industrial situations.
For example, users will install a variety of conduit types, size fuses, install bus plugs, and connect motors. They will also practice industry-relevant skills like how to cut, bend, and connect conduit; handle advanced raceways; and select wire sizing and type. Safety devices, like safety switches and lockout/tagout locks, also highlights the safety skills needed for safe operation in an industrial environment.
And like all of Amatrol's electrical training systems, it includes stunning, interactive eLearning to reach student learning beyond the classroom walls.
So whether your Electrical Training Program is just getting off the ground, or you're looking for a way to improve your existing classroom or laboratory, Amatrol's hands-on learning systems and world-class curriculum are here to help you train the next wave of electrical engineers and technicians.
About Wes Scott
Wes Scott is a former public high school teacher and journalist. He is currently a Marketing Content Developer for Amatrol, Inc. Learn more about Amatrol and its technical training solutions, including eLearning, here and connect with Wes on Amatrol's Twitter, Facebook, LinkedIn, and YouTube pages.