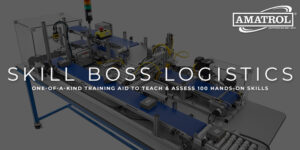 To read a multimedia version of 'Skill Boss Logistics Offers Training, Assessment for the Supply Chain Workers', please click here.
As the COVID-19 pandemic has shown, logistics keeps the world moving. From packages, to medical supplies, to food deliveries, logistics and supply chain helps ensure customers have their delivery needs met. In fact, today's high-speed, automated distribution centers are the epicenter for optimized logistics and efficiency in this high-demand market.
But no matter how "smart" the automation may be, issues are still going to arise – and those issues can only be solved by workers with a highly-technical, proven skillset.
Technicians have become indispensable, performing essential tasks that ensure these automated systems continue to operate efficiently. Without them, machines can breakdown and technology can malfunction, potentially causing temporary shutdowns and unneeded downtime.
And in logistics,
the last thing you want to waste is time.
Having employees that possess the skills needed to perform the tasks of a supply chain automation technician, including equipment maintenance and repair, is crucial to maintaining optimal logistics. Today, technicians must know how to operate, maintain, troubleshoot, and repair advanced systems that are increasingly implementing new Industry 4.0 technologies.
However like many other industrial sectors, a "skills gap" has resulted in a shortage of technicians able to work with these new advanced systems. And if there aren't enough qualified workers available, important jobs will go unfilled and the supply chain will suffer.
How Amatrol's Revolutionary 'Skill Boss Logistics' Can Help Your Supply Chain Training & Assessment
To help solve the Logistics skills gap, Amatrol waded into familiar waters.
Following the success of Skill Boss Manufacturing in training and assessing advanced manufacturing skills, Amatrol and Manufacturing Skill Standard Council (MSSC) teamed up again to address the skills gap in supply chain automation.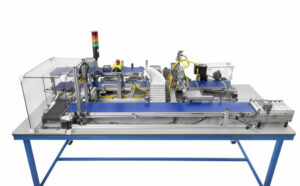 Amatrol set out to design and construct a working automated distribution system that could offer organizations performance-based assessment for evaluating the skill levels and competencies of supply chain technicians. To be successful, the device needed to contain the software and hardware encountered on-the-job daily, as well as assess an individual's ability to perform real-world job tasks.
With that in mind, Amatrol enlisted dozens of the world's leading distribution and package delivery corporations to evaluate the skills assessed, as well as offer suggestions for changes and improvement, of Skill Boss Logistics. Once complete, the one-of-a-kind training aid was designed to teach and assess 100 hands-on skills needed by today's supply chain automation technicians.
Understanding the needs of schools and training centers, Amatrol designed this system in a compact size on a mobile frame, allowing it to fit through standard doorways, making this system easy to move from one training or assessment location to another.
The bench-sized automated distribution system showcases sortation of packages to three separate destinations, and performs real-world operations like package tracking, electro-pneumatic sorting, conveyor material handling, and more.
"Our team was very impressed by both Amatrol and the MSSC certification, and we're excited about how we can bring them into our training path moving forward," one major retail supply chain facilities engineering recently concluded. "Amatrol clearly displays their expertise in this space with outstanding and highly effective hands-on tools."
Skill Boss Logistics Features FaultPro, Industry's Only Electronic Troubleshooting Training System
In addition, Skill Boss Logistics features Amatrol's exclusive FaultPro computer-based fault insertion software.
FaultPro is the industry's only electronic troubleshooting training system, and allows instructors to insert more than 45 real-world faults to thoroughly test learners. The faults mirror real-world problems in the fields of automation, electrical, electronics, among others, and simulate problems such as VFD under voltage faults, bad motor windings, bad relays, & faulty sensors.
Using FaultPro, students can set up and perform their own troubleshooting exercises for practice or testing session by choosing specific faults, or activating the random fault mode to allow the computer to automatically select faults. Instructors can give students a customized learning experience by using predefined fault templates, or creating their own specialized templates for troubleshooting exercises and tests.
Finally, the program can generate statistics and reports – by student or class – to assess performance and manage classes, including information such as faults mastered, total time spent on each fault, and the number of attempts needed to master each fault. It also stores fault templates and class rosters.
Needless to say, no other system on the market boasts this many logistics technologies in a portable platform.
MSSC Certifications Add Second Layer of Benefits
If having a working automated distribution system in a classroom or training facility isn't tantalizing enough, Amatrol's partnership with the Manufacturing Skill Standards Council (MSSC) adds an additional layer of benefits to technical training.
The Skill Boss Logistics assessment system is the ideal training tool to help students obtain the skills they need to earn MSSC's Certified Technician – Supply Chain Automations (CT-SCA) certifications. The CT-SCA program is an industry-led, standards-based training, assessment, and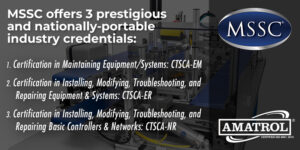 certification system focused on the core skills and knowledge needed by the nation's logistics workforce. It also provides proof of an individual's ability to perform a wide-range of hands-on technical skills in electronic, electrical, and mechanical systems, and includes access to eLearning curriculum.
MSSC offers three prestigious and nationally-portable industry credentials:
Certification in Maintaining Equipment/Systems: CTSCA – EM
Certification in Installing, Modifying, Troubleshooting, and Repairing Equipment/Systems: CTSCA – ER
Certification in Installing, Modifying, Troubleshooting, and Repairing Basic Controllers and Networks: CTSCA – NR
For learners that achieve all three credentials, they receive a full "Automation Master" recognition award.
In addition to offering extra training and support for learners, the Skill Boss Logistics can be used as the assessment device for the hands-on portion of the CT-SCA certification process.
Let Amatrol Take Your Logistics to the Next Level
Most times, delivering meaningful solutions that best meet your customers' needs carries far greater value for them than promising the next big idea. After all, the timely delivery of medical equipment and pharmaceutical supplies, for example, is saving lives all around the world.
But as the same with most technology, though, issues are going to arise, putting at risk your ability to properly grant your customers' wishes.
With the available workforce not possessing the appropriate skillset to be an asset to your company, training and re-training current employees to fulfill those openings will become a vital entity moving forward. Without proper training, the weakest link in your supply chain will be exposed, and could eventually break.
Even in these troubled times, now is an essential time to make plans for the future to ensure your workforce has the skilled technicians that it needs moving forward.
About Wes Scott
Wes Scott is a former public high school teacher and journalist. He is currently a Marketing Content Developer for Amatrol, Inc. Learn more about Amatrol and its technical training solutions, including eLearning, here and connect with Wes on Amatrol's Twitter, Facebook, LinkedIn, and YouTube pages.