To view "Skill Boss Training and Assessment Systems for Manufacturing & Logistics" as a Multimedia Presentation, please click here.
Amatrol has taken technical training and assessment to unprecedented levels thanks to the development and expansion of the Skill Boss series of training & assessment systems.
Amatrol first developed the one-of-a-kind training tool, Skill Boss, in collaboration with the Manufacturing Skill Standard Council (MSSC). With a well-received collection of industrial certifications available, MSSC saw a need to include a hands-on assessment to their certifications and approached the world-leader in technical training solutions, Amatrol, to explore how to create a device that could assess skills commonly found in modern manufacturing facilities. This led to the creation of Skill Boss and the Certified Production Technician Plus (CPT+) certification.
Ultimately, the goal was to combine hands-on training and assessment in an effort to fight a Skills Gap in the manufacturing workforce. Experts were predicting roughly 4.6 million manufacturing jobs would become available from 2018-2028, with 2.4 million of those expecting to go unfilled. If those numbers held true, it would potentially have a $2.5 trillion economic impact on our country.
Amatrol's Skill Boss Manufacturing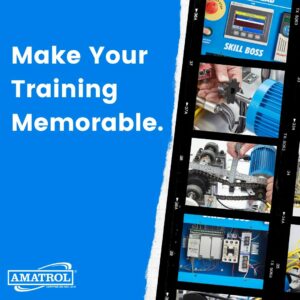 Skill Boss, which is now known as Skill Boss Manufacturing, was quite a game-changer. With the ability to offer high schools, colleges, and industry performance-based assessment for evaluating skill levels and competencies of future machine operators, Skill Boss Manufacturing focused on the skills needed most by today's modern manufacturing production areas.
The system performs a real-world sorting and finishing process that features an electric motor, a variable frequency drive, PLC, HMI, and an electro-pneumatic pick-and-place system, enabling it to evaluate over 60 essential hands-on manufacturing skills. Plus, no other portable system available on today's market can boast as many technologies as Skill Boss Manufacturing, becoming a truly one-of-a-kind training and assessment tool.
"Colorful and multifaceted, Skill Boss (Manufacturing) will be more fun than a robot for many students, and will encourage them to enter a career pathway in advanced manufacturing," says Paul Perkins, President of Amatrol.
The best part: when paired with the curriculum and learning behind the Certified Production Technician (CPT) program, learners can utilize the Skill Boss Manufacturing to earn MSSC's industry-validated CPT+ certification.
Certifications Changing Industry One Worker at a Time
MSSC's CPT+ program is an industry-led standards-based training, assessment, and certification system focused on the core skills and knowledge needed by the nation's advanced manufacturing workforce. The CPT+ certification provides proof of an individual's ability to perform a wide range of hands-on technical skills in electrical, fluid power, and mechanical systems, and utilizes Skill Boss Manufacturing as the only approved assessment device. This ensures that everyone's skills are assessed on the same device.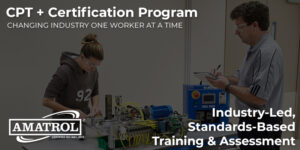 Thanks to the well-rounded, cumulative training available over a variety of skills, the Skill Boss Manufacturing allows users from any background to build foundational workplace skills for Advanced Manufacturing career, which are necessary to be immediately productive on the job.
"Cost-effective, the Skill Boss Manufacturing will enable many more schools who cannot afford a costly lab or tech center, to offer hands-on CPT training and testing. This includes most high schools, including those in rural or urban areas," says Leo Reddy, Chair of MSSC.
In addition to being used in high schools, colleges, and training facilities around the world, the assessment aspect of the Skill Boss Manufacturing can be the ideal tool for employers, too. Now, companies use the training system for pre-hire skill verification, or annually to let an employee "test out" of their yearly training. It's a win-win for employees and employers – sitting through unneeded training is no longer a monotonous chore for employees, while employers reduce lost production time costs using targeted training.
Still regarded as one of the best assessment devices available, Skill Boss Manufacturing set the standard for the eventual launch of the next Skill Boss device: Skill Boss Logistics.
The Next Big Thing – Skill Boss Logistics
With the overwhelming success that Skill Boss Manufacturing played in training & assessing individuals in manufacturing, leaders of another sector of industry took notice: Supply Chain Automation. Thanks to the ever-expanding Industry 4.0 movement, the need for a hands-on logistics certification became obvious.
But how could Amatrol condense an entire automated distribution center to a table-sized device while maintaining industry standards? Through the hard work and imagination of countless engineers, as well as advisement from over a dozen of the world's leading distribution and package delivery corporations, what spawned became the second Skill Boss training & assessment system.
Skill Boss Logistics is a working automated distribution system, which includes an industrial Warehouse Control System accessed through a PC-based Human Machine Interface (HMI). This system uses multiple conveyors and sensors that enable it to perform real-world operations such as package tracking, automatic package queuing, and priority release. The system enables both students and existing workers to gain the skills needed to meet the standards of a supply chain automation technician established by the National Center for Supply Chain Automation.
The bench-sized device is the ideal tool to help instructors train and assess 100 hands-on skills needed in supply chain automation, including equipment maintenance and repair. Like its predecessor, the Skill Boss Logistics offers performance-based assessment for evaluating the skills of the future workforce – in this case, supply chain automation technicians.
Also like the original, the Skill Boss Logistics opens learners up to the opportunity of gaining three prestigious and nationally portable MSSC industry credentials. MSSC's Certified
Technician in Supply Chain Automation (CT-SCA) program provides proof of an individual's ability to perform a wide range of hands-on skills in electronic, electrical, and mechanical systems. In addition, learners who earn all three will receive a full "Automation Master" recognition award.
"Our team was very impressed by both Amatrol and the MSSC certification, and we're excited about how we can bring them into our training path moving forward," says a member of a major retail supply chain facilities engineering team. "Amatrol clearly displays their expertise in this space with outstanding and highly-effective hands-on tools."
FaultPro Makes Assessment More Effective
To make learner assessment more effective, Skill Boss Logistics features Amatrol's exclusive FaultPro computer-based fault insertion software.
FaultPro is the industry's only electronic troubleshooting training system, and allows instructors to insert more than 45 real-world faults to thoroughly test learners. The faults mirror real-world problems in the fields of automation, electrical, electronics, among others, and simulate problems such as VFD under voltage faults, bad motor windings, bad relays, & faulty sensors.
Using FaultPro, students can perform their own troubleshooting exercises for practice or testing sessions by choosing specific faults, or activating the random fault mode to allow the computer to automatically select faults. Instructors can then give students a customized learning experience by using predefined fault templates, or creating their own specialized templates for troubleshooting exercises and tests.
Finally, the program can generate statistics and reports – by student or class – to assess performance and manage classes, including information such as faults mastered, total time spent on each fault, and the number of attempts needed to master each fault.
How to Incorporate Into Your Training Program
Regardless of your technical background, chances are one of the Learning Systems in the Skill Boss family would make a premier addition to your training program. If you would like to know more about the Skill Boss Manufacturing or the Skill Boss Logistics, let us know!
About Wes Scott
Wes Scott is a former public high school teacher and journalist. He is currently a Marketing Content Developer for Amatrol, Inc. Learn more about Amatrol and its technical training solutions, including eLearning, here and connect with Wes on Amatrol's Twitter, Facebook, LinkedIn, and YouTube pages.