Click HERE to view IGNITE: Next-Level Career Exploration & Preparation as a multimedia presentation.
How do modern educators inspire and prepare their students to seek careers that will challenge their hearts and minds while also fulfilling their needs and desires for meaningful work? It's no easy task, because the current educational landscape is far different than it used to be.
For many years, students were often thought of as belonging to one of two groups: those who were bound for college and those who were not. Those not bound for college could instead directly enter the workforce, perhaps to take one of the many low-skill positions available in the nation's manufacturing facilities.
The pathway from the high school directly to the factory isn't as straight as it used to be, however. Advanced technologies are transforming modern advanced manufacturing facilities, and there simply aren't as many low-skill positions as there used to be. In fact, today's manufacturing workers – including entry-level production and maintenance workers – need more advanced skills than ever before.
That's why – with the backing of LIFT and the United States Department of Defense – Amatrol created IGNITE: Mastering Manufacturing, a new program that provides career exploration opportunities and equips high school students with the in-depth knowledge and hands-on skills they need to be successful in the highly-skilled, high-pay jobs available in advanced manufacturing.
Opportunity Abounds for Highly-Skilled Manufacturing Workers
According to an article in The Wall Street Journal, "[c]ollege-educated workers are taking over the American factory floor. New manufacturing jobs that require more advanced skills are driving up the education level of factory workers who in past generations could get by without higher education."
Industry 4.0 technologies, such as advanced automation, robotics, machine learning, and artificial intelligence, are leading the way, and factories "need workers who can manage the machines. More than 40% of manufacturing workers have a college degree, up from 22% in 1991."
While the changes taking place in manufacturing have led to great leaps in productivity and efficiency, they've also created a serious problem: manufacturers simply can't find enough highly-skilled workers to fill open jobs. This problem is known as the skills gap.
Although the skills gap is a thorn in the side of manufacturers, it represents a golden opportunity for today's students. Those who acquire the skills manufacturers need will find interesting, lucrative careers waiting for them.
Modern Manufacturing Has Wide Appeal and Advanced Technology

Of course, this doesn't mean that all students need to pursue higher education. There will still be students for whom college just isn't the right fit. If these students want to pursue a career in manufacturing, however, they will still likely need to acquire the skills they need via alternative pathways, such as apprenticeships and industry-standard certifications.
For some educators, it will take time to get used to thinking of advanced manufacturing facilities as a great career destination for a wide variety of students, including those on a higher-education pathway. It's a necessary shift, though, because modern advanced manufacturing facilities now appeal to a broader swath of people than ever before.
Although some people erroneously picture dirty, grungy factories offering low-skilled, menial work for the under-educated, these stereotypes of manufacturing are inaccurate and misleading. Today's advanced manufacturing facilities offer clean, safe work environments in addition to high-paying jobs with plenty of advancement opportunities.
Don't believe it? Take a tour of a local advanced manufacturing facility, and you'll be amazed at the technology in use. You'll see people working alongside robots and autonomous guided vehicles. Just as technology has changed every aspect of our lives, it has had a similar impact on manufacturing.
IGNITE: Mastering Manufacturing
Amatrol developed IGNITE: Mastering Manufacturing to be a comprehensive advanced manufacturing training program that both provides career exploration opportunities and equips high school students with the in-depth knowledge and hands-on skills they need to be successful in the highly-skilled, high-pay jobs available in advanced manufacturing.
IGNITE was developed in conjunction with LIFT – Lightweight Innovations For Tomorrow, including significant contributions from America Makes, MxD – The Digital Manufacturing Institute, The Ohio State University, ASM Materials Education Foundation, and The PAST Foundation.
The IGNITE program exposes students to the many different facets of modern advanced manufacturing. Instructors can also guide the experience to spark student interest in specific subject matter areas.
In addition to hands-on technical skills in a wide variety of disciplines found throughout manufacturing, the IGNITE program also teaches students the valuable, uniquely-human "soft skills" (also commonly called "common employability skills" or "CES"), such as communication, teamwork, and critical thinking, that are critical to future career success.
Importantly, IGNITE also prepares students to earn industry-standard certifications that can jump-start their advanced manufacturing careers. For example, IGNITE students can choose to pursue certifications like the Manufacturing Skill Standards Council (MSSC) Certified Production Technician Plus Skill Boss certification or advanced Industry 4.0 certifications from the Smart Automation Certification Alliance (SACA).
IGNITE: Mastering Manufacturing—Program Overview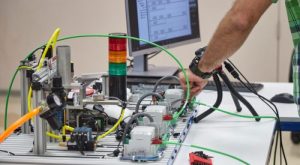 Subject-matter experts created IGNITE with guidance from industry leaders and educational institutions to ensure that students will be prepared for a rewarding career in advanced manufacturing.
Designed around project-based learning, IGNITE: Mastering Manufacturing consists of six one-semester courses in a modular format that allows schools to roll out IGNITE as a one-, two-, or three-year program:
Course 1: Introduction to Advanced Manufacturing
Course 2: Introduction to Systems
Course 3: Mechatronic Systems
Course 4: Digital Manufacturing Systems
Course 5: Advanced Materials & Design
Course 6: IIoT, Data Analytics, & Networking
As previously mentioned, IGNITE addresses important "soft" common employability skills by training students in essential areas, such as communications, presentations, and teamwork. The program also includes additional project-based learning activities to connect advanced manufacturing to materials science and the engineering design cycle.
A Unique Learning Approach
To engage and reach students with a variety of learning styles, the IGNITE program features multiple learning methods to provide an outstanding learning experience that combines comprehensive theoretical knowledge with practical, hands-on skills practiced with real industrial equipment.
Let's take a closer look at the main elements that make up this unique approach to technical training:
eLearning
The IGNITE eLearning curriculum offers flexible, self-directed technical training with comprehensive content and exceptional interactivity for practical skill development. The curriculum features a multimedia format that includes stunning 3D graphics and videos, voiceovers of all text, and interactive exercises designed to appeal to learners with different learning styles.
To help instructors gauge student comprehension and engagement, the curriculum also includes assessment quizzes, as well as classroom-based skills assessment via Amatrol's exclusive Skill Boss Manufacturing performance assessment tool.

Virtual Trainers
Hands-on experience with real industrial equipment is an important part of effective technical training. However, it's not always practical or even possible for all students to access equipment simultaneously.
The IGNITE curriculum's virtual trainers replicate hands-on equipment in such great detail that learners will feel like they are using the actual equipment. Learners perform essentially the same tasks using virtual trainers that they would using the hands-on systems. In this way, students can practice before taking their turn with the actual equipment.
Hands-On Skills with Real-World Equipment
The IGNITE program uses Amatrol's hands-on training systems, which are designed by engineers and subject-matter experts and hand-crafted, assembled, welded, wired, and painted at Amatrol's facility in Jeffersonville, Indiana. These heavy-duty systems stand up to frequent use by inexperienced users.
The training systems feature real-world, industrial components that allow students to learn and practice on the type of equipment they will encounter on the job. This invaluable preparation gives students the confidence they need to succeed in modern advanced manufacturing facilities.
Exciting Capstone Projects That Challenge Students
As students progress through each IGNITE: Mastering Manufacturing course, they will also work in teams on exciting capstone projects using industry-specific new and emerging technologies and equipment to solve real-world problems. Through each project, teams will research ideas, develop multiple solutions, analyze and select the best solution, build a prototype, and evaluate their results.
The capstone projects also provide students with an additional opportunity to learn and practice common employability skills. These skills are foundational to success in the workplace regardless of a person's career field or professional position. They include competencies such as communications skills, the ability to work on a team, and problem solving.
Guidance + Flexibility
The Instructor's Guide for each IGNITE course contains a flow chart that serves as a guide for how each course can be structured. This guidance will prove invaluable to instructors as they plan their preferred route through the material. With so many topics to cover and tools to use, however, instructors also need freedom to make the program serve their students.
To allow instructors the flexibility they need to guide their students through the IGNITE program efficiently, the program includes a variety of instructional groupings, including group blocks, pod rotations, mini projects, and field trips. For example, eLearning topics can be assigned to individual students for self-directed study while other students work in groups on pod rotations and mini projects.

Light the Fuse
So how do you get started with IGNITE? We understand that it can seem overwhelming to think about building an advanced manufacturing training program from the ground up. Don't worry, though. It's easy to get started with IGNITE.
If you're ready to learn more, it's time to contact Amatrol. Experts will consult with you to determine how best to get your students started on their IGNITE journey, including how to make the best use of career and technical education (CTE) programs and equipment you already use.
You can also click below to watch a video about the IGNITE program:
About Duane Bolin
Duane Bolin is a former curriculum developer and education specialist. He is currently a Marketing Content Developer for Amatrol, Inc. Learn more about Amatrol and its technical training solutions, including eLearning, here and connect with Duane on Amatrol's Twitter, Facebook, LinkedIn, and YouTube pages.