In the years since the COVID-19 pandemic began, every industry around the globe has struggled at times to find enough qualified workers to fill open positions. For some sectors, such as advanced manufacturing, this struggle has been ongoing since long before the pandemic began.
We hate to be the bearer of bad news, but guess what? The struggle doesn't end once you're finally able to fill those open positions. In the modern economy, it's also becoming increasingly difficult to retain the workers that you have.
Given the number of positions available in a variety of industries, workers have more options than ever before. So what's a company to do? How can you not only hire qualified workers, but also keep them once you've hired them?
One secret many companies have discovered is that an effective onboarding program can be a key element to not only retaining employees once hired, but also setting them up for success. A high-quality onboarding program can empower and equip new employees to hit the ground running, creating new team members prepared to make an immediate impact.
In this article, we'll explain the importance of onboarding, as well as describe what an effective onboarding program can look like. We'll also show how the experts at Amatrol can help your company create an onboarding program that will demonstrate to new employees how valued they are as you seek to set them up for success with your organization.
Is Onboarding Really Necessary?
Before we dive right in, let's first be sure we're clear about what we mean by "onboarding." According to an Apollo Technical article, "[o]nboarding is when a business provides new employees with training and information to help them get acclimated to their new position. This helps them to quickly understand their role, their employer's expectations, and the company's culture."
Seems like a good idea, right? Unfortunately, too many employers fail to dedicate the necessary time and resources necessary for an effective onboarding program. Why? Because an effective onboarding program requires two key elements: time and resources.
The question employers should be asking themselves, however, is not whether they can afford an onboarding program, but whether they can really afford not to have one. According to the Apollo Technical article, "[w]ithout proper onboarding procedures increases in employee turnover and loss of productivity occur. This decreased employee engagement costs companies large sums of money every year."
Not only is it important to have an onboarding program, but employers must ensure their onboarding program is effective. According to a Society for Human Resource Management (SHRM) article, "[r]ather than setting new employees up for success, organizations with poor onboarding processes are setting the stage for an early exit…Nearly one-third of all new hires quit their jobs within the first six months."
Instead, "[t]o staunch the flow of new hires prematurely heading for the exits, organizations have to give more thought and attention to how they convert attractive job candidates into successful longer-term employees. Otherwise, they are wasting the time and energy they spend on recruitment and selection."
The Benefits of Effective Onboarding
When considering how to set up an onboarding program, employers should keep a few key things in mind. A good onboarding program makes a good first impression with new employees. You don't get a second chance to make a first impression, and an effective onboarding program will let new employees know from the start that they are valued.
A structured onboarding program reveals to new employees that their employer is willing to invest in them from the start. No new employee likes to feel like it's "sink or swim" time. New employees don't want to feel like they have to figure out everything on their own. Quality onboarding gives new employees the confidence to get started out on the right foot.
But the benefits of effective onboarding extend well beyond the new employees. From the employer's perspective, onboarding represents the perfect opportunity to make sure that all new employees are beginning with a strong foundation of the basic skills they'll need to be successful.
Statistics also show that effective onboarding results in greater employee retention and productivity. According to the SHRM article, "69 percent of employees are more likely to stay with a company for three years if they experienced great onboarding" and "[o]rganizations with a standard onboarding process experience 50 percent greater new-hire productivity."
A Harvard Business Review article echoes these findings:
"Poor onboarding can leave your employees with lower confidence in their new roles, worsened levels of engagement, and an increased risk of jumping ship when they see a new, more exciting position elsewhere. On the other hand, companies that implement a formal onboarding program could see 50% greater employee retention among new recruits and 62% greater productivity within the same group."
The First Step: Assessment
When designing an effective onboarding program, it's critical to assess the knowledge and skill level of new employees. Just like your company is unique and different from all the others out there, so are new employees.
An effective onboarding program is not a "one size fits all" proposition. You're not going to make a good first impression with new employees if you start by trying to teach them things they already know.
Instead, evaluate their knowledge and skill levels and then customize new employees' onboarding programs to fit their particular skills gaps. To some, this might sound like a lot of work, but it doesn't have to be. For example, Amatrol offers eAssessment to help employers identify mastered skills and areas that require further training.
Amatrol's eAssessment can also be used after onboarding to make sure training was effective and employees have gained the requisite skills they need to hit the ground running. Using a tool like Amatrol's eAssessment saves time and maximizes productivity by targeting training where it's needed most.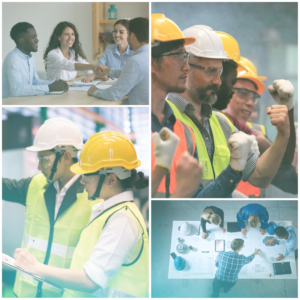 Foundational Skills
Once you've assessed new employees' knowledge and skills, you can focus on creating a custom onboarding program that will fill in skills gaps. In this section, we will take a closer look at the foundational skills that the majority of new employees in an industrial workplace will need. We'll also look at specific Amatrol eLearning courses and training programs that address these areas.
Safety should be a primary focus in any industrial workplace. Reducing workplace accidents improves employee morale while also increasing efficiency and productivity. Amatrol offers eLearning courses covering several key aspects of workplace safety, including:
Safety Practices & Regulations
Personal Protective Equipment
Hazardous Communication
Confined Spaces
Lockout/Tagout
Accident Response
Overhead Crane Safety
These seven courses also cover approximately 70% of the subject matter that comprises the Occupational Safety and Health Administration's (OSHA) 10-hour safety course required for an OSHA card.
So-called "soft skills" centered on effective communication have become more critical than ever in today's modern workplace dominated by advanced technologies. Amatrol offers comprehensive workplace effectiveness training that includes eLearning courses focused on topics like:
Communication Skills
Working in Groups
Conflict Resolution
Basic Mathematics
Principles of Advanced Manufacturing
Ensuring consistent quality workmanship across products is important for any company. Amatrol offers a variety of eLearning courses and training programs that address a wide variety of quality-related subjects, including measurement tools, precision gauging, inspection techniques, indicators, gauges, and inspection instruments.
For industries in the advanced manufacturing sector, lean manufacturing principles represent critical foundational skills for new employees to master. Amatrol offers eLearning courses that teach key lean manufacturing concepts, such as:
Lean Overview and Workplace Organization
Introduction to Lean Manufacturing
Introduction to 5S
Total Productive Maintenance
Poka-Yoke
Lean Theory
Lean Process Flow
Visual Workplace
Standardized Work
Kaizen
Value Stream Mapping
Set-Up Reduction
Industry-Specific Skills
Beyond foundational skills, every employer will have skill needs that are specific to its particular industry. In this section, we will take a closer look at a variety of Amatrol solutions that have become popular onboarding topics in a wide range of industries:
Basic Electrical
Basic electrical skills are important in many industries. Amatrol offers a variety of eLearning courses and training equipment options to teach new employees the basic electrical skills they need to be successful. Examples of Amatrol basic electrical training systems include the following:
Basic Hydraulics & Pneumatics
Many industries require basic familiarity with fluid power principles related to basic hydraulics and pneumatics. Here are a few of the options available from Amatrol to teach new employees the basics of these key areas:
Manufacturing Processes
Amatrol also offers training systems and eLearning courses focused on basic manufacturing processes utilized by a wide range of industries. Some of these solutions that have been incorporated into effective onboarding programs include the following:

You Name It!
The examples described above represent just a fraction of the eLearning courses and training systems available from Amatrol. Whatever industry you may be in, Amatrol offers technical training solutions that you can use as part of an effective onboarding program. For example, visit the Amatrol website to learn more about training systems in the following areas: alternative energy, automation, electronics, HVACR, machining, materials, mechanical, process control, and more!
Tying Onboarding to Industry-Standard Certifications
Providing valuable training to new employees as part of an effective onboarding program sets up new employees for success and helps them work more efficiently and productively from the start. This training, while beneficial to both employees and their employer, can be made even more valuable to new employees if it's purposefully tied to helping new employees earn industry-standard certifications for their skills.
Industry-standard certifications and micro-credentials represent a reward for putting in the hard work to learn new skills. As you're designing an onboarding program, the experts at Amatrol can help you recognize and seize opportunities to connect training with certifications and credentials that new employees can earn.
For example, the Smart Automation Certification Alliance (SACA) offers a variety of certifications and micro-credentials related to the skill areas already highlighted in this article. Visit the SACA website to learn more about available certifications and micro-credentials that can be tied to training provided during onboarding.
Likewise, an employer creating a custom onboarding program for maintenance technicians might choose to align its training to help new employees progress toward earning a valuable industry-standard certification, such as the Manufacturing Skill Standards Council's (MSSC) Certified Production Technician (CPT) certification.
Let the Experts at Amatrol Help You Customize Your Onboarding Program
We've provided a lot of information about effective onboarding in this article, and it might seem a bit overwhelming. Rest assured, though, it's not as difficult as it might seem at first. Employers don't need to recreate the wheel. There are expert consultants available to help assess your situation, take stock of your resources, examine your goals, and recommend a course of action that will create an onboarding program that will be effective at setting new employees up for success while improving employee productivity and retention.
With more than 30 years of experience designing and manufacturing state-of-the-art training systems, Amatrol remains the world's leader in skills-based, interactive technical learning for industry. The experts at Amatrol can help you set up your own custom onboarding program focused on the areas where eAssessment reveals new employees need new or better skills.
Consult with an expert at Amatrol today to learn how you can take the first step toward teaching new employees the skills that will set them up for success in the modern workplace.
About Duane Bolin
Duane Bolin is a former curriculum developer and education specialist. He is currently a Marketing Content Developer in the technical training solutions market.