Click HERE to view New Federal Funding Available for Workforce Development as a multimedia presentation.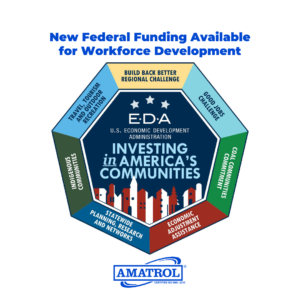 On March 11, 2021, President Biden signed into law comprehensive COVID-19 pandemic relief legislation known as the American Rescue Plan (ARP). Under the ARP, the Department of Commerce's Economic Development Administration (EDA) "was allocated $3 billion in supplemental funding to assist communities nationwide in their efforts to build back better by accelerating the economic recovery from the coronavirus pandemic and building local economies that will be resilient to future economic shocks."
On July 22, 2021, U.S. Secretary of Commerce Gina M. Raimondo announced in an EDA press release the implementation of "a series of programs, collectively called Investing in America's Communities, to equitably invest the $3 billion it received from" the ARP, which represents "the largest economic development initiative from the Department of Commerce in decades."
Secretary Raimondo noted, "We will work with local communities across the country on innovative new approaches to ensure that we can increase American competitiveness by strengthening our workforce, businesses, and communities and build back better in regions across the country."
In this article, we'll take a closer look at this new source of funding, including the programs specifically targeted toward increased investment in workforce development. We'll also discuss how Amatrol and its nationwide network of expert consultants can help you as you apply for EDA funding to improve technical training in your area.
What are the Investing in America's Communities Programs?
According to an EDA Fact Sheet, "there are still more than seven million fewer jobs in the United States than there were before the pandemic," despite signs of a growing economic recovery. However, experts hope that EDA's Investing in America's Communities "programs will get Americans back to work in good-paying jobs. From investing in worker training, to supporting manufacturing, to funding infrastructure projects, all six programs will put Americans back to work in communities across the country."
The new programs announced by the EDA (and the amounts set aside for each) include the following:
Build Back Better Regional Challenge ($1 billion)
Good Jobs Challenge ($500 million)
Economic Adjustment Assistance Challenge ($500 million)
Indigenous Communities Challenge ($100 million)
Travel, Tourism, and Outdoor Recreation Grants ($750 million)
Statewide Planning, Research and Networks Grants ($90 million)
In the paragraphs that follow, we'll focus on the two programs with the most likely impact on technical training and workforce development: the Build Back Better Regional Challenge and the Good Jobs Challenge.
What is the Build Back Better Regional Challenge?
According to the EDA website, "[t]he Build Back Better Regional Challenge is designed to assist communities nationwide in their efforts to build back better by accelerating the economic recovery from the coronavirus pandemic and building local economies that will be resilient to future economic shocks."
"The $1 billion allocated to the "Build Back Better Regional Challenge will provide a transformational investment to 20-30 regions across the country that want to revitalize their economies. These regions will have the opportunity to grow new regional industry clusters or scale existing ones through planning, infrastructure, innovation and entrepreneurship, workforce development, access to capital, and more."
Eligible organizations can apply for these funds now. The program consists of two phases:
In Phase 1, "50-60 regional coalitions of partnering entities will be awarded [approximately] $500,000 in technical assistance funds to develop and support three to eight projects to grow a regional growth cluster." The Phase 1 deadline is October 19, 2021.
In Phase 2, "EDA will award 20-30 regional coalitions $25 million to $75 million, and up to $100 million, to implement those projects." The Phase 2 deadline is March 15, 2022.
The Build Back Better Regional Challenge represents a great opportunity for institutions of higher education to partner with local industries and community workforce development programs to implement new technical training programs that will benefit workers.
What is the Good Jobs Challenge?
The EDA's Good Jobs Challenge focuses on removing the structural barriers that many American workers face. According to the EDA website, the "Good Jobs Challenge aims to get Americans back to work by building and strengthening systems and partnerships that bring together employers who have hiring needs with other key entities to train workers with in-demand skills that lead to good-paying jobs."
"Through the Good Jobs Challenge, EDA is allocating $500 million to collaborative skills training systems and programs. These systems and partnerships will create and implement industry-led training programs, designed to provide skills for and connect unemployed or underemployed workers to existing and emerging job opportunities. Ultimately, these systems are designed to train workers with the skills to secure a…quality job that provides good pay, benefits, and growth opportunities."
Specifically, funds will go toward proposals in three different phases, as regional needs dictate:
System Development: "Help establish and develop a regional workforce training system comprised of multiple sector partnerships."
Program Design: "Develop the skills training curriculum and materials, and secure technical expertise needed to train workers."
Program Implementation: "Implement non-construction projects needed to provide workforce training and connect workers with quality jobs, including wrap-around services."
The Good Jobs Challenge application deadline is January 26, 2022. This program could allow institutions of higher education to more closely align their technical training programs with the needs of regional employers.
As the EDA Fact Sheet notes, "EDA's grantees will help workers complete training programs, including Registered Apprenticeships, and secure good-paying jobs…This program will encourage community organizations, training providers, and unions to partner with employers to create the talent pipeline to meet industry needs for today and the future and create concrete pathways for American workers to secure good-paying jobs."
What is the Coal Communities Commitment?
In addition to the programs described above, the EDA has also earmarked $300 million to support coal communities that have been impacted by the pandemic. According to the EDA website, the money will be used "to help them create new jobs and opportunities, including through the creation or expansion of a new industry sector."
"Specifically, EDA will dedicate $100 million of its Build Back Better Regional Challenge funds and $200 million of its Economic Adjustment Assistance funds to directly support coal communities. EDA also supports these communities through its Assistance to Coal Communities (ACC) initiative."
"Through ACC, EDA awards funds on a competitive basis to assist communities impacted by the declining use of coal through activities and programs that support economic diversification, job creation, capital investment, workforce development, and re-employment opportunities."
Institutions of higher education located in coal communities could seek EDA funding to provide technical training in likely areas of diversification, such as renewable resources and alternative energy solutions, such as solar and wind power.
Who Can Apply for EDA Funding?
If you're an instructor or administrator for an institution of higher education, now is the time to apply for your share of the $3 billion EDA funding now available. As Secretary Raimondo noted in the EDA press release, the "EDA will make grants to state and local governmental entities, institutions of higher education, not-for-profit entities, unions, and Tribes. EDA is not authorized to provide grants to individuals or for-profit entities."
Interested parties should focus on creating partnerships with local workforce development organizations, as well as local industries, to ensure that proposals for new or updated technical training programs align with the goals set forth in the various programs receiving EDA funding.
How Do I Apply for EDA Funding?
Applications for these new EDA funds are now available online. More information can be found at the eda.gov and grants.gov websites. If you've never applied for federal funding before, it might seem like a daunting task. However, there are resources available to help, and it's important to pursue these opportunities when they arise.
As Christopher Gergen notes in an article for The Hill:
"If done well, ARP's federal relief represents an unparalleled opportunity for transforming local economies. But only if these communities have the planning and strategic capacity to access and deploy these funds in ways that are efficient, effective, and equitable. The challenge is that far too many communities across the country, particularly less resourced and rural communities, are already stretched thin and have limited capacity to leverage the available relief money and apply for competitive funds."
Does your community and/or organization fall into that "already stretched thin" category? If so, don't worry. You're not alone. The expert consultants at Amatrol are here to help you.
With more than three decades of experience designing and manufacturing state-of-the-art training systems, Amatrol offers a wide variety of solutions that can help educators take their technical training to the next level. For examples, our comprehensive training solutions include: highly-interactive eLearning curriculum; virtual trainers; and hands-on experience with real-world industrial training systems.
If you want to know more about how Amatrol can help you start a new training program or update an existing one, contact Amatrol today to discuss your needs. Amatrol works with a nationwide network of expert consultants that can provide advice relevant to your local community, including seeking applicable grant funding.
About Duane Bolin
Duane Bolin is a former curriculum developer and education specialist. He is currently a Marketing Content Developer for Amatrol, Inc. Learn more about Amatrol and its technical training solutions, including eLearning, here and connect with Duane on Amatrol's Twitter, Facebook, LinkedIn, and YouTube pages.