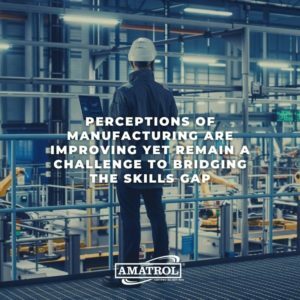 What's your dream job? When instructors ask their students this question, the answers will likely span a wide variety of careers. For some, "professional gamer" or "social media influencer" may seem like the perfect way to spend their days. Of course, those opportunities tend to be few and far between.
Those who set their sights on more practical, attainable careers may think becoming a writer, a doctor, a lawyer, or a small business owner will bring both a satisfactory income and job satisfaction. What is not on the list of dream jobs? Not many students are likely to list a career in manufacturing as a top choice.
As anyone familiar with the world of manufacturing can tell you, perceptions of manufacturing have been a persistent problem over the years, leading to the severe lack of skilled workers we see today. Manufacturers need to fill thousands of open positions across the nation, but finding the right talent is an ongoing struggle.
Like every industry around the world, manufacturing was impacted severely by the COVID-19 pandemic. However, a new study by Deloitte and The Manufacturing Institute reveals that the pandemic may have a bit of a silver lining, at least as far as perceptions of manufacturing go. In this article, we'll take a closer look at how perceptions of manufacturing have improved and what remains to be done to eliminate misperceptions of manufacturing and bridge the skills gap.
Misperceptions of Manufacturing
Before we dive into how perceptions of manufacturing are changing, it's important to acknowledge and understand the misperceptions that exist when people hear the word "manufacturing." For many students, the images that come to mind are of hot, dirty factories with nothing to offer but boring, repetitive tasks.
Such perceptions are not without some basis in fact, as the assembly lines and factories of decades ago gave rise to many of these perceptions modern manufacturers still face. Today's reality, however, is a far cry from those images that often come to mind.
Modern manufacturing facilities tend to feature clean, welcoming environments due to the amount of advanced technology used in today's manufacturing processes. Instead of dingy, dirty factories, student should be envisioning bright, clean workspaces filled with advanced automation technologies, such as robots, conveyors, and automated guided vehicles.
Moreover, instead of boring, repetitive tasks, students should realize that today's manufacturing facilities require more highly-skilled workers than ever before to operate, maintain, troubleshoot, and repair the wide variety of advanced automation technologies used. Unfortunately, many, if not most, students don't realize these things, but that may be slowly changing, thanks in part to the pandemic.
Perceptions of Manufacturing Are Improving
Deloitte has partnered with The Manufacturing Institute to complete a series of ongoing studies regarding the skills gap in manufacturing and what can be done to increase the number of students choosing to pursue a career in manufacturing. Their latest study has been summarized in a report titled Competing for Talent: Recasting Perceptions of Manufacturing (hereinafter referred to as "the study").
The study marks the seventh time Deloitte and The Manufacturing Institute have looked at public perceptions of manufacturing, the last time being in 2017. Fortunately, the study notes that there is good news to report since the last study five years ago:
"Compared with our 2017 study, significantly more respondents believe that manufacturing jobs are innovative and more respondents are likely to encourage their child to pursue a career in the industry…Further, the pandemic has led to a new awareness of the critical nature of manufacturing in the United States and beyond."
Despite the pandemic's widespread negative impacts on manufacturing, it does appear that some awareness has been raised regarding the importance of manufacturing. For example, "[m]any manufacturing teams were designated essential workers, partly due to the role they played in producing ventilators and PPE and keeping supply chains open."
Yet the Skills Gap Remains as Wide as Ever
The study doesn't linger on the good news, however, because despite improvements in perceptions of manufacturing, the skills gap remains as wide as ever. According to the study, "nearly 83% of manufacturers mentioned attracting and retaining a quality workforce as their top challenge" and "almost 45% of manufacturers said that they had to turn down business opportunities because they did not have enough workers."
The study concludes that "manufacturers find themselves waging a war for talent both globally and, more importantly, at the hyper-local level." The authors of the study believe the fact that "manufacturing companies continue to struggle to fill open positions" is due, in part, to "a continued perception gap" that is "likely contributing to the current shortage of applicants."
"Even as domestic manufacturing is viewed as increasingly important to the economy, public perceptions of manufacturing are not in line with the current reality. For instance, many Americans are not aware of the increasingly high-tech nature of manufacturing, which is improving employee productivity and providing cutting-edge, transferable skills."
Steps Manufacturers Can Take
Using the data gathered in the study, Deloitte and The Manufacturing Institute set forth a variety of initiatives manufacturers can take to both improve perceptions of manufacturing and help bridge the skills gap impacting their ability to hire the highly-skilled workers they so desperately need.
The study notes that "[m]anufacturers are at a crossroads and have an opportunity in the wake of the pandemic to educate people unfamiliar with the benefits of a manufacturing career, while continuing to retain their postpandemic workforce." Four areas manufacturers need to address moving forward include:
Tackle misperceptions head-on: "Manufacturers are at an inflection point and can use the increased public awareness of the industry to emphasize manufacturing's career opportunities and benefits, particularly to the public unfamiliar with the industry."
Educate students and parents: "The industry can amplify the increasingly high-tech nature of manufacturing as well as transferable skills and training."
Start at home: "Perception change starts at home, and local outreach continues to be effective in educating and attracting community members to manufacturing companies."
Recruit and keep employees: "Companies can step up their initiatives to engage new employees, involve existing employees to retain them, and evolve the work and workplace in response to customer needs."
In addition to promoting awareness and combating misperceptions, the study notes that manufacturers must embrace other opportunities for improvement, such as "promoting career growth, learning, and well-being to building the next generation of talent."
For example:
"Fifty-eight percent of those surveyed who were familiar with manufacturing responded that manufacturing jobs have limited career prospects. However, when asked if they would opt for a manufacturing job with customized training and a clearer pathway for career progression, eight out of 10 respondents answered yes."
The study goes on to suggest that manufacturers "should further invest in upskilling programs and designing career development pathways" by "partnering with technical schools, universities, and local communities for specialized and niche skills." One example of such a program that has been successful is the "Federation for Advanced Manufacturing Education (FAME), a two-year educational program that offers professional development and technical training through a co-educational model where participants learn in school and on the job."
Contact Amatrol to Learn How We Can Help!
Manufacturers or instructors wanting to take positive steps to invest in upskilling programs and design career development pathways should contact the experts at Amatrol for a consultation on your goals and what it will take to achieve them.
With over 30 years of experience, Amatrol remains the world's leader in technical education training systems and eLearning curriculum. Amatrol recognizes the importance of teaching the relevant skills future workers need to thrive in today's jobs.
Amatrol's eLearning offers flexible technical training through superb content with strong interactivity for skill development with 24/7 access. Eye-popping graphics, 3D simulations, videos, and complete explanations combine to develop technical skills for modern jobs.
Amatrol's hands-on training systems are designed by engineers and subject matter experts and loaded with real-world, industrial components for the closest possible experience to working on-the-job. They are heavy-duty and ready to stand up to frequent use and inexperienced users. For times when access to equipment is limited, learners can still gain hands-on experience using Amatrol's virtual trainers.
Amatrol's virtual simulators replicate hands-on equipment in such great detail that learners will feel like they are using the actual equipment. Learners perform essentially the same tasks using virtual trainers that they would using the hands-on systems.
Consult with an expert at Amatrol today to learn how you can take the first step toward teaching your students or current workers the skills that will set them up for success in the modern workplace.
Duane Bolin is a former curriculum developer and education specialist. He is currently a Marketing Content Developer for Amatrol, Inc. Learn more about Amatrol and its technical training solutions, including eLearning, here and connect with Duane on Amatrol's Twitter, Facebook, LinkedIn, and YouTube pages.