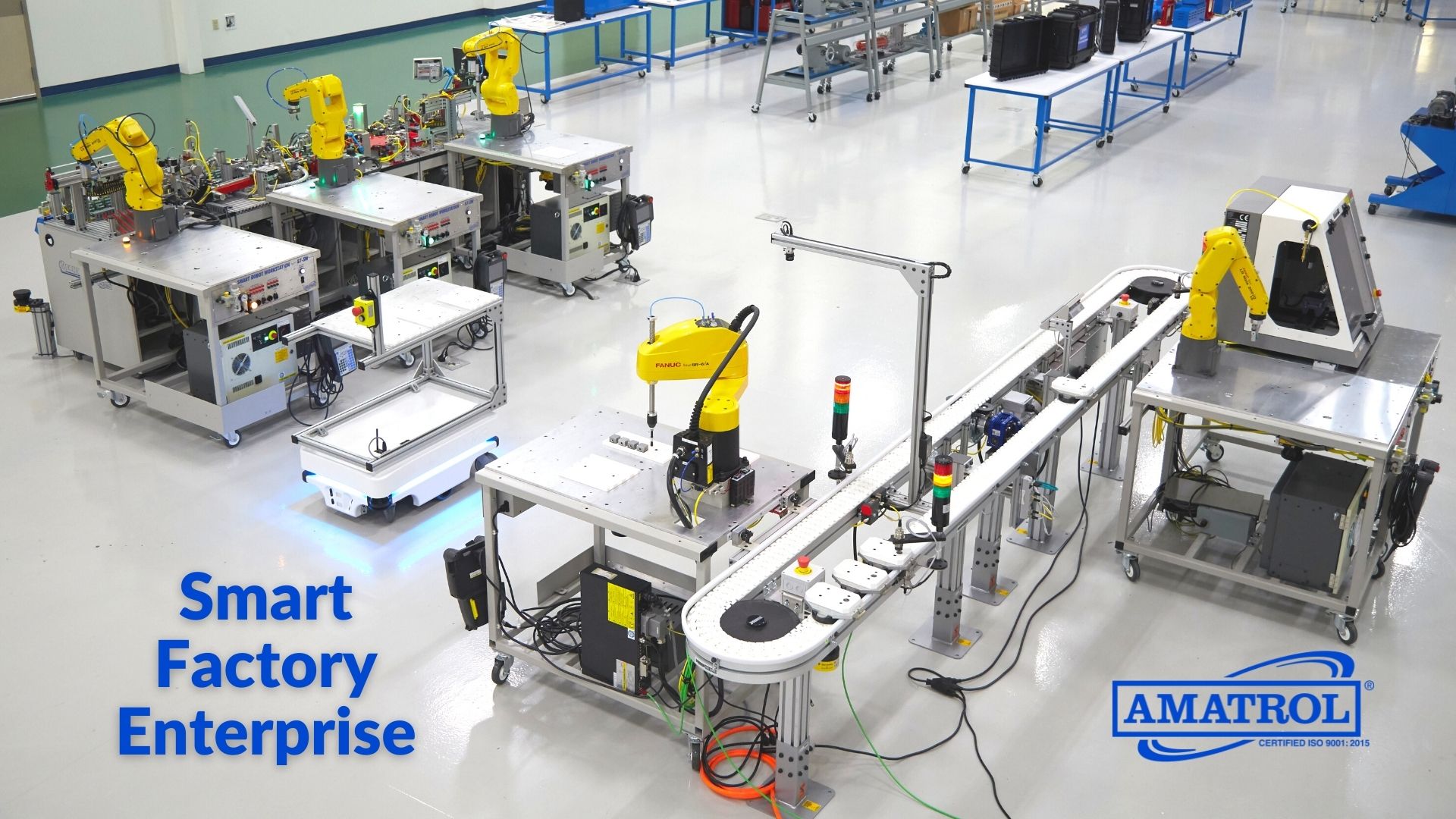 How prepared are your students to interact effectively with the latest and greatest automated systems? Can they confidently claim they have the skills they need to step into the Smart Factory jobs of the present and future?
For example, can your students operate, maintain, troubleshoot, and repair factory-wide enterprise systems that combine Smart Factory technology systems with autonomous robots, smart conveyors, and a wide variety of smart sensors and integrated wired and wireless networks?
Modern advanced manufacturing facilities need more highly-skilled workers than ever before. That's why Amatrol, one of the pioneers of Industry 4.0 training, has led the charge in developing advanced Industry 4.0 training systems.
By its very nature, Smart Factory technology seeks to expand to connect all aspects of advanced manufacturing processes. It was this expansive tendency that spurred Amatrol to continue development of its Industry 4.0 training systems to create the Smart Factory Enterprise system.
Amatrol's Smart Factory Enterprise represents true connected systems training at the enterprise level. Rather than providing discrete training systems focused on individual pieces, Amatrol's Smart Factory Enterprise was designed to meet the need for hands-on training with a seamless system in which all the parts work together, just like learners will face on the job.
For example, it's one thing for a worker to know how to program an individual robot. It's another thing entirely for a worker to know how to program multiple robots to interact and share data in a working mechatronics system that also interfaces with autonomous robots and a smart conveyor system.
Using Amatrol's Smart Factory Enterprise System, learners will gain real, relevant Industry 4.0 skills and experience, because they'll be working with industry-standard components integrated in an enterprise system that replicates an authentic Smart Factory.
Amatrol's Smart Factory Enterprise represents a groundbreaking approach to teaching Industry 4.0 skills with a multi-station automated manufacturing system that integrates mechatronics, robotics, conveyors, autonomous robots, and a variety of other Smart Factory technologies.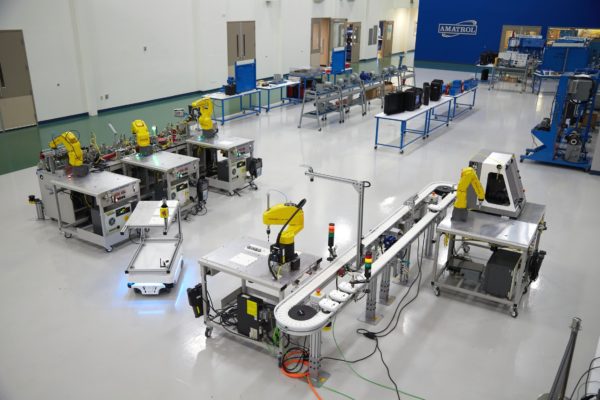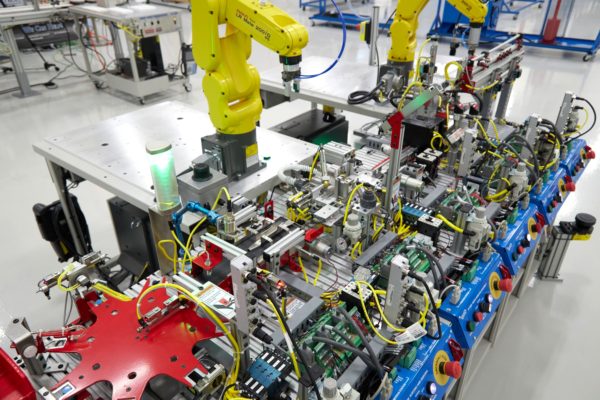 Amatrol pioneered Industry 4.0 training when it transformed its popular full-scale mechatronics line into a robust Smart Factory training system. Today, the 870 Smart Factory Mechatronics system forms the backbone of the larger Smart Factory Enterprise system.
The Smart Factory is a fully connected and flexible manufacturing system that connects its physical systems, operational information, and human assets to control manufacturing, maintenance, inventory, and supply chain operations.
The linked mechatronics stations incorporate all major manufacturing technologies, including electrical, mechanical, hydraulics, and pneumatics. Together, the stations comprise a fully-automated manufacturing line that teaches essential processes, such as inventory control, inspection, sorting, assembly, torqueing, testing, CNC machining, and storage.
To transform this system into a true Smart Factory, Amatrol added a station for networking communications equipment, along with a variety of other connected technologies:
Smart Sensors: Smart sensors with I/O links provide flexible manufacturing, predictive maintenance, and data analytics capabilities. Featured smart sensors include pneumatics/vacuum, ultrasonic, photoeye, stacklight, electrical current, and analog position and pressure sensors.
Smart Product ID: Smart product identification components, including barcode, vision, and RFID scanners, allow learners to track parts and see production history of sorting, acceptance, and rejection of parts, as well as inventory control.
Network Communications: Network communications lie at the heart of Industry 4.0 systems. Amatrol adds Ethernet/PROFINET and wireless communications equipment to allow learners to utilize industrial protocols for real-time control, program transfer, data collection, and changing programs.
Network Security: Amatrol's network security equipment teaches learners how to protect manufacturing processes and data from outside access, provide safe data communication between factory networks and the Internet, and securely extend operational data to suppliers and customers.
Smart Production: Smart production capabilities are achieved by adding industry-standard visual communications software that allows learners to monitor processes, enter orders, and view and analyze production trends.
Smart Maintenance: Web-based, industry-standard manufacturing execution software provides smart maintenance capabilities. For example, the software collects system data from all the Smart Factory components to automatically trigger necessary maintenance operations via apps that can be used on smartphones, tablets, or personal computers.
Building upon the foundation of Amatrol's Smart Factory Mechatronics training system, the Smart Factory Enterprise adds the following real industrial components:
Autonomous Robot System: Autonomous robots, also known as autonomous guided vehicles or AGVs, are changing the way products and parts are transported throughout Smart Factories. Using Amatrol's Autonomous Robot System, learners will develop important Industry 4.0 skills, including how to program an autonomous robot to travel between stations to deliver necessary items on a precise schedule.
Smart Robot Workcells: Amatrol's Smart Robot Workcells allow users to integrate a variety of industrial FANUC robots with their Smart Factory Enterprise system. For example, the following FANUC robots can be used in conjunction with the Smart Robot Workcells: FANUC 200iD/4S, FANUC 200iD, and FANUC SCARA SR-6iA. The workcells also include a mobile workstation with a grid surface, a laser scanner, and an interface panel with discrete I/O/Ethernet, stacklight, and pneumatics.
Smart Conveyor System: Conveyors play a major role in automated systems in manufacturing facilities around the world. Amatrol's Smart Conveyor System teaches learners important applications, such as assembly, material handling, quality/inspection, and machine loading. In addition to a variable frequency drive (VFD), human-machine interface (HMI), and standard safety devices, the Smart Conveyor System interfaces with the Smart Robot Workcells and includes Industry 4.0 technologies, such as RFID pallet tracking and Ethernet communications.
The Smart Factory Enterprise can be customized to include additional industrial components that satisfy particular needs. For example, a CNC machine or CNC simulator can be added to incorporate machining skills into your Industry 4.0 training.