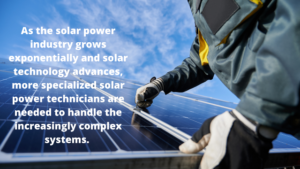 Over the last three decades, global warming has become a hot topic in the political and industrial landscapes as sea level and temperatures worldwide rose, Arctic icecaps melted, and natural disasters became more frequent and brutal. In an effort to combat this climate change, many industries have invested in renewable energy sources, such as wind and solar power, to meet their energy needs. These investments continue to grow as more and more industries and world leaders see the social and economic benefits of reducing their dependency on fossil fuels and other hazardous materials.
The most prominent of these green energy investments is solar power. In the United States alone, solar power accounts for about 3% of the country's total electricity. This number is expected to rise to 40% within the next 15 years. As is the case with many technologies, this projected surge in usage will almost certainly go hand-in-hand with improved efficiency as solar power technology evolves and affordability as more solar power components are widely produced. This creates a cycle of supply and demand that will result in more jobs in the solar power field. More specifically, as the solar power industry grows exponentially and the technology advances, there is a growing shortage of technicians that are equipped to handle the increasingly complex systems. As such, there is a need for specialized solar power technicians.
Solar power technicians handle the installation, maintenance, and repair of solar power systems, including both photovoltaic and thermal systems. To be successful, they require in-depth solar power training as well as skills across multiple disciplines, not just solar power concepts. Rather, skilled solar technicians also need to have theoretical knowledge and hands-on experience in electrical systems and motors, wiring, control electronics, pumps, piping, thermal science, and more. Thorough training in these areas will help ensure the technician is prepared for each job.
Amatrol's Solar Power Program
Amatrol offers a line of solar power learning systems and eLearning courses that teach users the skills they need to become solar power technicians. Users of any skill level can benefit from the program due to the courses covering a range of basic, advanced, and specialized skills. For example, the Basic Core Skills include topics like electrical fabrication, measurement tools, and print reading, and the Advanced Core Skills will build on those courses to teach topics like electrical motor control, power distribution, centrifugal pumps, piping fabrication, and more.
For users ready to dive straight into solar power topics, Amatrol provides an introductory course called Solar Concepts (950-SC1). This course is fundamental to understanding how solar photovoltaic and solar thermal systems work and features additional modules on solar radiation, sun path characteristics, and solar panel orientation.
The primary learning systems of Amatrol's Solar Power program teach both types of solar power systems with an emphasis on installation and troubleshooting. These are detailed more below:
Solar PV Installation Learning System (950-SPF1)
The 950-SPF1 teaches how to install solar PV systems, emphasizing wire selection and sizing, earth and lightning protection, installation of the key electrical and mechanical components, and startup and commissioning. The system's real-world components allow users to practice skills such as calculating maximum PV circuit currents, installing a surge arrestor, performing an initial startup on a stand-alone PV system, and tying an interactive PV system into the grid.
Solar PV Troubleshooting Learning System (950-SPT1)
The 950-SPT1 focuses on PV module operation and performance, PV arrays, solar batteries, and AC & DC solar PV systems. With access to real-world power meters, distribution panels, load switches, a charge controller, and more all mounted on the training system, users can develop valuable hands-on skills and troubleshooting methods. Some of these skills include calculating battery bank output, adjusting charge controller settings, connecting a grid-connected PV system with battery backup, and troubleshooting a stand-alone AC PV system.
Solar PV Array Station (95-SPA1)
The 95-SPA1 is a mobile workstation consisting of a PV panel set and a sun simulator. It can be added to both the 950-SPF1 and 950-SPT1.
Solar Thermal Installation Learning System (950-STF1)
The 950-STF1 teaches how to install solar thermal applications, emphasizing working with copper tubing, considerations in tubing installation, plastic pipe assembly, and installation of the key electrical, mechanical, and fluid systems. The hands-on system is designed to allow users to practice tubing assembly and installation, including cutting and soldering copper tubing, installing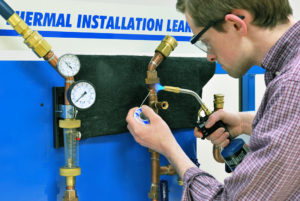 brackets and hangers to mount the copper tubing, and installing and gluing plastic pipe and threaded plastic fittings.
Solar Thermal Troubleshooting Closed-Loop Learning System (950-STCL1)
The 950-STCL1 teaches how a solar thermal closed-loop system works, covering both drainback and pressurized systems in the curriculum. Multiple solar thermal components, including flat plate collectors, pumps, heat exchangers, storage tanks, and digital controllers, are covered as well. Users can expect to gain hands-on experience with these components by performing various skills on the system, including connecting and operating an AC solar circulator pump, programming a drainback system, and filling, charging, and troubleshooting a pressurized closed-loop solar thermal system.
Solar Thermal Troubleshooting Open-Loop Learning System (950-STOL1)
The 950-STOL1 is similar to the 950-STCL1 in that it also covers flat plate collectors, pumps, storage tanks, and digital controllers. However, because this trainer focuses on open-loop systems, it also contains content about air vents, vacuum valves, check and ball valves, manual draindown systems, and freeze protection. With this system, learners will practice skills such as testing a motorized ball valve, programming an automatic draindown system, and connecting and troubleshooting a PV powered open-loop solar thermal system.
More Green Energy Resources from Amatrol
In addition to the Solar Power program, Amatrol offers multiple wind turbine learning systems for you to build your own Wind Turbine Technology program as well. If you're unsure which green energy program might be best for your needs, Amatrol also offers the Alternative Energy Learning System (850-AEC) that covers the fundamentals of both small wind and solar technologies. Areas of interest explored in the 850-AEC's curriculum include PV module operation and performance, PV arrays, solar batteries, solar PV systems, small wind turbine generators, wind turbine batteries, and AC & DC wind turbine systems.
Want to learn more? Use our "Contact Us" form to ask more about how our green energy learning systems can take your technical training program to the next level.