When's the last time you took stock of your HVACR training equipment and materials? If it's been a while, it's probably time to reevaluate your HVACR program to make sure you're adequately preparing students for the HVACR jobs of the present and, more importantly, the future.
HVACR continues to be one of the industries with the most growth potential for future workers. Indeed, the demand for qualified HVACR installers and technicians is greater than ever. Unfortunately, supply isn't keeping up with demand, creating a critical shortage of these important workers.
Not only are there simply not enough HVACR workers, modern advancements in smart technologies being incorporated into HVACR products has created a need for HVACR workers with new, cutting-edge technology skills. This HVACR skills gap has left many companies scrambling to find the highly-skilled workers they so desperately need.
That's why proper HVACR training is essential. However, so many HVACR classrooms and learning labs are filled with rusty equipment from the past. While these machines are fine to train students on the basics, students also need hands-on experience with modern equipment with advanced technologies if they're going to make an immediate impact in the workplace.
In this article, we'll take a brief look at the changing nature of HVACR equipment, focusing on the inclusion of new Industry 4.0 "connected systems" technologies. We'll also share how Amatrol's new HVACR training systems are designed to teach student the skills they need to know today — and tomorrow.
HVACR…4.0?
If you're familiar with the wide world of manufacturing, then you've probably heard at least one of the terms that describes the technological revolution taking place in factories around the world: Industry 4.0, the Fourth Industrial Revolution, the Industrial Internet of Things (IIoT), the Smart Factory, etc.
We now live in a "smart" world in which countless devices communicate with other devices via the Internet to make life more convenient in seemingly-endless ways. This infinite web of connected devices even has a name: the Internet of Things.
Industries around the world are combining the Internet of Things with cyber-physical systems and advanced automation technologies to create new smart factory environments. Together, these new technologies hold huge potential for a major leap in productivity and efficiency.
Examples of the new technologies spurring the Fourth Industrial Revolution include: "smart" or connected product identification (barcode, RFID, and vision) and sensors (ultrasonic, photoeye, vacuum, etc.); Ethernet and wireless networking and network security; data analysis and production monitoring software; and manufacturing execution software that automates maintenance tasks via smartphone apps.
The synergies created by these exciting new Industry 4.0 technologies promise huge gains in industrial efficiency and productivity. That's why HVACR companies around the world have started incorporating them into a wide variety of products.
As author Don Gillis notes in an Emerson Climate Conversations blog article, "[m]odern refrigeration and air conditioning applications utilize advanced controls, software and remote diagnostics capabilities." Today's HVACR technicians need advanced skills to keep up with these new cutting-edge technologies.
A Warning from the World of Cybersecurity
Those who have relied upon donations of old HVACR equipment for use as training tools may wonder how necessary all this new training really is. Can't students get by with learning the basics for now?
While the basics are necessary and essential building blocks, students need to be prepared to work with advanced technologies they'll encounter on the job. HVACR companies need highly-skilled workers who can hit the ground running without extensive additional training.
To fully understand the implementation of new technologies and the need for highly-skilled HVACR technicians, we should listen to experts in the field, such as John Deskurakis, Chief Product Security Officer of Carrier Global Corp.
As author Mary K. Pratt notes in a recent CSO article, Carrier is "one of the most recognizable brands in the HVAC space" with "more than 80 brand businesses manufacturing thousands of components, products, and complex systems. Its products include industrial control systems, building management systems, automation systems, smoke detectors and commercial refrigeration…operational technology, firmware, and software."
Pratt points out that "[l]ike other manufacturers, Carrier has been adding digital technologies to its mechanical products, connecting them to the internet and making them 'smart' in the process — and exposing them to potential cyberattacks." Deskurakis agrees: "Anything that gets digitally connected could be attacked, could be exploited."
That's why "Deskurakis and his Global Product Cybersecurity (GPC) team must help ensure a product's operational integrity as well as secure it against bad actors seeking to hack into its product's digital systems — regardless of whether the goal is to use the Carrier products as conduits into core enterprise systems or to disrupt the product's actual operation."
Without proper cybersecurity, these advanced HVACR products could be hacked with potentially catastrophic consequences. "For example, one of the Carrier business lines makes transport refrigeration equipment and cold chain tracking and monitoring solutions to keep items, including vaccines, cold as they make their way around the globe. The company also makes smart smoke and carbon monoxide detectors with indoor air quality monitors."
With more and more HVACR products incorporating advanced Industry 4.0 technologies, the need for highly-skilled technicians who can operate, maintain, repair, and troubleshoot these systems is greater than ever. Are your students prepared for HVACR 4.0?
Let Amatrol Take Your HVACR Training to the Next Level
With more than 30 years of experience designing and manufacturing state-of-the-art training systems, Amatrol remains the world's leader in skills-based, interactive technical learning for industry and education. The experts at Amatrol can help you develop an HVACR program that will meet the needs of your students and industries in your area.
Over the past several years, Amatrol engineers have been busy developing new HVACR training systems with comprehensive eLearning curriculum to teach students and workers the critical skills they'll need to excel in the workplace. These new training systems also feature cutting-edge Industry 4.0 technologies, so you can rest assured you'll be giving your learners the best HVACR training for the present and future.
For example, here are just a few of the new HVACR training systems Amatrol has to offer:
Residential Heat Pump Troubleshooting Learning System (T7100): teaches the critical hands-on skills HVACR technicians need to succeed when working with residential HVAC systems that use a heat pump and traditional ducting. Learners will work with real equipment, such as: a heat pump condenser, heat pump air handler, Wi-Fi-enabled thermostat, fuse box, ducting, and manifold. In addition to developing hands-on skills with real equipment, learners will use Amatrol's interactive multimedia eLearning curriculum to cover a wide variety of fundamental residential heat pump topics, including: thermostat operation, pressure and temperature measurements, component tests, and system troubleshooting.
Residential Mini-Split Heat Pump Learning System (T7130): teaches the critical hands-on skills HVACR technicians need to succeed when working with residential ductless ("mini-split") HVAC systems. Learners will work with real equipment, such as: a heat pump condenser, evaporator unit, thermostat, panel-mounted gauges, and condensate pump. In addition to developing hands-on skills with real equipment, learners will use Amatrol's interactive multimedia eLearning curriculum to cover a wide variety of fundamental residential mini-split system topics, including: remote controller adjustments, heating and cooling modes, LED indicators, communication between units, and system troubleshooting.
Combined Refrigeration Installation Learning System (T7200): teaches installation of electrical and mechanical refrigeration/air conditioning components in residential or light commercial applications. The Combined Refrigeration Installation Learning System includes evaporator and condenser coils, a hermetically-sealed compressor, a filter/drier, and many more real-world industrial components that allows learners to practice skills with components that they'll find on-the-job. The included multimedia curriculum covers topics like: copper tubing, refrigerant line routing and bending, flaring and swaging copper tubing, brazing and soldering refrigerant lines, and copper tubing insulation.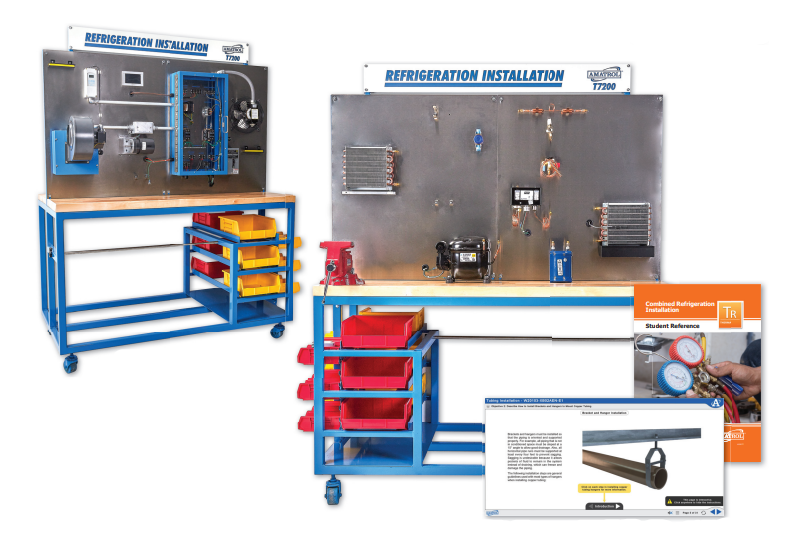 If you're ready to take your HVACR training to the next level, consult with an expert at Amatrol today to learn how you can take the first step toward teaching your students or current workers the skills that will set them up for success in the modern workplace.
About Duane Bolin
Duane Bolin is a former curriculum developer and education specialist. He is currently a Marketing Content Developer in the technical training solutions market.