Click HERE to view Tackling the Industrial Maintenance Technician Shortage as a multimedia presentation.
As industries across the U.S. bounce back from the unprecedented effects of the COVID-19 pandemic, manufacturers in every sector continue to struggle to fill hundreds of thousands of open positions in critical areas, such as industrial maintenance.
Why is there such a dire shortage of manufacturing workers? How are manufacturers being impacted by the lack of workers? What can be done to increase the number of highly-skilled workers choosing manufacturing?
These are important questions that need answers. Industrial maintenance plays a pivotal role in the success of any manufacturing facility, and highly-skilled technicians are needed to operate, maintain, troubleshoot, and repair a variety of equipment that will be around for many years if maintained properly.
The Amatrol family of technical training solutions, including training systems and learning aids from DAC Worldwide and Bayport Technical, offers a wide variety of products to take your maintenance training needs to the next level and ensure your maintenance efforts yield a solid return on investment.
Why is there a Shortage of Industrial Maintenance Technicians?
The COVID-19 pandemic was not kind to manufacturers. According to an article by Andrew Deichler of the Society for Human Resource Management, "the COVID-19 pandemic undid over a decade of job gains in the manufacturing sector, wiping out more than 1.4 million positions."
Although more than half of those positions have since been regained, hundreds of thousands of jobs remain unfilled. According to a recent U.S. Bureau of Labor Statistics' Job Openings and Labor Turnover Summary ("June 2021 JOLTS Report"), there were 851,000 job openings in manufacturing as of April 30, 2021, which represents the largest number of such job openings in recorded history.
What is going on with manufacturing? Deloitte and The Manufacturing Institute collaborated on research into that question and revealed several reasons why manufacturers are having such a tough time hiring the workers they need.
For starters, manufacturing is suffering from an aging workforce. According to their research, "many of these roles had previously been filled by members of the Baby Boomer generation who have retired."
Unfortunately, the aging manufacturing workforce isn't being replaced with new, young workers quickly enough. The insufficient manufacturing talent pipeline appears to be largely the result of negative perceptions of manufacturing.
According to the research, "many younger workers have different expectations for jobs and careers…[because they] prioritize work/life balance and don't view manufacturing as a sector that allows for a lot of flexibility." These views have led to an overall "lack of interest in the industry."
This is a battle manufacturers have been fighting for a long while now. Carolyn Lee, executive director of The Manufacturing Institute, believes the attitudes of younger workers are based on unfair and unfounded misconceptions about manufacturing. She encourages manufacturers to promote their high-tech workspaces that often require college degrees.
Why is Industrial Maintenance Important?
So manufacturers are having a hard time hiring highly-skilled industrial maintenance technicians…is it really that big a deal? Given the importance of preventative maintenance to modern manufacturing facilities, the answer is clearly yes, it's a big deal.
As an AssetInfinity article notes, "The word maintenance does not always mean to repair…The priority of effort and time should be on maintenance rather than repair." Why? According to Talmage Wagstaff in an article for SupplyChainBrain, it's because "[y]our production machines are your bottom line: without them, you're out of business."
In an article for Manufacturing Automation, Steve Krar urges manufacturers to move from a reactive maintenance mindset ("fail and fix") to a proactive maintenance mindset ("predict and prevent"), because "maintenance may be considered the heath care of our manufacturing machines and equipment." Here's why maintenance is so critical:
Maintenance Improves Machine Efficiency & Safety
Regular wear and tear can't be avoided. Components simply wear out over time as a part of normal operation. When this happens, they become less efficient, leading to product defects and machine breakdown. Preventative maintenance extends the lifespan of critical machines and keeps them running at peak efficiency. It also ensures machinery is running properly and safely, minimizing the risk of injuries to workers or damage to other equipment.
Maintenance Saves Time & Money
Inefficient machines can create product defects that are very costly to repair or replace. Moreover, machinery breakdowns halt production lines, requiring expensive emergency repairs and causing downtime that can quickly escalate costs. Being proactive allows technicians to plan routine maintenance, which always takes less time and money than emergency repairs. Krar notes that "the actual cost for a breakdown [is] between four to fifteen times the [cost of routine] maintenance."
How Can Manufacturers Overcome the Industrial Maintenance Technician Shortage?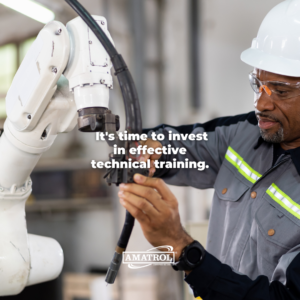 Because industrial maintenance is so critical, it's imperative that manufacturers find ways to overcome the current and ongoing struggle to hire enough highly-skilled technicians. In an article on the Software Advice website, author Taylor Short advises manufacturers to "reinvest in updated technical training, partner with local technical schools for internship opportunities and create a knowledge transfer program."
These are all great suggestions. Capturing the accumulated knowledge of experienced workers helps newer workers to institute best practices that have stood the test of time. Likewise, partnering with local educational institutions can help to boost the pipeline of future talent. These solutions can take some time to implement, though.
The solution with the most immediate impact is clearly investing in technical training. According to Short, "[i]f your current technician training methods haven't been updated recently, now is the time. Training should be continuous because machinery, vehicles, and other assets evolve and require additional technical instruction to keep up."
Not all training is equal, though. Technical training that enables workers to obtain industry-standard certifications will help workers and manufacturers alike. As Short notes, "certifications are available to round out training for any type of technician you employ. Certifications not only make your workers more productive, but also keep your organization competitive and create an attractive workplace for new technicians."
How Can Manufacturers Implement Effective Industrial Maintenance Training?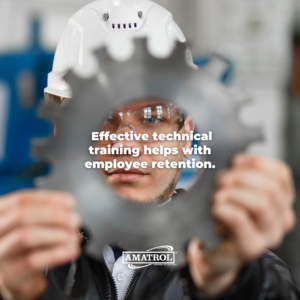 Modern manufacturers must implement effective technical training to teach workers the skills they need to operate, maintain, troubleshoot, and repair the wide variety of new technologies being used to automate systems to increase productivity and profitability. In an article for NBC News, author Ben Popken quotes Blake Moret, chairman and CEO of Rockwell Automation, on this issue:
"The most competitive industrial enterprise combines advanced tech with a workforce comfortable with interacting with that tech and is valued for uniquely human attributes like decision-making skills. If you combine a skilled and engaged workforce with advanced tech, you make a more successful company that can do more, hire more people, and profitably engage in new lines of business. It's a beneficial spiral."
Effective technical training targeted at the specific needs of workers will not only improve maintenance outcomes, but it will also help with employee retention by creating an environment in which employees feel valued because employers care about improving their skillsets.
So how do manufacturers ensure that all their technicians have the skills they need? Implementing an effective maintenance training program might seem like a daunting task, but it doesn't have to be. The Amatrol family of technical training solutions, including training systems and learning aids from DAC Worldwide and Bayport Technical, offers a comprehensive range of effective industrial maintenance training products:
Amatrol
Amatrol's Industrial Maintenance Technology program is a comprehensive maintenance training program that consists of extensive multimedia eLearning curriculum that can be combined with hands-on skill building via physical trainers that feature real industrial components workers encounter on the job.
The Industrial Maintenance Technology program builds essential skills in nine core areas key to modern industrial maintenance:
Maintenance Operations
Basic Mechanical Systems
Basic Hydraulic Systems
Basic Pneumatic Systems
Electrical Systems
Electronic Control Systems
Process Control Systems
Maintenance Welding
Maintenance Piping
Knowledge and skills learned through Amatrol's Industrial Maintenance Technology program will also prepare workers seeking to obtain popular industry-standard certifications, such as The National Institute of Metalworking Skills' (NIMS) Industrial Technology Maintenance certification, as well as the Smart Automation Certification Alliance's (SACA) Industry 4.0 certifications.

DAC Worldwide
If you're looking for training targeted to particular systems or components, DAC Worldwide offers a variety of training solutions that incorporate real industrial components that help learners build hands-on skills.
For example, DAC Worldwide's Gear Maintenance Training System (205-000) teaches gear identification, installation, alignment, maintenance, and troubleshooting. A companion teaching aid, the Gear Sample Board (836-PAC), includes samples of 10 industrial-quality gears for users to learn to identify.
DAC Worldwide also offers a wide variety of cutaways and dissectibles useful for maintenance training. Cutaways feature real-world industrial components that have been restored and professionally sectioned to expose each device's primary components, while dissectibles offer learners realistic, first-hand visualization into the disassembly, inspection, and reassembly of various industrial components.
Bayport Technical
Bayport Technical also offers unique training solutions targeted at specific maintenance training needs. For example, Bayport Technical's Standard Multiple Mechanical Training System (150-SMMT) provides maintenance personnel with hands-on exposure to a variety of common mechanical situations and develops skill sets related to vertical and horizontal shaft alignment, gear drives, belt drives, chain drives, pump maintenance, and lock-out/tag-out procedures.
Bayport Technical's Lubrication Working Demonstrator (152-LUBE) is an acrylic model showing three of the most common methods of using a static pool (reservoir) to lubricate bearings. The unit allows learners to observe the lubrication process, as well as rotating equipment such as the shaft and coupling.
Consult with an Expert Today
If you're ready to learn more, it's time to contact Amatrol. Experts will consult with you to determine how best to get your workers the maintenance training they need to ensure that your training and maintenance dollars provide the best return on investment possible.
About Duane Bolin
Duane Bolin is a former curriculum developer and education specialist. He is currently a Marketing Content Developer for Amatrol, Inc. Learn more about Amatrol and its technical training solutions, including eLearning, here and connect with Duane on Amatrol's Twitter, Facebook, LinkedIn, and YouTube pages.