As the world recovers from the devastating economic effects caused by the global pandemic, employers across every industry are still struggling to pull employees back into the workforce. This comes at a time when manufactures are integrating more advanced technologies to increase production, which in turn creates a greater demand for highly-skilled workers. This combination has left employers in dire need of a new generation of individuals, skilled in these new technologies, entering the workforce.
While the demand for STEM (Science, Technology, Engineering, & Math) graduates continues to grow, it's unfortunate that students are dropping STEM majors at an alarming rate. Results from a postsecondary-students longitudinal study conducted by the U.S. Department of Education shows that students in STEM majors switch paths more than any other. The study reveals that 52 percent of students who initially declared math as their major opt for a different field of study. This is followed by 40 percent of natural science students, and 32 percent of engineering and technology students. This is alarming because not only are manufactures unable to fill current highly-skilled positions, but the pipeline that teaches these skills is struggling to hold onto students that start along this path.
Why are Students leaving STEM programs in college?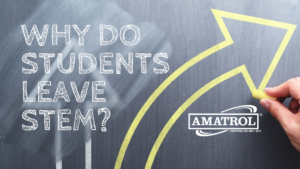 College students switching majors is not a new phenomenon, in fact about one third of college students in the U.S. change majors at least once. But the question is why STEM majors in particular are taking such a hit? While there is no single answer to this question, experts believe that multiple factors play a key role in pushing students away from STEM studies.
From the start, STEM degrees require a high level of understanding surrounding the technologies. This translates to an extensive list of prerequisites built to test and push students, preparing them for more difficult upper level classes, and the workplace that lies ahead. While it is necessary to develop these skills through rigorous coursework, students overwhelmingly flee majors that negatively affect their GPA in fears that it will damage their career opportunities. This problem is amplified with students who have not received proper hands on, or applied technical training in high school, and are being introduced to the field for the first time by a college level course.
Just like any other field of study, quality faculty and curriculum is critical for the success and retention of students.  In studies conducted on the subject of students leaving STEM, it was found that the quality of STEM faculty teaching and accessibility was the main factor that was significantly related to students' intention to switch or drop out STEM majors (Xu, 2018).
Lack of Women in STEM Majors
As recruiting efforts look to generate more interest, STEM fields still lack diversity in regards to women. Making up roughly 50 percent of the workforce as a whole, women only make up 28 percent of the workforce in STEM related fields, the largest gap falling within the engineering and technological occupations with women only making up 15.7 percent of the workforce according to the U.S. Bureau of Labor Statistics. This may be due to a variety of different causes, one of which is the lack of support from peers, classmates, and other women in STEM courses. To combat this, instructors need to focus on creating an atmosphere where students are encouraged to find like-minded peers, to both make sense of the content and encourage one another through rough patches.
Experts also state that Incentives pushed by the government to "assist women in STEM" could actually be doing more harm than good. A study conducted by Georgetown University researchers titled  "Choice of Majors: Are Women Really Different from Men?" states that programs, and incentives targeted at encouraging young women to join STEM fields, give the impression that women are automatically put at a disadvantage. Adriana D. Kugler, a professor at Georgetown's McCourt School of Public Policy stated "Society keeps telling us that STEM fields are masculine fields; that we need to increase the participation of women in STEM fields, but that kind of sends a signal that it's not a field for women and it kind of works against keeping women in these fields."
Gaining Interest with Training, Recruitment, and Mentoring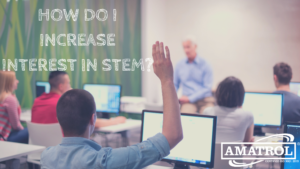 While the future of STEM education seems to look discouraging on its current course, there is a ray of hope. With increased exposure to STEM education, occupations, and opportunities at a young age, the trend of ditching STEM education may be reversed. Hands on training, and exposure to STEM materials in high school allows students to not only develop skills that will assist in building a future based around STEM, but also grow interest and knowledge in an interactive way before entering into college level courses. The importance of hands on training cannot be over overlooked, in research conducted by the Practical Education Network (PEN), it was observed that students who engaged in hands on training significantly improved their test scores over students who were educated primarily with the listening and reading style of learning.
Although focusing on proper high school education is extremely important, it is just as critical to look at how universities shape STEM degree requirements within the first semester.  Eric Bettinger, associate professor for education and economics at Stanford University concluded in his research that students who took more than 40 percent of their courses in STEM their first semester were less likely to leave the major than students who took less than 40 percent of their courses in STEM fields. Placing more focus on STEM education from the start may be the key to better retention for students who are interested in the field.
However the question still remains how do educators pull more students toward STEM related fields. Placing the focus on recruiting and mentorship is an important step to lead and guide students towards a STEM future. Speaking to students about the opportunities that STEM degrees provide may not be enough to entice or retain students. Hands on instruction, and quality mentorship are critical in attracting both male and female students towards a life of STEM. Proper mentorship is particularly important for female students who have fewer role models to inspire their interest in these fields. Teachers and professors need to take a strong hand in mentoring women who see few examples of women in technology, or engineering in books, and pop culture.
Here's How Amatrol Can Help!
How can educational institutions put these ideas into practice? With more than three decades of experience designing and manufacturing state-of-the-art training systems, Amatrol offers a wide variety of learning solutions that can help educators improve their STEM offerings. For more information on how Amatrol can assist with STEM check out this great article STEM Education Holds the Key to Bridging the Skills Gap | Amatrol
Our comprehensive learning solutions include: project-based learning; highly-interactive eLearning curriculum; virtual trainers; and hands-on experience with real-world industrial equipment. In addition to delivering quality STEM educational content, Amatrol's programs also provide invaluable insight into STEM career paths.