Click HERE to view Can Automation Solve Manufacturing's Supply Chain Problems? as a multimedia presentation.
When's the last time you made your regular trek to the grocery store and left with everything on your shopping list? If you're like most people these days, you probably ran into some bare shelves and came home with fewer items than you set out to buy.
Toilet paper? Forget it. Your favorite ice cream? Not in stock. That new flavor of yogurt you saw advertised? Maybe next week. Ever since the COVID-19 pandemic struck in early 2020, finding the things you need when you need them has become an often frustrating task.
If you ask anyone who works in the food and beverage industry why it's so difficult to keep the shelves stocked, you're sure to hear a variation of the same basic answer: supply chain issues. The pandemic created shockwaves throughout every industry in every country, and we're still feeling the reverberations today.
Not everyone understands the complexity of the supply chain and the logistics involved in getting products manufactured and shipped to stores or directly to consumers. There are many links in the supply chain, and the supply chain is only as strong as its weakest link.
In this article, we'll take a look at some of the issues facing the modern supply chain with a special focus on the food and beverage industry. We'll consider whether advanced automation technologies might be able to solve today's supply chain problems and, if so, how industry and educators can prepare the next generation of workers to thrive in today's supply chain environment.
Labor Shortage Fueling Supply Chain Disruptions
Do you mainly cook at home or do you prefer to eat out at restaurants? Fans of restaurants have encountered an unexpected roller coaster ride throughout the pandemic. At first, social distancing rules shut down seating areas, leaving takeout and drive-through service as the only options.
Once restrictions started to lift, many dining rooms tried to reopen with mixed success. A shortage of workers forced many restaurants to continue to limit food service options. It's become commonplace to find signs at restaurants noting closed dining rooms and shortened hours due to lack of staff.
These labor shortages extended to food and beverage manufacturing, too. In an article for Food Dive, author Keith Chambers discusses the impact of labor shortages on disruptions in the food and beverage supply chain:
"Since the outbreak of the coronavirus, shutdowns and work restrictions have amplified these disruptions, while changing consumer lifestyles and incomes have caused profound changes in how and where we buy our food. For instance, in February 2020 — for the first time since records were kept — consumers in the U.S. spent more at foodservice establishments than at retail grocery stores. Six months later, a massive $6.5 billion of spending had shifted from foodservice to retail sales channels, completely upending supply chains…workers had to simultaneously deal with supply shortages, rapid onboarding of new suppliers, [and] wild demand swings."
While supply chain disruptions have inconvenienced consumers, they've been an even bigger problem for those in the food and beverage industry. Author Korie Wilkins notes in a Food Engineering article:
"Labor shortages in the food and beverage industry are nothing new, but add in a global pandemic and it's safe to say that both the industry itself — and those who help companies design, renovate and become more efficient — have had to think outside the box. Food and beverage processors are turning to a number of solutions to help solve this challenge, but there's no easy solution. It's a combination of design, employment and operating decisions that hopefully add up to meeting staffing needs."
Manufacturers Look to Automation to Ease Supply Chain Issues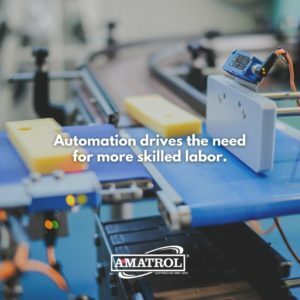 While there may be no easy solution, there are plenty of potential solutions that food and beverage manufacturers are trying. According to Wilkins, "improving workflow is crucial to addressing labor shortages."
In his article, Chambers agrees and believes that increased automation in the form of digitalization of manual processes may hold the key:
"Despite technological advances in processing and ingredients, most plants are still collecting and sorting data manually. Digitalizing this process helps optimize performance while supporting revenue growth and sustainability. With this approach, manufacturers can standardize systems across plants to leverage supply chain-wide improvements. Over the past year, we have witnessed developments that might have taken decades to come about be compressed into the space of a few months."
Wilkins advises that automation is certainly an option when a "company has maxed out staffing and efficiency changes," but offers some words of caution:
"[Automation] is a costly option and it also comes with its own set of challenges and hurdles. Automation isn't a fit for all companies…[a]nd bringing in automation drives the need for more skilled labor, so that's a counterpoint to the unskilled labor shortage…You still need staff, but now that staff has to be already trained and able to manage computer networks and machines that are complex and need to be regularly serviced and brought back online. Generally, you can't just train people on these skills; employees need education and possibly advanced degrees."
Despite the challenges increased automation poses, more and more food and beverage manufacturers are taking the leap of faith to invest in advanced technologies. Chambers notes:
"Food and beverage manufacturing increasingly relies on modern technology such as smart data capturing and analysis, inventory and operations management, value optimization, and personalized training. With manufacturing processes calibrated to optimum conditions, companies can maximize production while maintaining quality, reducing waste, and benefiting the environment."
Not only are companies seeing increased production and efficiency, automation is also allowing them to respond more quickly to the curveballs the pandemic throws their way. Chambers concludes:
"Digital manufacturing technologies can create resilience and agility in the value chain and build sustainable, future-proof industrial operations with swift responses to changing market dynamics."
While automation may ease supply chain disruptions, it won't be the final, easy solution until industry partners with educational institutions to tackle the shortage of highly-skilled workers able to operate, maintain, troubleshoot, and repair these advanced automation technologies. To find the type of workers they need, companies are increasingly relying upon industry-standard certifications to ensure the workers they hire possess the skills they need.
Industry-Standard Certifications are Important for Supply Chain Workers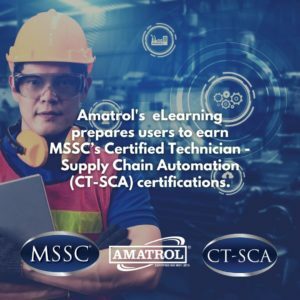 So what types of skills do today's supply chain workers really need? It's essential for supply chain automation technicians to possess a wide range of specialized skills in areas like electrical, electronics, hydraulics, pneumatics, mechanical, and safety. They must also be skilled problem solvers who can communicate and work well as part of a team.
Companies searching for highly-skilled workers to ease their supply chain disruptions want to make sure that potential employees actually have the skills to excel without significant additional training. That's why industry-standard certifications are important for supply chain workers. They provide employers with evidence that a worker has the knowledge and hands-on skills to work with today's advanced technologies.
For example, the Manufacturing Skill Standards Council (MSSC), a nationally-renowned nonprofit certification organization, recently partnered with Amatrol, the National Center for Supply Chain Automation (NCSCA), and a variety of supply chain industry leaders to develop the Certified Technician — Supply Chain Automation (CT-SCA) certification, which focuses on three specific areas:
equipment maintenance;
equipment repair; and
network repair.
According to MSSC, the CT-SCA certification "will enable both students and incumbent workers to gain the skills needed to meet the definition of a supply chain automation technician established by the [NCSCA]: a technician who installs, operates, supports, upgrades or maintains the automated material handling equipment and systems which support the supply chain."
To support MSSC's efforts to increase the number of highly-skilled supply chain automation technicians, Amatrol developed interactive multimedia eLearning courses to thoroughly prepare students to earn MSSC's three available CT-SCA certifications:
CT-SCA — EM: Equipment Maintenance
CT-SCA — ER: Equipment Repair
CT-SCA — NR: Network Repair
Amatrol believes these new CT-SCA certifications will pave the way for the next generation of highly-skilled supply chain automation technicians.
Skill Boss Logistics Teaches & Assesses Hands-On Supply Chain Automation Skills
In addition to its CT-SCA eLearning courses, Amatrol was also tasked with designing and developing a new training and assessment system to be used in conjunction with the CT-SCA certifications to teach and assess hands-on, performance-based skills.
The result is a new training and assessment device called Skill Boss Logistics. Skill Boss Logistics is a working automated sortation system that features a wide variety of real industrial components commonly found in facilities that use supply chain automation technologies, such as programmable logic controllers (PLCs), variable frequency drives (VFDs), electric motors, belt and chain drives, conveyors, barcode scanners, electronic sensors, and electro-pneumatic sorters.
More than a dozen of the world's leading distribution and package delivery companies advised Amatrol on the design of Skill Boss Logistics. Easily transportable, the device will fit easily into either a company training facility or a college tech center. Its compact replication of a full-scale automated sortation system will teach the next generation of supply chain automation technicians the critical hands-on skills they need to succeed in the workplace.
Contact Amatrol Today
With more than 30 years of experience, Amatrol remains the world's leader in technical education training systems and eLearning curriculum. Consult with an expert at Amatrol today to learn how you can help prepare the next generation of workers by helping them to earn industry-standard certifications that will set them up for success in the workplace.
To see Skill Boss Logistics in action, click on the link below to watch a short video:
About Duane Bolin
Duane Bolin is a former curriculum developer and education specialist. He is currently a Marketing Content Developer for Amatrol, Inc. Learn more about Amatrol and its technical training solutions, including eLearning, here and connect with Duane on Amatrol's Twitter, Facebook, LinkedIn, and YouTube pages.